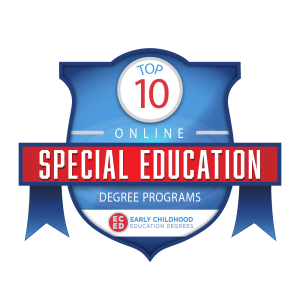 As we become educated we have the power to educate others. With new advancements in our understanding of learners with exceptionalities and new adaptive technologies, the need for current up-to-date educators in the area of special education is perhaps more prevalent than ever before. Whether you want to better understand how to educate your student with autism, reach children who speak a different language, have a visual or hearing impairment or have the passion and compassion do work with emotionally disturbed learners there is a masters degree to help you achieve your goals. The following master's degree in special education made the top of our list because of their high quality of education, flexibility, and cost. If you are ready to take the next step in your career as a special educator, these are our top ten choices.
Methodology:
Affordability (1/3): Combined analysis of overall tuition of the program, financial aid or scholarship assistance programs, and estimated cost per credit hour for out-of-state students.
Flexibility (1/3): The number of flexibility-enhancing elements specific to the degree program including teaching philosophy concentrations, degree specialties, prior learning or life experience crediting options, accelerated or self-paced courses, personalized student advisement/guidance, and competency-based credit options.
Academic Prestige (1/3): The academic prestige of the parent institution operationally defined through the analyses of the rankings/reviews of prominent education review entities such as US News & World Report and The Princeton Review.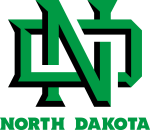 The University of North Dakota is a public institution located in Grand Forks- bordering Minnesota. There are nearly 15,000 students enrolled in this flagship university representing all 50 states as well as 85 countries. An average class size is still only 24 with a student-to-faculty ratio of 19:1. UND has a space grant and has competitive programming in aerospace, environmental protection, a top aviation school, air traffic management, a highly ranked rural medicine program (2nd according to U.S. News ) and more. According to U.S. News UND ranks highly as a national school and a top public school and according to Rodale Wellness UND is also the fittest college in America .The athletics division is part of the Big Sky Conference with one of the top hockey teams in the nation. The Higher Learning Commission accredits programs and there are over 225 fields of study. We ranked UND highly due to its academic rigor, high rankings across fields of study and its affordability.
The University of North Dakota has everything you will need to equip yourself for a career in special education. The core of the curriculum is centered around approaches that benefit different learners from diagnosis through to development of curricula approaches. There are a number of specialization areas students may focus on including autism spectrum disorders, early childhood special education, emotional disturbance, general special education, gifted and talented, intellectual disabilities, learning disabilities, special education strategists, and visual impairment. In addition to these specializations there is an approved sequence of courses for those looking to become a Board Certified Behavior Analyst. This programs is also just $410 per credit hour and requires a minimum of 32 credit hours and will fluctuate depending on your area(s) of interest. The Special Education Strategist specialization has the highest number of course requirements as it focuses on three specialization areas in on: intellectual, emotional, and learning disabilities.
Flexibility-Enhancing Options: asynchronous and a number of specializations
Estimated Out-of-State Tuition: $410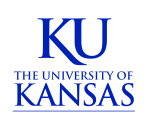 Founded in 1865, the University of Kansas is the largest public research university in the state of Kansas. US News ranks this flagship school 118th for top schools in the nation and 78th for best colleges for veterans. The University of Kansas has a high acceptance rate and regularly meets the financial needs of its enrolled students. Top education and financial feasibility are not the only reason the University of Kansas is a great pick. Throughout each of its colleges, the University of Kansas seems to be nurturing its students dreams and rewarding them with an education that makes an impact in all areas of study whether through their research at the KU Alzheimer's Disease Center, their study abroad programming, its aerospace program, or their research into creating innovative classrooms, the University of Kansas seems to provide meaningful education for everyone. If you're looking to achieve your goals at a high class school for an affordable price, this is a fantastic option.
According to the U.S News the University of Kansas has the number one ranked department of special education. The online Master's in Special Education is lead by the same instructors as those who teach on-campus. The faculty are leader and also innovators within the field of special education, so student learn from those who have hands-on experience in the field. There are several areas of interest to specialize in including: autism spectrum disorders- a broad-range of pedagogies specific for students with ASD, autism spectrum disorders graduate certificate- for those seeking more knowledge about autism, leadership in special and inclusive education- focuses on laws, policies, and designs to engage students in inclusive learning settings, a master's in secondary special education and transition-a 30 credit program that focuses on students' transition into adult living and a master's in special education- a 33 credit program that focuses on high-incident exceptionalities like autism, intellectual delay, and behavior disorders. All programs take around 2 years to complete and cost $575 per credit hour. We picked this the University of Kansas for its exceptionally high rank, high value, and the many areas of focus available.
Flexibility-Enhancing Options: two options, multple tracks per option, accelerated
Estimated Out-of-State Tuition: $575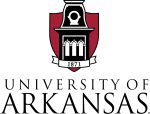 The University of Arkansas (U of A) is a public flagship university with a land and space grant. This university enrolls over 27,000 students representing 50 states and over 120 countries. U of A and is located in Fayetteville, Arkansas. According to U.S. News The University of Arkansas is ranked 135th in National Universities and is considered to be one of the "Best Colleges for Veterans." In terms of research, the University of Arkansas is in the top 2% of colleges nationwide according to The Carnegie Foundation . The Higher Learning Commission accredits U of A that offers 210 programs through their 10 academic colleges. Some colleges of note are the Fay Jones School of Architecture, the Sam M. Walton College of Business and the J. William Fulbright College of Arts and Sciences. In addition to academic rigor and notable academic colleges we chose The University of Arkansas for its value- that is $409 per credit hour.
The program from the University of Arkansas received national recognition from the Council for Exceptional Children. The Master's in Special Education is offered in three areas of focus they are: Special Education, Special Education with ABA Certificate, and Special Education with an ASD Certificate. The special education master's focuses on K-12 education for students with a variety of exceptionalities including learning disabilities, intellectual delay, attention deficit disorder, autism and physical disabilities. The ABA certificate is suitable for those seeking to become Board Certified Behavior Analysts and provides up-to-date programming approved by the Behavior Analyst Certification Board. The Autism Spectrum Disorder (ASD) focus provides a curricula focused on the learning styles of students with ASD and concludes with a ASD supervised practicum experience. Programming costs $409 per credit hour and requires a minimum of 36 credit hours.
Flexibility-Enhancing Options: number of concentrations
Estimated Out-of-State Tuition: $409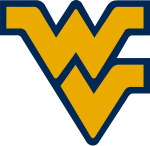 West Virginia University (WVU) is a public university located in Morgantown, West Virginia. WVU has a land and space grant with high research intensity according to the Carnegie Foundation for the Advancement of Teaching. WVU offers comprehensive programing and is accredited through the Higher Learning Commission to offer over 190 bachelor's, master's, and doctoral degrees. The mission of WVU is to offer high-quality education and promote health and vitality. The natural surrounding beauty and the millions of dollars in grant-funding account for this. In addition, hundreds of distance education courses are offered online. Tuition rates are some of the lowest in the nation that is $7,992 for in-state and $22,488 for out-of-state offerings. WVU has the entire package, highly trained faculty, connected and conscientous student body, beautiful surrounding, online programming and a low tuition rate. For advancing your career in Special Education, this is a phenomenal option.
West Virginia University offers a Master of Art in Special Education, a Master's degree with certification, and an initial teacher certification or endorsement. This program offers six areas for specialization! They are autism spectrum disorders, early childhood special education, gifted education, low vision/ blindness (visual impairment), mulitcategorical special education, and severe/multiple disabilities. All programs at WVU are accredited through the National Council for Accreditation of Teacher Education. The U.S. News & World Report ranked WVU's online education programs in the top 100 programs in the U.S. We ranked this program highly for its vast number of specializations, quality, and low cost- just $429 per credit hour.
Flexibility-Enhancing Options: six specializations
Estimated Out-of-State Tuition: $429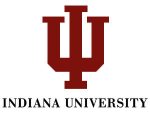 Indiana University has a combined student body of 110,000 students with the flagship campus in Bloomington and the Indianapolis campus. Indiana University is ranked 86th in the nation and 35th among public schools. There are also a number of top-notch academic programs (too many to list) all in the top 10 in the nation including the business, accounting, management, marketing, nonprofit management, social psychology, elementary education, among many others! The student body is diverse with 22% of its freshman multiracial, African American, Asian American and Latino as well as international with 113 countries represented. According to U.S. News , Bloomington is also a "Best College for Veterans." The creative arts are another reason to admire programming at Indiana University with the best music college in the nation. We love this program for its academic rigor, prestige and overall high quality of education in addition to its value- just $574 per credit hour.
Indiana University offers one of the most flexible degree routes with four completely online areas of specialization that you can combine to suit your professional needs. The areas of specialization are autism, behavior specialists, early childhood, instructional strategies, and intense interventions. 20 credits of your degree will focus on core requirements in assessment and remediation, family school and society, collaboration, behavior support, and a field-based seminar that focus on collaboration with fellow colleagues. 12 credits will come from your areas of interest(s) and the final 4 will be a capstone project either by way of independent study and research or a masters thesis. There is a minimum requirement of 30 credit hours and the cost of this program is a great value at just $574 per credit hour for access to education from one of the top 100 school in the nation.
Flexibility-Enhancing Options: nu,ber of speciality tracks
Estimated Out-of-State Tuition: $574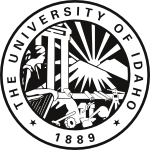 The University of Idaho is a public university with a land and space grant accredited by the Northwest Commission on Colleges and Universities. This rural college located in Moscow, Idaho enrolls over 11,000 students and is ranked 171st in "National Universities" and 90th in "Top Public Schools" according to U.S. News. and The Princeton Review Kiplinger'sranks UI as a "Best 100 Value Public College". There are over 250 academic programs available to undergraduate and graduate students both on-campus and online. The student-to-faculty ratio is low at just 17:1 and in-state tuition is less than $8,000 per year. UI recently receive $2.8 million dollars in funding for their online education programs with a mission to train more professionals in the fields of Special Education and STEM subjects. The value, quality of education and its dedication to student success are all reasons to consider UI for your next step in a career in Special Education.
The University of Idaho focuses on both coursework and practicum experiences to help you obtain a well-rounded and hands-on approach to teaching students with exceptionalities. The special education master's at the University of Idaho offers four different tracks either in mild to moderate disabilities, autism, low incidence and consulting. The sequence of courses takes you through assessment to transition. The Master's plus track allows student to register for a number of designated courses to expand teachers' knowledge of specific areas of interest and can be further tailored to interest with a faculty advisor. This program ranks highly for its flexibility and low cost- just $555 per credit hour.
Flexibility-Enhancing Options: four tracks
Estimated Out-of-State Tuition: $555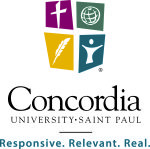 Concordia University- Saint Paul is a private comprehensive liberal arts university that enrolls 4,380 students. There is a student-faculty ratio of 15:1 and over 80% of professors have terminal degrees. The regional ranking for Concordia University is 103 according to U.S. News The Higher Learning Commission accredits Concordia University to offer a wide variety of programs for traditional and non-traditional learners, and at the comprehensive level- you can enroll in everything from an online associate's degree to an online Ph.D! Saint Paul is the capital of Minnesota and all of its amenities are just 10 minutes from campus. The same is true of Minneapolis. Students at Concordia enjoy all what the Twin Cities have to offer at a top-rate institution.
The Master of Art in special education at Concordia University is our least expensive pick costing only $378 per credit hour and requires a total of 36 credit hours. Courses are accelerated and only take 7-8 weeks to complete. Just like in an on-campus setting, you complete your programming in a cohort; a weekly one hour audio/visual chat is required. The course material covers ethics, linguistic difficulties, inclusion, mild and moderate disabilities, math and language differences, emotional and behavior disorders, assessment, learning disability practium, and others. This program is well-rounded, flexible and inexpensive.
Flexibility-Enhancing Options: accelerated
Estimated Out-of-State Tuition: $378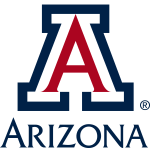 The University of Arizona is a public flagship research university located in Tucson, Arizona. Tucson is located an hour from Mexico and is home to many beautiful sites and borders the Saguaro National State Park. More than the only medical school in the state of Arizona, the University of Arizona has strong space research and development programming which a goal to send a spacecraft to a near-Earth asteroid in 2020 as well as manufacturing the world's largest telescope mirrors. It is also one of the world's premier public research universities. With over 32,000 undergraduate and nearly 10,000 graduate and professional students enrolled, the University of Arizona provides a major economic impact on the state of Arizona, totaling over $8 billion dollars of economic activity impacting some of the nation's best hospitals, tech parks, and outreach programs such as OSIRIS-REx. The virtual campus allows for your to pay per credit hour offers a total of 40 online degrees, 22 bachelors, 17 masters, and one doctoral program all accredited through the Higher Learning Commission.
At the University of Arizona you have the option to choose from three different degree paths. There is a Master of Arts in Special Education- Behavioral Support, Deaf and Hard of Hearing, and Disabilities. The Deaf and Hard of Hearing degree may require students to attend some on-campus sessions. There are also four areas of concentrations: challenging behavior, autism spectrum disorders, sensory impairments, or gifted students. Behavioral support examines positive behavior support models, issues in Applied Behavior Analysis, cultural and linguistic diversity in exceptional learners as well as consultation and collaboration for special needs learners. The M.A. in Deaf/ Hard of Hearing Students prepares teachers to work with student with varying degrees of hearing loss including an understanding of changes in technology, changes in the population and ways to set goals appropriate for these learners (70% of which will learn in the general education classroom.) The curriculum for student studying disability allow for selection of one of the four above mention areas of expertise with focuses on foundations of special education, assessment and instruction, linguistic diversity, research, and a course in your chosen field. The cost of this program at the University of Arizona is $653 per credit hour. Though one of our more expensive options, this university offers high quality and high levels of flexibility.
Flexibility-Enhancing Options: three programs with four specializations
Estimated Out-of-State Tuition: $653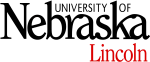 The University of Nebraska- Lincoln is a public flagship university located in Lincoln, Nebraska. According to US News, UNL is ranked 111th in the nation. UNL is also a member of the Big Ten Conference and according to Carnegie it's listed as a "Doctoral University [with the] Highest Research Activity". UNL is accredited by the Higher Learning Commission and has also been listed as a "best value" public university according to Kiplinger's and the Princeton Review. The value of this program lies in its fantastic education standards and low cost. That's why UNL ranks as one of our top 10 schools for a Master's in Higher Education. In addition to academic rigor, and affordability, Lincoln has more green space (parks) than nearly and other city in America. Students who start at UNL stay at UNL and graduation rate is also high.
The University of Nebraska-Lincoln offers an M.A./ M.ed. in Special education with areas of emphasis in K-6, 7-12, deaf and hard of hearing, visual impairments, and early childhood special education. M.A. student forces on a thesis while M.Ed. students focus on the practical side of education. Students earn a minimum of 36 semester hours of credit which cost $700 per credit hour. The Special education master's in K-6; 7-12 covers the broad and basic requirements for teachers looking to start their career in special education. The deaf and hard of hearing masters focuses on a much-needed skill in addressing the needs of students with hearing impairments. You will learn about the psychology and sociology of deafness, language arts and literacy for the deaf, oral methods for speech, audiology for teachers, language of instruction proficiency (ASL, MCE) and others! The early childhood special education degree includes content in child development and learning as well as curriculum development, its implementation and work with families for young children aged birth to 5 years old.
Flexibility-Enhancing Options: four different endorsements
Estimated Out-of-State Tuition: $700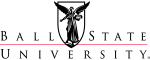 Ball State University (Ball State) is a public school located in Muncie, Indiana, is ranked 176th in the nation according to the US News, and is classified as a "high research activity" university according to Carnegie Classification of Institutions of Higher Education. Their online programming uses blackboard, peer grouping on assignments,and quality interactions with professors through email and Skype as well as access to the university library services, Writing Center tutoring and technology support. The US News ranks the following online programs: graduate education ranks 11th, the MBA ranks 12th, the graduate nursing program ranks 23rd, and 34th for bachelor's programs. In 2014, Ball State won the "Excellence in Institution-Wide Online Education Award" from the Online Learning Consortium. This is why Ball State makes it to the top of our list, the quality of online education is fantastic and the flexibility of completing programming from anywhere at anytime makes it even more realistic for those headed back to school
Ball State provides an extremely flexible option for those looking to advance their career in special education. All programs are 100% online with the exception of the Deaf Education (hearing impairment), early childhood special education and mild intervention programs which are hybrid (blended with online and on-campus classes). The courses that are offered 100% online are in Applied Behavior Analysis (Board Certified approved), autism, director of special education/ exceptional needs, response to interventions, and severe interventions. The master's in special education in special education at Ball State is national recognized by the Council for Exceptional Children and the Behavior Analyst Certification Board. For those interested in a variety or areas, Ball State offers the option to "build your own degree" which you can use toward various licensing in special education.
Flexibility-Enhancing Options: A number of specializations that can be taken mostly online
Estimated Out-of-State Tuition: $590
Related Resource: The 10 Best Online Master's in Autism Spectrum Disorder Education