When it comes to flagship universities, the University of Michigan (UM) is one of the most outstanding of all public schools in the nation. In fact, UM ranks as the 28th best school in the nation and 4th best public school. Their global ranking is 17 placing it above Duke, Cornell, and University College of London. Michigan State University attracts great thinkers as well and is currently ranked as the 81st best school in the nation.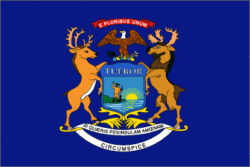 With such incredible public universities it only makes sense that K-12 education is also outstanding. Sadly, however, this is not the case for Michigan. It appears as though these flagship institutions are recruiting their talent out-of-state and internationally as K-12 public education in Michigan currently suffers from "terribly low performance" compared to other states in America. Even with recovery funding pouring into the state since 2009, Michigan's public system does not appear to be on the path of recovery. U.S. News ranks Michigan as the 36th best school in the nation for education. We definitely were scratching our heads over this one- particularly noting Michigan's reputation for having good schools. What it appears is that this truly depends on the region. For instance, schools in Grand Rapids, Holland, and Ann Arbor are performing well, but schools in Detroit continue to suffer. Michigan teachers continue to receive good wages (for teachers) and prospective teachers continue to receive a number of incentives to teach including alternative routes towards education. So why teach K-12 in Michigan? We think the answer is that today, more so than ever, education is a form of social justice. You teach K-12 in Michigan because Michigan needs you. The state is taking initiatives to fix the problem rather than ignore it and that in an of itself is promising. There's a new wave of hope in Michigan and all are welcome to join in and take part. Let's take a look at some routes towards teacher certification, some quality online programs, and average teacher salaries across the field. The following are institutions that offer online programming in education:
Andrews University
Western Michigan University
Michigan State University
Central Michigan University
Grand Valley State University
Wayne State University
Oakland University
Michigan Technological University
Concordia University- Ann Arbor
Northern Michigan University
Baker College
Spring Arbor University
Eastern Michigan University
Madonna University
Cornerstone University
Marygrove College
University of Michigan-Flint
Siena Heights University
Requirements for Teaching Licensure
in Michigan
The "traditional" route to certification in Michigan involves four main steps:
1.) Complete a Bachelor's Degree in Education
Complete a bachelor's degree in education. Usually, a bachelor's degree in education requires about 120 credit hours of general education courses, education courses, and electives. The common curriculum usually means about 30 or more major classes that correspond with state certification requirement, and additional course material that centers on theory and methods of teaching. We suggest you check the Licensing Guide For Michigan for and approved route towards certification.
2.) Complete a State-Approved Teacher Certification Program
For the traditional route, a "state-approved" teacher preparation program means working in an educational facility- typically a public school with a supervisor. Essentially it's like having supervised on-the-job training before you are actually on the job. Teacher preparation programs are an important step into the field of education. Here you will gain exposure to the school system, learn how to work with a team, and learn how to put education theory into practice. Here's a great resource for teacher certification programs in the state of Michigan.
3.) Pass the State-Mandated Exams
Generally, in the state of Michigan, you must complete the Michigan Tests for Teacher Certification. The Praxis is not required for students seeking licensure in the state of Michigan.
Are you finished with your bachelor's in education, teacher preparation, and exams? Here's a helpful checklist to ensure you have everything in order for licensure:
Complete a Background Check
Demonstrate Proof of Degree Completion with Official Transcripts
Demonstrate Proof of Teacher Preparation Completion
Provide Passing Scores for State-Mandated Exams
Complete an Application for Teacher Certification in the State of Michigan
Pay a non-refundable Certification Processing Fee
If you have a bachelor's degree in an area other than education or are simply looking for other methods that lead to licensure check out these alternative routes towards teacher certification for the state of Michigan.
Online Education Program Admission Requirements
Every school varies when it comes to admission and furthermore, admission requirements will differ depending on whether or not you are looking to complete an undergraduate or graduate degree. Let's first take a look at general admission requirements for a bachelor's degree in education.
Generally speaking in order to gain admission to a bachelor's degree in education you must have a high school diploma or have passed a GED with an acceptable GPA. College entrance exams like the ACT and SAT are still very common and score requirements vary per institution. Once you have the scores you need, the next step is to fulfill application requirements. In general, the application requirements include the application itself, the 2 or 3 letters of recommendations, an entrance essay demonstrating how you are good fit with the institution and occasionally an interview.
Admissions into a master's program also varies but many require: a bachelor's degree with least a 2.75 GPA, 2 years of teaching experience, 2-3 letters of recommendation from academic and professional supervisors, written essays of intent/ demonstrated passion and desire to attend program, and a GRE score. It's important to check with your institution as some schools do not require a GRE score.
Average Salaries
For Common Educator Roles in Michigan
Preschool Teacher:$31,950
Primary School Educator:$67,720
Secondary School Educator:$62,050
Higher Education Administrator:$143,276
Principal:$91,550
Special Education Teacher:$62,120
Math or Science High School Teacher:$80,360
ESL Teacher:$51,350
School Psychologist:$70,940
Scholarships for Future Educators in the State of Michigan
The 5 Best Online Education Degree
Providers in Michigan
Michigan has a total of 18 education degree-granting institutions that provide online education degrees. These range from community colleges offering associates in early childhood development or human services, to nationally ranked universities that offer a wide spread of masters level and education endorsement-level programming. While future students may want to go to the "best" online institution in their state for education degrees, they should take some to double check what exact degrees are offered by their institution of choice at the directory of all online education degrees at the bottom of the page. To select the following top five universities, we've looked at two factors: the number of fully online education degrees offered by an institution, and an "academic prestige" score. The academic prestige score takes into account metrics such as average amount of financial need received, average class sizes, admissions standards, and the percentage of faculty holding terminal degrees in their field. Also note that the tuition numbers below are just indicators of relatively how expensive or affordable a college is. The tuition numbers below, specifically, are the in-state (where applicable) undergraduate yearlong tuition rates for education degrees. Many universities, however, have similar tuition rates at the undergraduate and graduate levels.

Andrews University is a private Seventh Day Adventist institution located in Berrien Springs, Michigan. There are 3,317 students enrolled and the student-to-faculty ratio is 9:1. The Higher Learning Commission accredits Andrews to award comprehensive degree programs and professional certificates. According to U.S. News Andrews University ranks as the 192nd best university in the nation, 189th for best online MBA program, and 205th for best online graduate education programs. They support their students with remedial help, employment, academic and career counseling, on-campus daycare, and credit for life experience. Andrews offers far more than just theology and religious studies including degree programming in the visual and performing arts, social sciences, health, humanities, business, education, and more. Currently, there are 20 online degrees and professional certifications available including their online doctorate in curriculum and instruction, online master's in educational leadership, and online bachelor's in the liberal arts.
Andrews University's School of Education offers a number of quality traditional and online programs for prospective and seasoned educators alike. Students may pursue rigorous studies in K-12 education, higher education, and psychology and counseling. Students who are already teachers may also pursue professional and educational partnerships. Here's a list of their education professional development courses. There are also a range of programs available completely online:
Education, Curriculum and Instruction Emphasis MA
Curriculum and Instruction EdS
Doctor of Education Curriculum and Instruction
Doctor of Philosophy Curriculum and Instruction
Principal Graduate Certificate
Superintendent of Schools Graduate Certificate
Supervisor of Instruction Graduate Certificate
Educational Leadership MA
Educational Leadership EdS
Leadership EdS
Leadership EdD
Higher Education Administration MA
Higher Education Administration EdS
Educational Leadership EdD
Educational Leadership PhD
Higher Education Administration EdD
Higher Education Administration PhD
Leadership PhD
We selected Andrews University for the vast number of degree programs available online as well as for their high quality academic offerings.