Florida is home to one of the larger education systems in the United States, supporting 2.5 million students, over 4,000 schools and over 175,000 teachers. As a national cornerstone in the spheres of public and private education, one that has emerged as a leader in the South, the Sunshine State has become a popular destination for teachers who want to be on the frontlines of educational innovation, and especially those who want to teach second-language learners, who comprise a rising percentage of the state's K-12 student population.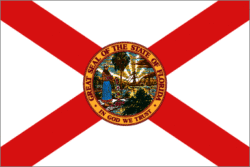 With no less than sixteen schools offering at least one online degree in early childhood education across the state, Florida houses some of the greatest online learning opportunities for early childhood education in the United States. And due to the ever-increasing size of the education infrastructure in almost every state, earning a degree from a top-tier Florida university goes a long way toward establishing one's credentials as a leader in the industry, and specifically the foundational field of early childhood education.
Requirements for Teaching Licensure
in Florida
The Florida Department of Education issues teaching licenses for early childhood education contingent upon successful completion of the following four-step process:
Online Education Program Admission Requirements
Admission requirements for online degree programs depend on the degree sought. Students applying for an online bachelor's degree in early childhood education must have at least a high school diploma, GED, or 60 transferable credit hours from an an accredited community college, preferably with an emphasis in education, in order qualify for admission to an undergraduate program. Students applying for an online master's degree in early childhood education must have at least a bachelor's degree from an accredited college or university, preferably with a major in education or a related field in order to qualify for admission. Florida's doctoral programs generally have the same requirements for admission as those for master's degrees, albeit with the added requirement of a master's degree to qualify. Most graduate programs in early childhood education require the GRE, although some may not.
Average Salaries
For Common Educator Roles in Florida
Preschool Teacher: $28,451
Elementary School Teacher: $52,350
Public School Teacher: $50,975
Professor of Education: $85,045
School Principal: $94,128
Special Education Teacher: $49,257
Math or Science Teacher: $54,585
ESL Teacher: $45,040
School Psychologist: $66,750
Scholarships for Future Educators in the State of Florida
A scholarship worth 90% of tuition and books for Florida residents enrolled in degree programs at qualifying colleges and universities in Florida. Includes travel stipend and paid release.
A private scholarship worth up to $500 per year for students who are graduating high school seniors and plan to enroll at an accredited institution of higher learning in the state of Florida, major in early childhood education, and complete a degree in that subject.
Provides a scholarship worth $4,000 per year to Florida residents and ethnic minorities who are enrolled in teacher education programs at colleges and universities that participate in the Florida Fund for Minority Teachers.
The 5 Best Online Education Degree
Providers in Florida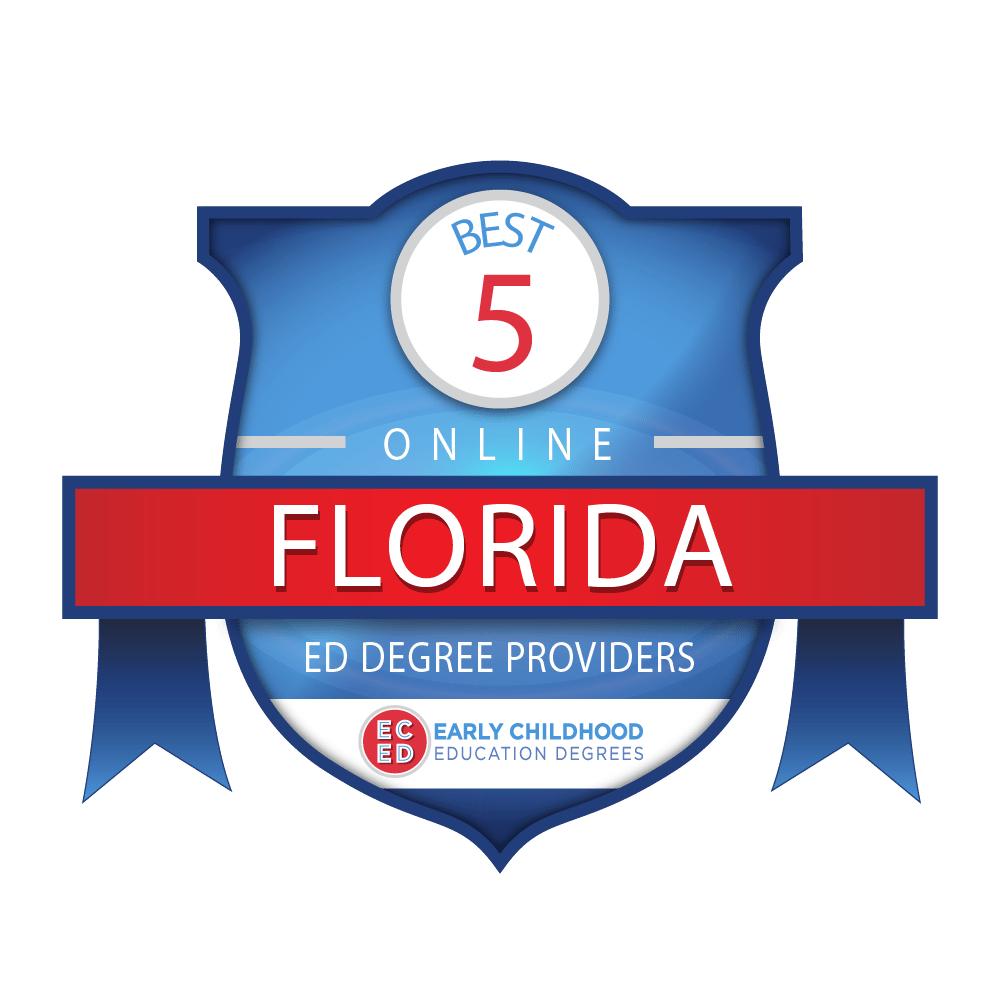 Florida has a total of 16 education degree-granting institutions that provide online education degrees. These range from community colleges offering associates in early childhood development or human services, to nationally ranked universities that offer a wide spread of masters level and education endorsement-level programming. While future students may want to go to the "best" online institution in their state for education degrees, they should take some to double check what exact degrees are offered by their institution of choice at the directory of all online education degrees at the bottom of the page. To select the following top five universities, we've looked at two factors: the number of fully online education degrees offered by an institution, and an "academic prestige" score. The academic prestige score takes into account metrics such as average amount of financial need received, average class sizes, admissions standards, and the percentage of faculty holding terminal degrees in their field. Also note that the tuition numbers below are just indicators of relatively how expensive or affordable a college is. The tuition numbers below, specifically, are the in-state (where applicable) undergraduate yearlong tuition rates for education degrees. Many universities, however, have similar tuition rates at the undergraduate and graduate levels.
Directory of Online Education Degree
Providers in Florida
University of Florida
Gainesville, FL
Online Ed Degrees: 13

TUITION

$6389





UNDERGRADUATE DEGREES

Bachelor of Science in Health Education And Behavior
Bachelor of Health Science in Communication Sciences And Disorders

GRADUATE DEGREES

Master ofMusic in Music Education
Master of Education in Educational Leadership
Master of Education Curriculum And Instruction – Teacher Leadership For School Improvement
Master of Arts Art Education
Master of Education Curriculum And Instruction – Education Technology)
Master of Education Special Education – Teach Well
Master of Science in Agricultural Education And Communication

Doctor of Education Educational Leadership
Doctor of Education Curriculum And Instruction – Educational Technology
Doctor of Education Higher Education Administration
Doctor of Education in Curriculum And Instruction – Curriculum Teaching And Teacher Education
University of South Florida
Tampa, FL
Online Ed Degrees: 11

TUITION

$6410





GRADUATE DEGREES

M.A. in Music Education
Ed.S. in Instructional Technology
M.A. in Adult Education
M.A. in Career & Technical Education
M.A. in Gifted Education
M.A. in Physical Education
M.A. in Reading K-12
M.A. in Special Education w/concentrations in ESE, BD, LD, ID
M.Ed. in Instructional Technology
M.Ed. in Secondary Education w/ Emphasis in TESOL
M.A. in Autism Spectrum Disorder and Severe Intellectual Disabilities
Seminole State College of Florida
Sanford, FL
Online Ed Degrees: 7

TUITION

$3131





UNDERGRADUATE DEGREES

Associate in Arts Major in Early Childhood Education – Non-Teaching Track
Associate in Arts Major in Early Childhood Education – Teaching Track (Pre-K)
Associate in Arts Major in Elementary Education
Associate in Arts Major in English Language Arts Education
Associate in Arts Major in Exceptional Student Education
Associate in Arts Major in Social Science Education
Associate in Arts Major in Technical Education And Industry Training
Gulf Coast State College
Panama City, FL
Online Ed Degrees: 6

TUITION

$2765
Florida State University
Tallahassee, FL
Online Ed Degrees: 5

TUITION

$6507





GRADUATE DEGREES

Master of Science in Educational Leadership/Administration, Ms
Master of Science in Instructional Systems And Learning Technologies, Ms
Master of Science in Learning And Cognition, Ms
Master of Science in Special Education Studies, Ms
Master of Science in Communication Disorders, Ms
University of Central Florida
Orlando, FL
Online Ed Degrees: 5

TUITION

$6368
Florida Atlantic University
Boca Raton, FL
Online Ed Degrees: 4

TUITION

$5432
Saint Leo University
Saint Leo, FL
Online Ed Degrees: 4

TUITION

$21130
Florida Gulf Coast University
Fort Myers, FL
Online Ed Degrees: 3

TUITION

$6118
University of North Florida
Jacksonville, FL
Online Ed Degrees: 2

TUITION

$6394
Lynn University
Boca Raton, FL
Online Ed Degrees: 1

TUITION

$36350
Florida International University
Miami, FL
Online Ed Degrees: 1

TUITION

$6556
Florida Southern College
Lakeland, FL
Online Ed Degrees: 1

TUITION

$33100
Indian River State College
Fort Pierce, IL
Online Ed Degrees: 1

TUITION

$2640
Carlos Albizu University-Miami
MIami, FL
Online Ed Degrees: 1

TUITION

$12384
Tallahassee Community College
Tallahassee, FL
Online Ed Degrees: 1

TUITION

$2026