In the diverse and populous state of New York, the demand for highly-qualified teachers remains strong, and credentialed teachers command excellent salaries.
In 2015, the U.S. Census Bureau reported over 4,200,000 children under 18 living in the state of New York, many of them in New York City. The state employs some 210,496 teachers in public and charter schools, and many more work in private and parochial schools.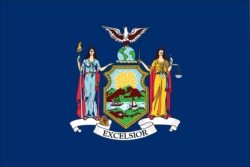 The state of New York is ranked in the nation's top five for diversity, with the eighth-highest percentage of nonwhite residents and the second-highest percentage of foreign-born residents. With students coming from a broad range of backgrounds, teachers with training in cultural inclusion, teaching to English language learners and those with bilingual skills will be at a distinct advantage. Special education teachers are also in demand; the New York Department of Education reports that some 17% of students in public and charter schools have disabilities. New York teachers earn some of the highest base salaries in the nation, and hefty incentives, including stipends and loan-forgiveness programs, are available to those teaching in high-need schools or shortage subjects. Additionally, New York State's teacher certification exams, long criticized as overly stringent, are in the process of being revamped to allow a broader pool of new teachers to qualify, and current test-takers will be measured by more lenient "safety net" standards.
Requirements for Teaching Licensure
in New York
To earn an initial teaching certification in the state of New York, teaching candidates must meet the following requirements:
Complete a bachelor's degree, along with 30 credits in subject-specific coursework, at an accredited institution or complete an approved New York State Teacher Preparation Program.
Complete a state approved teacher certification program.
Pass four required exams: Academic Literacy Skills Test (ALST), Educating All Students (EAS) test, edTPA, and Content Specialty Test (CST).
Submit a New York teaching credential application.
New York also has an Alternative Teacher Preparation Program designed for mid-career and career-changing professionals. This pathway to certification consists of an introductory section followed by certification tests and then mentored, paid employment as a teacher. Those holding teaching certification from other states may also become licensed in New York by passing a limited number of additional New York certification exams, which vary by area of teaching specialty.
Online Education Program Admission Requirements
Admission requirements for online degree programs depend on the degree sought. Students applying for an online bachelor's degree in early childhood education must have at least a high school diploma, GED, or 60 transferable credit hours from an accredited community college, preferably with an emphasis in education, in order qualify for admission to an undergraduate program. Students applying for an online master's degree in early childhood education must have at least a bachelor's degree from an accredited college or university, preferably with a major in education or a related field in order to qualify for admission. Florida's doctoral programs generally have the same requirements for admission as those for master's degrees, albeit with the added requirement of a master's degree to qualify. Most graduate programs in early childhood education require the GRE, although some may not.
Average salaries for common educator roles in New York
Preschool Teacher: $43,650
Elementary School Teacher: $58,795
Public School Teacher: $57,179
Professor of Education: $102,098
School Principal: $106,334
Special Education Teacher: $55,091
Math or Science Teacher: $75,340
ESL Teacher: $45,803
School Psychologist: $51,579
Scholarships for Future Educators in the State of New York
A subsidized master's degree fellowship aimed at career-changing professionals in order to increase the number of highly trained teachers in the NYC public school system. The fellowship program covers the majority of costs (excluding books and class materials) associated with earning a master's degree in education.
This loan forgiveness and tuition assistance program prepares participants to serve at high-need New York City public schools in the areas of Bilingual Special Education, Monolingual and Bilingual Speech Language Pathology, Visually Impaired and Bilingual School Psychology. The scholarship program offers uncertified candidates a traditional path to certification by way of a Master's degree in a traditional teaching or clinical shortage area.
The Tuition Assistance Program (TAP), New York's largest grant program, helps eligible New York residents attending in-state postsecondary institutions pay for tuition with grants of up t $5,165.
This incentive program is offered to encourage students to pursue careers as math and science teachers in secondary education (grades 7-12). Awards of $6,470 are made to students attending school at the undergraduate and/or graduate degree level in exchange for five years of full-time employment as math or science teachers in secondary education in the state of New York.
A scholarship of $1,000 offered by the National Institute for Labor Relations Research. The funds are awarded annually to the education student who best
exemplifies dedication to principle and high professional standards in teaching.
The 5 Best Online Education Degree
Providers in New York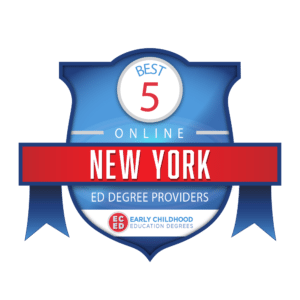 New York has a total of 23 education degree-granting institutions that provide online education degrees. These range from community colleges offering associates in early childhood development or human services, to nationally ranked universities that offer a wide spread of masters level and education endorsement-level programming. While future students may want to go to the "best" online institution in their state for education degrees, they should take some to double check what exact degrees are offered by their institution of choice at the directory of all online education degrees at the bottom of the page. To select the following top five universities, we've looked at two factors: the number of fully online education degrees offered by an institution, and an "academic prestige" score. The academic prestige score takes into account metrics such as average amount of financial need received, average class sizes, admissions standards, and the percentage of faculty holding terminal degrees in their field. Also note that the tuition numbers below are just indicators of relatively how expensive or affordable a college is. The tuition numbers below, specifically, are the in-state (where applicable) undergraduate yearlong tuition rates for education degrees. Many universities, however, have similar tuition rates at the undergraduate and graduate levels.
In-state Tuition: 9770
Online Ed Degrees: 9
The State University of New York at Buffalo ("SUNY Buffalo" or "UB") is a public research university with campuses in Buffalo and Amherst, New York. Founded in 1846 by President Millard Fillmore, this large, old and illustrious school is widely considered New York's public flagship university. With a student body of 29,806, SUNY Buffalo is the largest institution by enrollment in the state university system, and the largest public school in the entire northeast region. The university has 13 colleges, including a law school and medical school, and offers over 100 bachelor's, 205 master's, 84 doctoral degrees, and 10 professional areas of study. The Carnegie Foundation classifies SUNY Buffalo as a research institution with "highest research activity", its most prestigious ranking. The school is notable for its high caliber of faculty; professors have included UB's alumni and faculty have included a Prime Minister, astronauts, Nobel laureates, Pulitzer Prize winners, 3 billionaires, Academy Award winners, Emmy Award winners, Fulbright Scholars, and Rhodes Scholars. U.S. News and World Report ranks UB 99th in National Universities and 43rd in Top Public Schools.
The State University of New York at Buffalo has earned an outstanding reputation for its online offerings in the field of education. U.S. News and World Report ranks it 10th in the nation for Online Graduate Education Programs. The school offers 11 master's degrees, including several innovative programs such as Education and Technology and Science and the Public, as well as traditional areas such as Literacy Education and Music Education. Nine advanced graduate certificate programs are offered for those wishing to enhance their existing credentials, including Gifted Education and College Teaching. SUNY Buffalo also offers an online doctorate in Curriculum, Instruction and the Science of Learning, a multidisciplinary program that focuses on solving problems in education through curriculum and resource integration. Online classes use the same rigorous curriculum as on-campus classes, and are taught by elite, highly-credentialed faculty.
2
Concordia University New York
In-state Tuition: 30550
Online Ed Degrees: 33
Founded in 1881, Concordia College is a private, Lutheran institution based in Bronxville, New York. This small, diverse school has a total enrollment of 953 and offers associate, bachelor, and master's degrees. Business and nursing are some of the school's most popular majors, and the nursing school is recognized for the high rate at which its graduates pass their RN NCLEX examination on their first attempt. Concordia prides itself on providing students across disciplines with a well-rounded education grounded in faith-based, value-oriented liberal arts. In keeping with the school's religious tradition, a wide array of volunteer and community service opportunities are available to students. Class sizes are small, with a student to faculty ration of just 13 to one. Concordia has earned an excellent academic reputation; U.S. news and World Report ranks the college 22nd in Regional Colleges, North.
Concordia offers an online master of science degree in Childhood Education which is comprehensive and flexible. The curriculum covers in-demand areas, such as Special Education/Inclusion, Literacy, Math, Science, STEAM & Differentiated Instruction. Graduates will meet the academic requirements for professional certification in Childhood Education for New York State. Those already employed as elementary teachers can complete the program in under 14 months by utilizing their workplace experience for practicum credits. Concordia also offers master's degrees in both Childhood Special Education and Early Childhood Special Education. Combined General/Special Education degrees are also offered, which allow teachers to develop instructional and curriculum-planning skills to teach a broad range of populations. Concordia also offers a 10-credit graduate Dyslexia Specialist certification program incorporating the "Wilson Reading System".
In-state Tuition: 42160
Online Ed Degrees: 3
Hofstra University is a private, non-profit research university located in the village of Hempstead, in Long Island, New York. The school originated in 1935 as a branch of New York University, and is now home to 10,870 graduate, undergraduate and doctoral students. Hofstra is divided into 10 schools, including a school of engineering, a law school and a medical school. The university has gained attention for hosting the past three Presidential Debates, as well as a number of prominent Presidential conferences. Selective admissions, rigorous academics, and accomplished faculty make Hofstra a prestigious institution, which has earned an outstanding reputation and high rankings. U.S. News and World Report ranked Hofstra 133rd in National Universities, as well as 63rd in Best Value. Of the full-time faculty at Hofstra, 92% hold the highest degree in their fields, and many have earned awards such as Fulbright and Guggenheim Fellowships, National Science Foundation and National Endowment for the Humanities awards. Class sizes are very small, with a faculty to student ratio of just 13 to one, allowing for personal attention to each student. Abundant academic resources include a newsroom, trading room, robotics lab, bioengineering lab, observatory, six theaters and two museums. Outside of the classroom, students can take advantage of numerous opportunities for experiential learning, including internships, fellowships, research, study abroad, as well as cultural and service programs.
U.S. News and World Report ranks Hofstra in 56th for Online Graduate Education Programs, and The Best Schools awarded the program 4th in its national rankings.
Hofstra is accredited by t he Teacher Education Association Council (TEAC) and The Middle States Commission on Higher Education. The school offers some 40 master's degrees in education in such diverse fields as Physical Education, Earth Science and Bilingual Education. New programs include Educational Technology, a doctoral concentration in Higher Education Leadership and an Early Childhood Intervention Specialist Program. All online education classes are recorded and archived so students can access the information on their time. The job outlook for Hofstra education program graduates is bright; some 99% of program alumni report that they are employed, and over 60% accepted a job offer before graduation.
4
State University College at Oswego
In-state Tuition: 7881
Online Ed Degrees: 12
Founded in 1861, the State University of New York at Oswego ("SUNY Oswego") is a public liberal arts college and founding member of the New York State University System. The school has campuses in both the rural town of Oswego and the city of Syracuse, in New York. SUNY Oswego is home to 7,400 students, enrolled in over 100 undergraduate, graduate and certificate programs. Students at this school study abroad at nearly double the national average rate. The college also offers students extensive internship, co-op, and volunteer opportunities, including the chance to conduct research worldwide through its Global Laboratory network. In recognition of its community and global initiatives, SUNY Oswego has been designated as a "community engagement" university by the Carnegie Foundation. The university is widely recognized for academic quality and affordability. U.S. News and World Report ranks SUNY Oswego 44th in Regional Universities, North, 31st in Best Value Schools and an impressive 12th in Top Public Schools.
The State University of New York College at Oswego was originally founded as a training school for teachers, and was based on the innovative "Oswego Movement" in education, which emphasized experiential learning. Today, SUNY Oswego's department of education remains a cornerstone of the university, with a special focus on practical teaching skills and social justice. The State University College at Oswego offers six online bachelor's and six online master's degrees in the field of education. All online degree programs are occupation-specific, and are offered through the Department of Vocational Teacher Preparation. Degree options include both undergraduate and graduate studies in Health Careers Education, Technical Education and Agricultural Education, Trade Education and Business and Marketing Education, among others. Vocational teachers need expertise in their field in order to effectively train others, and SUNY Oswego requires that applicants to the Department of Vocational Teacher Preparation possess either extensive professional experience or a minimum of 30 academic credits in their occupational field.
5
St. John's University-New York
In-state Tuition: 39460
Online Ed Degrees: 3
St. John's University- New York is a Roman Catholic institution open to students of all faiths, with campuses in the New York City boroughs of Queens, Staten Island and Manhattan. The university is notable for its highly credentialed faculty, over 92% of whom hold terminal degrees, and low student to faculty ratio of 17 to one. The school educates some 21,254 students in over 100 bachelor's, master's and doctoral degree programs. St. John offers extensive international programs; St. John has campuses in Rome and Paris and offers study abroad programs throughout Western Europe, as well as other parts of the world, and over 30% of students take classes abroad at some point during their studies. On-campus classes at St. John's also take advantage of the school's location in New York City, with numerous on-site learning experiences taking place on Wall Street, Central Park, Ellis Island and at the city's many museums. U.S. News and World Report ranks St. John University 164th in national Universities.
St. John's University- New York offers three online master's degrees and eleven online advanced certificates in the field of education. Master's degree programs include: School Building/District Leadership (which trains future principals, district leaders and administrators) Teaching English to Speakers of Other Languages (preparing teachers to instruct English-language learners) and Teaching Children with Disabilities in Childhood Education (aimed to prepare teachers to work with students with exceptionalities in grades 1 through 6). The many graduate certificates offered by St. John's allow students to add marketable skills to their repertoire or build a concentration into their graduate degree program. Available certificates cover highly specialized topics such as Bilingual Special education and Gifted Education. The university's online department of education has earned an outstanding academic reputation, and is ranked 22nd in the nation by U.S. News and World Report. Online courses are taught by the same professors that teach on campus, most of whom hold doctorate degrees. The university also provides distance learners with extensive support services, such as library resources, campus ministry, and career counseling.
Directory of Online Education Degree
Providers in New York
University of Buffalo
Buffalo, NY
Online Ed Degrees: 9

TUITION

$9770





GRADUATE DEGREES

Master of Education in Science and the Public
Master of Education in School Librarianship
Master of Education in Mathematics: Adolescence, Professional
Master of Education in Music Education
Master of Education in English Education: Adolescence, Professional
Master of Education in English Education
Master of Education in Music Education
Master of Education in Educational Technology

Curriculum Instruction and the Science of Learning
Concordia University New York
Bronxville, NY
Online Ed Degrees: 33

TUITION

$30550





GRADUATE DEGREES

Master of Education in Educational Leadership
Master of Education in Curriculum And Instruction – Career And Technical Education Leadership
Master of Education in Curriculum And Instruction – Leadership
Master of Education in Curriculum And Instruction – Teacher Leadership
Master of Education in Curriculum And Instruction – Equity, Ethics, And Justice
Master of Education (M.Ed.) in Literacy – Reading Specialist
Master of Education (M.Ed.) in Literacy – Reading Specialist And Esl Emphases
Master of Education in Advanced Study in Special Education
Master of Education in Career And Technical Education (Cte)
Master of Education in Curriculum & Instruction
Master of Education in Curriculum And Instruction – Adolescent Literacy
Master of Education in Curriculum And Instruction – Bible Literacy
Master of Education in Curriculum And Instruction – Common Core State Standards Instructional Leader
Master of Education in Curriculum And Instruction – Early Childhood Education
Master of Education in Curriculum And Instruction – Elearning And Technology Education
Master of Education in Curriculum And Instruction – English Language Development
Master of Education in Curriculum And Instruction – English To Speakers of Other Languages
Master of Education in Curriculum And Instruction – Environmental Education
Master of Education in Curriculum And Instruction – Mathematics
Master of Education in Curriculum And Instruction – Methods And Curriculum
Master of Education in Curriculum And Instruction – Reading
Master of Education in Curriculum And Instruction – Science
Master of Education in Curriculum And Instruction – Social Studies (K-14)
Master of Education in Curriculum And Instruction – Stem (Science, Technology, Engineering, And Mathematics)
Master of Education in Curriculum And Instruction – The Inclusive Classroom (Sped)
Master of Education in Early Childhood Education
Master of Education in Educational Administration
Master of Education in Special Education
Master of Education in Tesol (Teaching English To Speakers of Other Languages)

Doctorate of Education (Ed.D.) in Educational Leadership
Ed.D. in Teacher Leadership
Ed.D. in Educational Administration
Ed.D. in Higher Education
Hofstra University
Hempstead, NY
Online Ed Degrees: 3

TUITION

$42160
State University College at Oswego
Oswego, NY
Online Ed Degrees: 12

TUITION

$7881





UNDERGRADUATE DEGREES

BS in Health Careers Education (7-12)
BS in Trade Education (7-12)
BS in Technical Education (7-12)
BS in Family and Consumer Science Education (7-12)
BS in Business and Marketing Education (7-12)
BS in Agricultural Education

GRADUATE DEGREES

Master of Education in Family and Consumer Science Education
Master of Education in Health Careers Education
Master of Education in Business and Marketing Education
Master of Education in Trade Education
Master of Education in Technical Education
Master of Education in Agricultural Education
St. John's University-New York
Queens, NY
Online Ed Degrees: 3

TUITION

$39460
Canisius College
Buffalo, NY
Online Ed Degrees: 4

TUITION

$35424
New York Institute of Technology
Old Westbury, NY
Online Ed Degrees: 4

TUITION

$35160
Stony Brook University
Stony Brook, NY
Online Ed Degrees: 1

TUITION

$9026
State University College at Brockport
Brockport, NY
Online Ed Degrees: 8

TUITION

$7928





GRADUATE DEGREES

MEd in Adolescence Education: Biology
MEd in Adolescence Education: Chemistry
MEd in Adolescence Education: English
MEd in Adolescence Education: Math
MEd in Adolescence Education: Physics
MEd in Adolescence Education: Earth Science
MEd in Adolescence Education: Social Studies
Master of Education in Physical Education
State University College at Oneonta
Oneonta, NY
Online Ed Degrees: 3

TUITION

$7520
SUNY Empire State College
Saratoga Springs, NY
Online Ed Degrees: 9

TUITION

$6985





UNDERGRADUATE DEGREES

Associate of Arts in Educational Studies
Associate of Science in Educational Studies

Bachelor of Science in Educational Studies
Bachelor of Arts in Educational Studies

GRADUATE DEGREES

Master of Arts in Adult Learning
Master of Arts in Learning And Emerging Technologies
Master of Arts in Teaching (Mat)
Master of Education in Teaching And Learning
Master of Science in Nursing Education
University of Albany
Albany, NY
Online Ed Degrees: 1

TUITION

$9124
Mercy College
Dobbs Ferry, NY
Online Ed Degrees: 8

TUITION

$18392





GRADUATE DEGREES

Master of Science in School Building Leadership
Master of Science in Adolescence Education, Grades 7-12
Master of Science in Bilingual Education
Master of Science in Childhood Education, Grade 1-6
Master of Science in Early Childhood Education, Birth-Grade 2
Master of Science in Nursing Education
Master of Science in Teaching English To Speakers of Other Languages (Tesol)
Master of Science in Teaching Literacy, Birth To Grade 12
Pace UNiversity
New York, NY
Online Ed Degrees: 1

TUITION

$42772
Roberts Wesleyan College
Rochester, NY
Online Ed Degrees: 2

TUITION

$29540
Buffalo State College
Buffalo, NY
Online Ed Degrees: 2

TUITION

$7669
State University College at Cortland
Cortland, NY
Online Ed Degrees: 1

TUITION

$8050
Gennessee Community College
Multiple Locations, NY
Online Ed Degrees: 2

TUITION

$3900
Monroe Community College
Rochester, NY
Online Ed Degrees: 2

TUITION

$3376
The Sage Colleges
Troy, NY
Online Ed Degrees: 1

TUITION

$28805
Erie Community College
Erie, NY
Online Ed Degrees: 1

TUITION

$4595
Onondaga Community College
Onondaga, NY
Online Ed Degrees: 1

TUITION

$4430