Online Ed Degree Rankings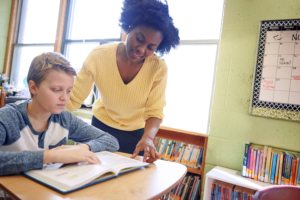 If you are looking to become an educator or advance in your career, you will want to find the perfect degree. Though you may be a natural teacher, there are a number of skills that you will need to acquire before heading into the classroom. You will want to learn how to manage a class, sequence your curriculum, differentiate your lessons to match the needs of all learners, and so much more. According to ONet Online More than 70 percent of teacher's have a bachelor's degree. Though, it is possible to start your career as an assistant teacher with an associate's degree (which we will discuss below). The master's degree is really where you learn to hone who you are as a teacher- following your passions through research and more in-depth study. Some of you may be more interested in leading a school or making contributions to the field of education. In which case, a doctorate in education will be required.
No matter who you are, or which category you fit in, there are now online education degree offerings for nearly every area of interest. Let's take a look at a number of your options.
Online Education Degrees By Level
An associate's degree in education provides the fundamental skills required for teaching. With those fundamentals, student can either choose to enter into the field of education or continue on and pursue a bachelor's degree. A typical curriculum includes programming in classroom management, instructional strategies, the basics of curriculum, an introduction to your area of interest like elementary education or early childhood education and a field experience. Like with most all associate's degrees, you will be required to complete general education programs. Some associate's degrees offer programs specific to individuals who are looking to move directly into a career. If that's you, look into an Associate of Applied Science. Many people pursuing an associate's degree are looking to keep their options open, and may want to transfer into a 4-year program. For those individuals, we recommend looking into an Associate of Arts degree or an Associate of Science degree as well as checking in with your university of choice.
A bachelor's degreein education provides individuals with the minimum requirements for individuals looking to becomes licensed educators in PreK-12 education. The programs go quite a bit deeper than associate's degrees and include introductory courses on child assessment, designing curricula for the exceptional learner, educational technology, developing literacy skills, area-specific curriculum design, early childhood education, ethics of education, and a lot more. Most bachelor's degrees requires general education courses in addition to core courses. To obtain your initial teacher licensure, you must complete a supervised student teaching experience. This process is typically part of the bachelor's degree requirements.
Online Bachelor's Degree Rankings
Pursuing a master's degree in education is a popular decision among teachers. According to the National Center for Educational Statistics 56% percent of public school teachers hold a master's degree. Like the name implies, a master's degree is the program you need to help you achieve mastery over your subject. You'll learn to research current issues in education, design curricula to meet the needs of all types of learners, assess exceptional learners, and advocate for their success in the classroom, and look more critically at the issues related to your area of specialty. Along with the more advanced knowledge comes a pay raise– yet another reason a master's degree is a popular choice for teachers.
A doctoral degree is an essential degree for individuals looking to take on a major leadership role in an institution or district and a great fit for individuals who feel they have more to contribute to the field of education. Doctor's in Education (Ed.D.) programs have a heavy research component but are not all research- as number of programs prepare students for new career moves, there a number of theoretical courses as well as practical requirements. You may spend an entire year involved in supervised practicum or more. If you are ready to step into a leadership role but are not quite ready to devote the time to an Ed.D, you could get halfway there with an Educational Specialist Degree.
How to Change Careers to a Teaching Career
If you are looking to move into a career as a teacher, but have a bachelor's degree in a field other than education, you should check out a Master of Arts in Teaching. The program is similar to a Master's plus a post baccalaureate course and may require closer to 45 or 50 credits to complete unlike a MA which is close to a 30 credit hour program. Some courses you may find in a MAT include foundational perspectives in education, principles of psychology and child development, diversity and inclusion for exceptional learners, classroom management and motivation, assessment, and specialty-specific courses, effective teaching in practice, research, and more. This type of program typically takes about 24 to 30 months to complete and does require a practicum experience. If you are a highly motivated professional who has what it takes to make an impact in the field of education, a MAT is probably the way to go.
Focus Areas for Master's Degree Candidates
For those of you who already hold a bachelor's degree in education, and are ready to advance your career, chances are you're considering an online master's degree program. The majority of online programs are M.Ed., M.A., or M.S. programs. If you see a Master of Arts in Teaching (MAT) sometimes abbreviated as M.A. in Teaching, that is a better fit for someone who has a bachelor's degree in something other than education. See the paragraph above this one. Let's take a look over at some of the most popular M.Ed. degrees:
A Master's in Curriculum and Instruction is a highly-specialized and sought after Master's degree. This degree prepares you to write and design curricula specific to your area. You'll often find M.Ed. in Curriculum and Instruction with a number of specialization. It's great for all teachers who want to learn how to design a curriculum that meets the state criteria, and is engaging for all types of learners.
An affordable master's in early childhood education is perhaps one of the most sought-after online master's degrees. As early childhood educators may make less of a salary than other educators, cost is a huge factor when determining which program to choose. You are likely to study child development, curriculum and instruction for ECE, play, language development and emerging literature, and more.
Related Degree Rankings:
Educational Technology Master's Degrees are a great option for almost any 21st century educator. This type of Master's program really exists to not only provide a speciality area for teachers who are looking to specifically teach technology, but also are a great way to stay on top of the myriad of ways technology can be used as an instructional tool in today's classroom. As a number of your students will be digital natives, if you want to speak their native tongue so-to-speak, you'll need some technology fluency. Another great use for this degree is online course design.
An online master's degree in educational leadership may be one of the highest valued degrees. These programs tend to be as fast and as affordable as other online master's degrees and are a great ticket to a leadership position and a pay raise. There's a leadership opportunity in nearly every department which is why you will often find areas of specialization within this program. You will learn how to lead individuals, groups, improve schools,research, engage with school ethics and law, and determine ways to engage the community.
Related Degree Rankings:
Okay we know there is more to the STEM acronym than Science and Math, but we wanted to make sure to include these two essentials. First of all, math and science education careers are extremely high paying. It is not uncommon for a secondary math teacher to make more than $60,000 per year- no matter which state. These master's degrees will vary depending on your specialty but generally lead to high-paying and in-demand jobs. Getting a Master's Degree in one of these fields is a no-brainer.
This is another high-demand job that pays a bit more for your expertise. Whether you're looking for a job working with gifted and talented students, students with autism or ways to incorporate appropriate lessons for exceptional learners an online master's degree in special education is an absolute must. Depending on the program, you will likely learn about classroom management, ways to design your classroom to meet the needs of your learners, assistive technology, behavior modification, and more. If you are a creative and compassionate person, look into an Master's degree in Special Education.
Related Degree Rankings:
When we mention "Special Areas" we're talking about M.Ed programs that include pretty much everything else like Art Education, Music Education, Social Studies Education, Physical Education Business Educaiton and more. These specialty area positions may not be as readily-available as some of the areas we mention above, but are nonetheless, still in demand. This of this too when considering an online master's degree in education: where does your passion lie? Sometimes pursuing the area you're most passionate about will pay off in the long-run. We don't need any more revolving-door teachers. We need teachers who are going to stick around and be a supportive presence in the community. If you pursue your passions, you may find that teaching becomes a long-term career.
Related Degree Rankings: