Today is April 20th 2018 and the breaking news for Arizona is that students have walked out over gun violence, and educators are planning to walk out on April 26th as part of the #RedforEd movement that has swept through the state. The Arizona Education Association voted- and 78% of its educators will walk out of their schools on behalf of their students, schools, and their colleagues.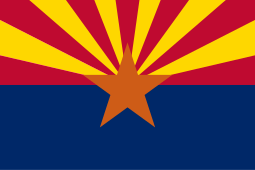 Their motto is that they Don't Want to Walk Out but they Will. What is happening in Arizona? The short answer is underfunding for both educators and the schools. Special education is losing money as are the Arts and other areas. Once upon a time, teachers moved to Arizona to teach- for better quality schooling and for better pay. Today, teachers are fighting for that back. So why would anyone want to teach in Arizona right now? Arizona currently ranks as the 48th "best" state for K-12 education in the nation. This is one of the last places in America to start a career as a teacher, right? Well, maybe not. The teacher and organizers who are currently facilitating action through the Arizona Education Association are looking for change that is meaningful, and they have moved, and continue to move through all the right channels. These individuals that make up this movement are working purposefully and building momentum. Public education is suffering across the nation, and not just in Arizona, but the motion towards positive real change is palpable and very possible, particularly in Arizona. Adding your voice to the chorus now more so than ever (in nearly a decade) is going to make the impact that Arizona is yearning for. The young people of Arizona need passionate educators like you to join in this movement to help a state in dire need. If you understand that education takes more than just planning but also gusto, if you have a passion to restore and rejuvenate areas in need, a teaching career in Arizona may be the perfect fit. At the end of this fight is better pay, a 1 billion dollar investment in schools, and hopefully some of the best education Arizona has seen in over 10 years. It's moments like these that make a difference in education. If you're looking to become part of the solution, here are online institutions in Arizona that provide some of the best degrees in education in the state:
Arizona State University
Grand Canyon University
Northern Arizona University
University of Arizona
Prescott College
Arizona Christian University
Argosy University-Phoenix
Mesa Community College
Pima Community College
Requirements for Teaching Licensure
in Arizona
The "traditional" route to certification in Arizona involves four main steps:
1.) Complete a Bachelor's Degree in Education
Complete a bachelor's degree in education. Usually, a bachelor's degree in education requires about 120 credit hours of general education courses, education courses, and electives. The common curriculum usually means about 30 or more major classes that correspond with state certification requirement, and additional course material that centers on theory and methods of teaching. We suggest you check the Licensing Guide For Arizona for and approved route towards certification.
2.) Complete a State-Approved Teacher Certification Program
For the traditional route, a "state-approved" teacher preparation program means working in an educational facility- typically a public school with a supervisor. Essentially it's like having supervised on-the-job training before you are actually on the job. Teacher preparation programs are an important step into the field of education. Here you will gain exposure to the school system, learn how to work with a team, and learn how to put education theory into practice. Here's a great resource for educator preparation programs in the state of Arizona.
3.) Pass the State-Mandated Exams
Generally, in the state of Arizona, you must complete the Arizona Tests for Teacher Certification.
Are you finished with your bachelor's in education, teacher preparation, and exams? Here's a helpful checklist to ensure you have everything in order for licensure:
Complete a Background Check
Demonstrate Proof of Degree Completion with Official Transcripts
Demonstrate Proof of Teacher Preparation Completion
Provide Passing Scores for State-Mandated Exams
Complete an Application for Teacher Certification in the State of Arizona
Pay a non-refundable Certification Processing Fee
If you have a bachelor's degree in an area other than education or are simply looking for other methods that lead to licensure check out these alternative routes towards teacher certification for the state of Arizona.
Online Education Program Admission Requirements
Every school varies when it comes to admission and furthermore, admission requirements will differ depending on whether or not you are looking to complete an undergraduate or graduate degree. Let's first take a look at general admission requirements for a bachelor's degree in education.
Generally speaking in order to gain admission to a bachelor's degree in education you must have a high school diploma or have passed a GED with an acceptable GPA. College entrance exams like the ACT and SAT are still very common and score requirements vary per institution. Once you have the scores you need, the next step is to fulfill application requirements. In general, the application requirements include the application itself, the 2 or 3 letters of recommendations, an entrance essay demonstrating how you are good fit with the institution and occasionally an interview.
Admissions into a master's program also varies but many require: a bachelor's degree with least a 2.75 GPA, 2 years of teaching experience, 2-3 letters of recommendation from academic and professional supervisors, written essays of intent/ demonstrated passion and desire to attend program, and a GRE score. It's important to check with your institution as some schools do not require a GRE score.
Average Salaries
For Common Educator Roles in Arizona
Preschool Teacher:$24,790
Primary School Educator:$56,025
Secondary School Educator:$42,540
Higher Education Administrator:$143,276
Principal:$74,750
Special Education Teacher:$48,570
Math or Science High School Teacher:$74,029
ESL Teacher:$51,350
School Psychologist:$57,930
Scholarships for Future Educators in the State of Arizona
The 5 Best Online Education Degree
Providers in Arizona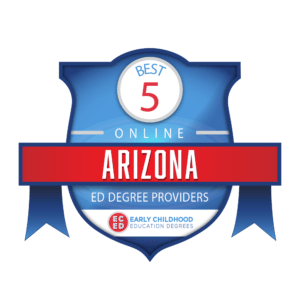 Arizona has a total of 9 education degree-granting institutions that provide online education degrees. These range from community colleges offering associates in early childhood development or human services, to nationally ranked universities that offer a wide spread of masters level and education endorsement-level programming. While future students may want to go to the "best" online institution in their state for education degrees, they should take some to double check what exact degrees are offered by their institution of choice at the directory of all online education degrees at the bottom of the page. To select the following top five universities, we've looked at two factors: the number of fully online education degrees offered by an institution, and an "academic prestige" score. The academic prestige score takes into account metrics such as average amount of financial need received, average class sizes, admissions standards, and the percentage of faculty holding terminal degrees in their field. Also note that the tuition numbers below are just indicators of relatively how expensive or affordable a college is. The tuition numbers below, specifically, are the in-state (where applicable) undergraduate yearlong tuition rates for education degrees. Many universities, however, have similar tuition rates at the undergraduate and graduate levels.
Directory of Online Education Degree
Providers in Arizona
Arizona State University
University Drive and Mill Avenue, Tempe, Arizona 85287
Online Ed Degrees: 10

Tuition

$13007

UNDERGRADUATE DEGREES

GRADUATE DEGREES

Master's in Curriculum and Instruction: ABA, Master's in Curriculum and Instruction: Autism Spectrum Disorders, Master's in Curriculum and Instruction: Early Childhood Development, Master's in Curriculum and Instruction: English as a Second Language, Master's in Curriculum and Instruction: Gifted Education, Master's in Educational Leadership, Master's in Educational Technology, Master's in Teaching English to Speakers of Other LanguagesDoctorate in Leadership and Innovation
Grand Canyon University
3300 W Camelback Rd, Phoenix, Arizona 85017
Online Ed Degrees: 50

Tuition

$21168

UNDERGRADUATE DEGREES

Bachelor of Arts in English for Secondary EducationInitial Program – Leads to Initial Teacher Licensure, Bachelor of Arts in History for Secondary EducationInitial Program – Leads to Initial Teacher Licensure, Bachelor of Science in Business for Secondary EducationInitial Program – Leads to Initial Teacher Licensure, Bachelor of Science in Early Childhood EducationInitial Program – Leads to Initial Teacher Licensure, Bachelor of Science in Early Childhood Education and Early Childhood Special EducationInitial Program – Leads to Initial Teacher Licensure, Bachelor of Science in Educational StudiesInitial Program – Does Not Lead to Initial Teacher Licensure, Bachelor of Science in Elementary EducationInitial Program – Leads to Initial Teacher Licensure, Bachelor of Science in Elementary Education and Special EducationInitial Program – Leads to Initial Teacher Licensure, Bachelor of Science in Elementary Education with an Emphasis in Christian Education, Initial Program – Leads to Initial Teacher Licensure, Bachelor of Science in Elementary Education with an Emphasis in English as a Second Language, Initial Program – Leads to Initial Teacher Licensure, Bachelor of Science in Mathematics for Secondary EducationInitial Program – Leads to Initial Teacher Licensure,

GRADUATE DEGREES

Master of Arts in Autism Spectrum DisordersAdvanced Program for Continuing Professional Education, Master of Arts in Communication with an Emphasis in Education, Master of Arts in Curriculum and InstructionAdvanced Program for Continuing Professional Education, Master of Arts in English with an Emphasis in Education, Master of Arts in Gifted EducationAdvanced Program for Continuing Professional Education, Master of Arts in History with an Emphasis in Education, Master of Arts in Reading with an Emphasis in Elementary Education, Advanced Program for Continuing Professional Education, Master of Arts in Reading with an Emphasis in Secondary Education, Advanced Program for Continuing Professional Education, Master of Arts in Teaching English to Speakers of Other Languages (TESOL)Advanced Program for Continuing Professional Education, Master of Education in Early Childhood EducationInitial Program – Leads to Initial Teacher Licensure, Master of Education in Early Childhood EducationInitial Program – Does Not Lead to Initial Teacher Licensure, Master of Education in Early Childhood Education and Early Childhood Special EducationInitial Program – Leads to Initial Teacher Licensure, Master of Education in Early Childhood Education and Early Childhood Special EducationInitial Program – Does Not Lead to Initial Teacher Licensure, Master of Education in Educational AdministrationAdvanced Program for Principal Licensure, Master of Education in Educational LeadershipAdvanced Program for Continuing Professional Education, Master of Education in Elementary Education (Does not lead to initial teacher licensure)Initial Program – Does Not Lead to Initial Teacher Licensure, Master of Education in Elementary Education (Leads to Initial Teacher Licensure)Initial Program – Leads to Initial Teacher Licensure, Master of Education in Secondary EducationInitial Program – Leads to Initial Teacher Licensure, Master of Education in Secondary EducationInitial Program – Does Not Lead to Initial Teacher Licensure, Master of Education in Secondary Humanities EducationInitial Program – Leads to Initial Teacher Licensure, Master of Education in Secondary STEM EducationInitial Program – Leads to Initial Teacher Licensure, Master of Education in Special EducationInitial Program – Leads to Initial Teacher Licensure, Master of Education in Special EducationInitial Program – Does Not Lead to Initial Teacher Licensure, Master of Science in Biology with an Emphasis in Education, Master of Science in Chemistry with an Emphasis in Education, Master of Science in Instructional TechnologyAdvanced Program for Continuing Professional Education, Master of Science in Nursing with an Emphasis in Nursing Education, Master of Science in Sociology with an Emphasis in Education, Doctor of Education in Organizational Leadership with an Emphasis in Behavioral Health, Doctor of Education in Organizational Leadership with an Emphasis in Christian Ministry, Doctor of Education in Organizational Leadership with an Emphasis in Higher Education Leadership, Doctor of Education in Organizational Leadership with an Emphasis in K-12 Leadership, Doctor of Education in Organizational Leadership with an Emphasis in Organizational Development, Doctor of Education in Organizational Leadership with an Emphasis in Special Education, Doctor of Education in Teaching and Learning with an Emphasis in Adult Learning, Doctor of Philosophy in Counselor Education and Supervision, Doctor of Philosophy in General Psychology with an Emphasis in Cognition and Instruction, Doctor of Philosophy in General Psychology with an Emphasis in Integrating Technology, Learning, and Psychology, Education Specialist in K-12 Leadership,
Northern Arizona University
1900 S. Knoles Dr., Babbitt Administrative Center, Room 200, Flagstaff, Arizona 86011-4092
Online Ed Degrees: 17

Tuition

$14678

UNDERGRADUATE DEGREES

Interdisciplinary Studies – Early Childhood, Career and Technical Education – Occupational Education 90-30

GRADUATE DEGREES

Bilingual and Multicultural Education – Bilingual, Educational Leadership – Educational Foundations, Educational Leadership – Instructional Leadership K12 School Leadership, Bilingual and Multicultural Education – ESL, Career and Technical Education, Educational Leadership – Principal (K-12), Mathematics Education, Educational Technology, Science Teaching, Secondary Education-Continuing Professional Emphasis, Elementary Education – K-12 Reading Emphasis, Early Childhood Education, Special Education, Elementary Education-Continuing Professional Emphasis, Educational Leadership – Community College & Higher Education,
University of Arizona
1401 E University, Tucson, Arizona 85721-0066
Online Ed Degrees: 6

Tuition

$16466
"
Prescott College
220 Grove Ave, Prescott, Arizona 86301
Online Ed Degrees: 8

Tuition

$25280

UNDERGRADUATE DEGREES

Bachelor of Arts – Education & Teacher Preparation

GRADUATE DEGREES

Master of Arts – Education Master of Arts – Adventure Education Master of Education – Secondary Ed
Master of Education – Leadership Master of Education – School Guidance Counseling Master of Education – Leadership/Principalship Master of Education – Elementary Education
"
Arizona Christian University
2625 E Cactus Rd, Phoenix, Arizona 85032-7097
Online Ed Degrees: 3

Tuition

$22491
Argosy University-Phoenix
2233 West Dunlap Avenue, Phoenix, Arizona 85021
Online Ed Degrees: 5

Tuition

$15888
Mesa Community College
1833 W Southern Ave, Mesa, Arizona 85202
Online Ed Degrees: 3

Tuition

$7661
Pima Community College
4905C East Broadway Blvd., Tucson, Arizona 85709-1275
Online Ed Degrees: 2

Tuition

$3970