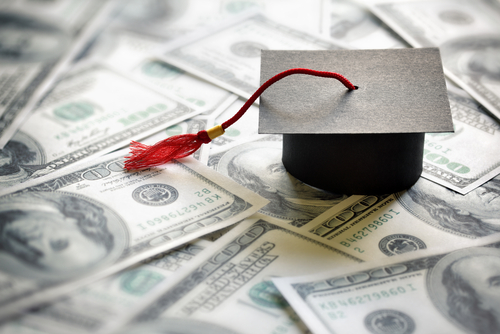 Unfortunately, the noble desire to teach the next generation often not enough; being a teacher requires a degree, and a degree requires money. Financial aid can help offset some of the expenses associated with earning a degree.  Early childhood education students are eligible for a variety of scholarships.  The early childhood education scholarships listed below can be of a great help for aspiring future teachers.
1. Association on American Indian Affairs Scholarships
Early childhood scholarships are available for individuals enrolled with a federally recognized or non-federally recognized Tribe from the continental US or Alaska.  Scholarships vary in amount and disbursements made twice per year until the student graduates as long as they maintain a 2.5 GPA and attend full-time.
More information can be found here.

2. Alpha Kappa Alpha Educational Advancement Foundation
There are actually several different scholarships available through the Alpha Kappa Alpha organization including Merit, Financial Need and Youth Partners Accessing Capital scholarships.  The amount of the award varies depending on the specific scholarship you apply for.
More info can be found at the Alpha Kappa Alpha Educational Advancement Foundation website.
3. Minority Teachers of Illinois Scholarship Program
This program offers a $7,500 scholarship for minority early childhood educators in the state of Illinois.  Applicants must be a resident of Illinois and be a minority student with their high school diploma or GED.  To be considered for this scholarship program, applicants must have a cumulative GPA of at least a 2.5 on a 4.0 scale.
More info can be found on the scholarship's website.
4. Phi Delta Kappa Prospective Educator Scholarships
If you are a high school or college student with a membership in Phi Delta Kappa, or you have a parent that is a member, you may qualify for these scholarships for early childhood educators.  Applicants must submit a personal statement and a description of their involvement with the organization.  Transcripts are required as is a letter of recommendation.
More info can be found here.
5. Applegate/Jackson/Parks Future Teacher Scholarship
The Applegate Jackson Parks Future Teacher Scholarship is a $1000 annual scholarship in honor of three Michigan teachers who were terminated from their job for refusing to pay union dues.  The scholarship is available to undergraduate and graduate students majoring in education.  One of the application requirements include writing a 500-word essay regarding unionism in the education field.
Find out more here.
6. PATCH Early Childhood Education Scholarship
This scholarship provides reimbursement for early childhood specific classes held in the state of Hawaii.  This and awards up to $750 per round with three rounds each year.
7. The Coca-Cola Scholars Program Scholarship
This achievement-based scholarship is a $20,000 award given to 150 students in their last year of high school.  Applicants must be planning to pursue a degree at an accredited US institution of higher learning.
Visit their website for more info.
8. American Montessori Society Teacher Education Scholarship Fund
The AMS provides scholarships for early childhood education professionals who have been accepted or are already enrolled in an AMS affiliated teacher education program.  Applicants are evaluated based on financial need, letters of recommendation, and their personal statement.
See more here.
9. Common Knowledge Scholarship Foundation
This scholarship is developed and administered at Nova Southeastern University.  Their goal is to develop scholarships opportunities that can benefit students regardless of their academic standing.  The Foundation has awarded over $475,000 in scholarships to 900 students.
You can learn more about this scholarship here.
10. AFT Robert G Porter Scholars Program
If you are a dependent of a current AFT member, you can apply for this four-year, $8,000 post-secondary scholarship to further your own educational degree.  Recipients must maintain a 2.75 GPA to renew their award.    Applications are available December 1 through March 31.  Winners will be notified by June 30.
Click to go to the AFT site.
11. Paul Douglas Teacher Scholarships
These early childhood development scholarships are available to high school students interested in teaching careers.  These scholarships require a commitment of teaching for two years at a specified school upon graduation.
To learn more, visit their webpage.
12. Institute for Citizens and Scholars
The Institute for Citizens and Scholars offers several different fellowship opportunities for future leaders in education.  These include the Career Enhancement Fellowship and the WW Teaching Fellowship.  The WW Teaching Fellows program provides financial support and mentorship to students who complete a specially designed master's degree program at a partner university.
Want more information? Look here!
13. Siemens Foundation Teacher Scholarship
These scholarships are awarded to high school juniors who are children of exempt or non-exempt Siemens employees.  This $4,000 award is administered through the National Merit Scholarship Corporation.  Recipients of this financial assistance program are selected based on academic records and test scores.  Recommendations, significant educational contributions and the student's statement of goals and interests are also considered.
Get more details here.
14. NAACP Scholarships
The NAACP offers many scholarships to their members, many of which are geared towards those majoring in education.  One popular scholarship is the Uplift Scholarship.  These scholarships are awarded to individuals pursuing undergraduate degrees.  There are 30, $10,000 scholarships awarded each year.  Applicants must be Black or a person of color and a member of the NAACP.
Find out more at the NAACP site.
15. Iris Adams Memorial Scholarship
Offered to only one student with at least junior standing majoring in special education at Northern Illinois University.  The award amount varies based on financial need.  Applicants must describe their desire to be successful working as a special education teacher.
Learn more here.
16. John, Rebecca and Drew Logan Scholarship
This scholarship is offered to full-time undergraduate students who want to become teachers.  Candidates should have a demonstrated passion for children and lifelong learning.  Priority is given to students with an interest in working with children with learning disabilities.  The award is renewable as long as the recipient maintains at least a 3.0 GPA.
Learn more about all of NC State University's undergraduate scholarships here.
17. The Tomorrow's Teacher Scholarship Program
The Tomorrow's Teacher Scholarship Program awards financial support to Kansas residents who plan to pursue a degree in education from Kansas State University.  These early childhood education scholarships and grants include Tomorrow's Teacher Award.  This cash award of $5,000 year helps offset the cost of tuition and books.  Students can also apply for the Barbara C. Blatz Award.  This award is a $500 one-time stipend recipients can use for tuition or books.  The program also includes the Elvon and Lydia Skeen Award which is a $2,000 cash award for each school year to help cover tuition and books.
18. Underwood-Smith Teaching Scholars Program
This scholarship is offered through the College Foundation of West Virginia and is open to residents of the state of West Virginia seeking a career in education.  Future early education and care teachers can apply for a $10,000 renewable scholarship.  Recipients must agree to teach in West Virginia public schools in an area of critical need for five years.
19. Prospective Teacher Scholarship Loan
The Prospective Teacher Scholarship Loan Program is a forgivable loan program for students planning to complete their degree to teach in North Carolina public school districts.  Recipients can qualify for loan forgiveness once they obtain licensure and accept a job as a qualified teacher in the state of North Carolina.
Learn more at their website.
20. Early Childhood Access Consortium for Equity Scholarship Program
Early childhood educators already working in the field of ECE may be eligible for financial assistance while they earn their degree from a member institution.  The program was created to address the shortage of early care and education educators.  Applicants must be enrolled or accepted at a two- or four-year institution working on an undergraduate degree in early childhood education.
Learn more here.