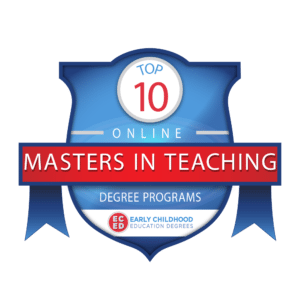 According to the Bureau of Labor Statistics, K-12 education is expected grow 6% through 2024. (Such average but steady growth is typical of education, with median pay between $50-60k per year.) Still, like the rest of the workforce, teachers are learning to adjust to an increasingly complex, fast-paced, and connected world; and, among other things, technology is a major part of the classroom now.
Most teaching positions require some form of advanced graduate degree, the most common being the MEd and the MAT, or Master of Teaching. Where the MEd is typically for practicing teachers with a related bachelor's (and may lead to administrative and leadership positions), the MAT is often the track of choice for aspiring, inexperienced teachers. In other words, it's primarily designed to teach how to teach, and is slightly less in-depth than the MEd. Still, most MATs require at least 30 academic credits in addition to significant fieldwork — internships, practicums, etc. — to develop necessary instructional and classroom management skills. The MAT also typically allows students to focus on a particular block of K-12 (elementary, secondary, and special), and includes course work in a unique discipline. Below we've gathered our top 10 online tracks — including a few unique MEds — all of which are highly flexible, affordable, and customizable to accommodate a variety of distance learners. Be sure to check each site to learn more about licensure and certification options!
Methodology
Affordability (1/3): the estimated out-of-state tuition per credit hour rate (if out-of-state is applicable).
Flexibility (1/3): the number of flexibility-granting components of the program, including different specializations, prior experience credit, accelerated courses, ability to take synchronous or asynchronous coursework, and more.
Academic Prestige (1/3): the accreditation status of a university, as well as accolades from other prominant ranking sites and educational organizations.
FEATURED ONLINE PROGRAMS

Designed for aspiring K–12 teachers looking to gain the skills and knowledge needed to become transformative teachers who can help students succeed in any environment. Teaching credential available.

SPONSORED

1. Western New Mexico University

Founded in 1893, Western New Mexico University is a public institution with a total enrollment over 3,500 across five campuses and online. Over half of students are Hispanic, and WNMU is designated as a Hispanic Serving Institution; over 18 countries are represented in the university student body. With an average class size of about 18, students benefit from an intimate educational environment that combines individualized instruction with collaborative, peer-to-peer learning opportunities. WNMU is regionally accredited by the North Central Association of Colleges and Secondary Schools.

Western New Mexico offers an online MA in Teaching that consists of 27-48 credits, depending on Elementary, Secondary, or Special Education tracks and experience level. Core requirements include Methods of Research, History & Philosophy of Education, Student Growth & Development, and more. From there, students customize the program through a range of electives and supervised internships/field work to gain real-world experience. All courses are designed for maximum flexibility to accommodate working professionals and adult learners, and there are several start dates throughout the year; part-time enrollment is available. Through the Canvas learning platform, students have easy access to instructors, group discussion boards, live chat rooms, video conferencing, tech support, and more. For those interested, WNMU also offers related master's in Teaching and Educational Leadership. It is accredited by the National Council for Accreditation of Teacher Education (NCATE).

2. American Public University

Founded 1991, American Public University specializes in online education, with an enrollment of over 50,000 students and offices in Charles Town, West Virginia, and Manassas, Virginia. (The APU system is also affiliated with the American Military University.) Nearly 60% of students are active duty or military veterans, and 17,000 are enrolled through the GI Bill. In 2012, the university agreed to a corporate partnership with WalMart, which has spent $50 million on tuition grants; employees receive a 15% tuition discount. With an 18:1 student-to-faculty ratio – impressive for a school of its size – APU classes are kept small and agile to promote personalized instruction and collaborative learning.

APU's online MEd in Teaching includes potential concentrations in Elementary Education and Secondary Social Studies. (All tracks are non-licensure.) All tracks are centered around instruction, curriculum, and professional development, and include a comprehensive study program that covers current educational research, critical analyses of classroom teaching and learning, classroom management skills, creating active learning environments, interpersonal communication skills, and all other aspects of K-12 education (legal, ethical, social, cultural, political, etc.). In addition, students will complete extensive in-class work to round out an experiential, real world-focused program, aligned with West Virginia Professional Teaching Standards, national content standards for elementary education, and the International Society for Technology in Education.

3. Bowling Green State University

Founded in 1910, Bowling Green is located in the eponymous Ohio city, 15 miles south of Toledo, and has been recognized by Washington Monthly, Forbes, and U.S. News as a top public university. The Carnegie Foundation has classified it as a "high research activity" school. With a total enrollment of about 17,000, from all 50 states and 70 countries, BGSU's 19:1 student-to-faculty ratio promotes a highly collaborative learning environment while maintaining classes small enough for one-on-one instruction. Over 40% of classes have fewer than 20 students, and less than 9% have over 49; 80% of the school's 800+ full-time faculty hold terminal degrees. It is accredited by the Higher Learning Commission (HLC).

Bowling Green's online MEd in Curriculum and Teaching consists of 33-36 credits. Requirements include Curriculum Inquiry, Curriculum Issues and Trends, Classroom Technology for Teachers, and Advanced Pedagogy and Best Practices. From there, students have customization options in the research core, then can choose between a wide range of electives; graduate-level endorsements in Early Childhood, Middle Childhood, Reading, and Computer Technology; and a certificate in K-12 Online Teaching and Learning. With six start dates throughout the year, the program is designed for maximum flexibility, and accelerated 8-week course blocks allow students to complete the degree in as little as 18 months. In particular, Bowling Green's program emphasizes a hands-on approach with a special focus on emerging classroom technologies.

4. Morningside College

Founded in 1894, Morningside College is a private school with an enrollment of 2,800. US News ranks it among the best regional universities in the Midwest, with high marks for veteran services. The school's 13:1 student-to-faculty ratio supports a tight-knit learning community capable of both collaborative learning and individualized instruction. Over 60% of classes consist of fewer than 20 students, and none have over 49. Most important: within six weeks of graduation, 99% of Morningside alumni are either employed or pursuing further education.

The second most-affordable program on the list, Morningside's online MA in Teaching offers tracks in Professional Educator and Special Education (for Iowa educators only). The former consists of 36 credits, including requirements in Instructional Technology, Student Diversity and Educational Practice, Educational Research, Data Collection and Analysis, and 18 elective credits for students to customize degree plans according to professional need and interests. The Special Education track includes 9 foundational courses plus 28 credits in a chosen endorsement (K-12, or Behavior Disorders / Learning Disabilities and Intellectual Disabilities). Each degree allows up to 9 credits to be transferred into the program, and courses are designed to be flexible for working teachers. All Morningside online courses are based on the Quality Matters Standards.

5. Hannibal-LaGrange University

Hannibal-LaGrange University, founded in 1858, is a private Christian school, affiliated with the Missouri Baptist Convention, with a total enrollment of just 1,200, nearly all of which is undergraduate. Ranked among the best schools in the Midwest by US News, HLU boasts a 14:1 student-to-faculty, which allows for students to engage with instructors in an intimate, personalized setting while also collaborating with fellow students in and out of the classroom. Over 80% of classes consist of fewer than 20 students, and less than 1% have more than 50. For students interested in financial aid opportunities, 93% of HLU students receive some form of aid.

Hannibal-LaGrange's online MS in Education includes tracks in Special Reading (K-12), Teaching and Learning, and Teaching and Learning with Initial Certification. Each track is designed for current elementary and secondary teachers holding state certification, and the program is aligned with the National Board for Professional Teaching Standards, with the aim to: utilize the latest concepts, theories, and research to enhance student learning; and create and implement effective classroom instruction and assessments. In addition to rigorous curricula, all students must complete portfolio requirements after each course, demonstrating a grasp of both theoretical and real-world knowledge. The one-year, cohort model is ideal for working teachers, and student services include academic advising, tech support, career services, registration assistance, and library services.

6. Bethel College


Founded in 1947, Bethel College, in Mishawaka, IN, is a private Christian school affiliated with the Missionary Church, with a total enrollment of about 1,700, the majority of which is undergraduate. Ranked among the best schools in the Midwest region, Bethel's excellent 12:1 student-to-faculty ratio promotes a dynamic learning environment that balances individualized, tailored instruction with collaborative education. Over 65% of classes have fewer than 20 students, and just 2% have 50 or more. In addition to rigorous course work, Bethel emphasizes a hands-on pedagogical approach through internships, service opportunities, and other co-curricular programs. Of particular note: Bethel has a proven track record of work placement, and several programs have a 99-100% placement rate.

Bethel's online MAT consists of 36 credits, the first 18-24 credits of which are part of the Transition to Teaching component, which includes foundational course work with a cohort group. (This component includes Elementary and Secondary specializations.) From there, students complete core requirements in Professional Development and Leadership, Educational Research, and a capstone. Students then customize their curriculum through a variety of electives. For maximum flexibility, students have the option to complete the degree in as little as 12 months on a full-time basis, and students with previous academic credits may transfer a limited amount into the program, further accelerating course work. Student services include tech support, advising, career services, and an academic success center.

7. Mississippi College

Founded in 1826, Mississippi College is a private Christian school affiliated with the Mississippi Baptist Convention, with a total enrollment just over 5,000, 60% of which is undergraduate. US News ranks it among the top 30 colleges in the region, and in the top 25 for overall value and veteran services. With a student-to-faculty ratio of 15:1, classes are intimate and allow for one-on-one instruction while also promoting collaborative learning. Nearly 60% of classes consist of fewer than 20 students, and less than 2% have 50 or more. As a Christian institution, all programs integrate religious values into the curriculum, and the school places an emphasis on the synthesis of faith, lifelong learning, and service.

Mississippi College offers online MEd's in Elementary, Special, Educational Leadership, and Teaching Arts. All courses are 100% online, and there are multiple start dates throughout the year for maximum flexibility, accommodating working teachers and adult learners; some tracks can be completed on accelerated basis in as little as 10 months. Utilizing a transcultural and faith-based curriculum (3-39 credits), MC emphasizes in-class technology integration; development of instructional and classroom management skills for a diverse set of learners; and meeting nationwide teaching standards. In addition, students will complete a variety of seminars, practicums, and internships to build a workable, real-world framework from which to build. All programs are accredited by the National Council for the Accreditation of Teacher Education.

8. William Woods University

Founded in 1870, William Woods University, in Fulton, MO, is a private university with an enrollment of 2,200. Ranked among the best schools in the Midwest region, William Woods's 11:1 student-to-faculty ratio creates an intimate, collaborative learning environment, with nearly 80% of classes consisting of less than 20 students – none have more than 49. To support William Woods's liberal arts mission, the school implemented its unique LEAD program (Leading, Educating, Achieving, and Developing), which promotes dynamic community engagement through a variety of extracurricular and interdisciplinary activities; since its launch, LEAD has been profiled by the BBC, NPR, the New York Times, and the Los Angeles Times, among other outlets. Of the school's 20,000 active alumni across the world include industry leaders in technology, business, and finance, plus politicians, writers, and professional athletes.

William Woods's online MEd in Teaching and Technology consists of 30 credits: Current Issues, Research Design, Teaching and Learning in the New Digital Landscape, Software Applications for Academic Programs, Instructional Design with Technology, Integration of Multimedia Production and Curriculum, Teaching and Technology Capstone Project, Appraisal of Student Learning, and MED T&T Learning/Instruction. No bachelor's in education is required for admission, and the track is open to working teachers, adult learners, and any other professionals with an interest in instructional technology. (Teachers holding eMINTS certification may be eligible for up to 9 transfer credits.) With six entry dates available throughout the year, the program is highly flexible; it aligns with the National Board of Professional Teaching Standards and National Education Technology Standards.

9. Kansas State University

Kansas State University, founded in 1863, is the state's oldest public university. With an enrollment over 24,000, from all 50 states and over 100 countries, KSU is a Carnegie R1 research university and ranks first among public schools for its 124 Rhodes, Marshall, Truman, Goldwater, and Udall scholars. U.S. News, Washington Monthly, Forbes, and the Times Higher Education World University Rankings all rank it among the best public schools in the U.S.; Princeton Review ranks it 6th quality of life and 4th for student happiness. With a 19:1 student-to-faculty ratio, KSU is able to support a vibrant, collaborative educational community that also delivers the personalized instruction of a smaller school. Over 40% of classes have fewer than 20 students, and just 13% have 50 or more.

Designed for aspiring elementary school teachers, Kansas State offers an online MAT that consists of 31 credits and can be completed in as little as 12 months on an accelerated basis. Example courses include: Social Foundations of Education; Teaching Diverse Learners; Curriculum, Instruction and Assessment; Teaching Health, Movement and Fine Arts; and Teaching Science and Mathematics in the Elementary School. All courses deliver online in a cohort model, and there are several internships, practicums, and projects built into the curriculum to ensure students receive significant classroom experience. Applicants should have earned a 3.0 undergraduate GPA and must submit GRE scores. The program is accredited by the National Council for Accreditation of Teacher Education (NCATE) and the Kansas State Department of Education (KSDE).

10. Stevenson University

Founded in 1947, Stevenson University is a private school with a total enrollment of about 4,200. Ranked among the best schools in the North region, Stevenson receives particular marks for overall value and veteran services. The 14:1 student-to-faculty ratio helps to support a tight-knit educational setting that combines the best of a small liberal arts community with a larger school's dynamic, vibrant atmosphere. Nearly 70% of classes have less than 20 students, and none have more than 49. Over 90% of alumni report being employed or pursuing advanced degrees within six months of graduation.

Stevenson's online MAT, consisting of 33 credits, offers content licensures in Biology, Chemistry, Earth/Space Science, Physical Science, Physics, and Mathematics. Core requirements include STEM Curriculum Principles and Practice, Principles of Assessment, Principles of Special Education, and more. All students must complete a professional internship (grades 7-12) to gain real-world, in-class experience and demonstrate classroom proficiency. The cohort-based program progresses in accelerated 8-week modules, and all course work is designed for maximum flexibility to accommodate adult learners. Upon graduation, all students will be able to plan and implement problem-based lessons that align with NSTA Next Gen Science Standards, NCTM Principles to Action, and Common Core State Standards. Applicants should have earned a 3.0 undergraduate GPA and must submit test scores.

Related Rankings:

Latest Rankings

Popular Articles