Pennsylvania's public schools have 1.7 million students from Pre-K through 12th grade and 500 public school districts. With public education making up nearly 90% of school enrollment in the state, Pennsylvania needs a lot of qualified teachers who complete the Pennsylvania Department of Education approved degree program and certification requirements.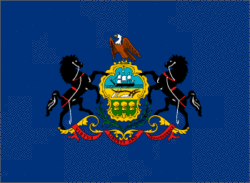 Because Pennsylvania is a member of the National Association of State Directors of Teacher Education and Certification (NASDTEC), teachers from Pennsylvania or other member states can more easily transfer their certifications to other member states. Part of being a NASDTEC member state means that Pennsylvania has several stages of teaching licensure in additional to a vast array of content area certificates required of each license. With over 30 universities offering online education degrees, especially at the graduate level, Pennsylvania is a great location for early childhood education degrees.
Requirements for Teaching Licensure in Pennsylvania
The requirements to attain a teaching license in Pennsylvania are extensive. Teaching licenses are split across 4 stages of training and education level, with a Stage 3 License being the first stage that allows teachers to be responsible for their own classrooms. At Stage 3, teachers must have a bachelor's degree and an Instructional I, Educational Specialist I, or Program Specialist certificates that determine what level and content area they are allowed to teach in the state. Stage 4 requires post-baccalaureate credit or a master's and an Instruction II or Educational Specialist II certificate. With over 50 instructional certificates, 14 world language certificates, 8 specialist certificates, 31 supervisory and administrative certificates, and 8 other endorsements, Pennsylvania teachers are certain to know their content area. To gain a Stage 3 License, as well as Instruction I, Educational Specialist I, or Program Specialist teaching certificates, teachers in the state of Pennsylvania must complete a state-approved teacher education program that includes student teaching or field experience (as appropriate for the given certificate). Additionally, teachers must also take the Pre-service Academic Performance Assessment (PAPA) Reading, Writing, Mathematics, as well as the correct content assessments as indicated by the Pennsylvania Department of Education.
Admission Requirements
Admissions requirements vary according to the degree sought. At the undergraduate level, students must meet the university's entrance requirements. These vary widely from school to school, especially among public and private universities. Often undergraduate students are only admitted to the specific education degree program after they have completed an associates degree or the university's general education requirements. Sometimes, undergraduate education programs will require certain GPAs or additional letters of recommendation for admittance. At the graduate level, applicants need to have a bachelor's degree. Sometimes that degree will need to be in education or a closely related field. Students without an education degree may be asked to complete additional coursework in order to be accepted into or graduate from a M.Ed program. Most M.Ed programs also require transcripts, test scores, and letters of recommendation. In order to pursue a Teacher Education Certification, teachers must also meet the Pennsylvania state content course requirements, which are reviewed upon application to most graduate programs. Many graduate programs will also require a current teaching certificate for acceptance. Most M.Ed programs will also require students to successfully complete Praxis content area exams in order to graduate.
Average Salaries for Common ECED-holding Roles in Pennsylvania
Preschool Teacher: $28,060
Elementary School Teacher: $62,250
Middle School School Teacher: $62,620
High School School Teacher: $64,320
Professor of Education: $67,350
School Principal: $99,010
Special Education Teacher: $64,160
Career/Vocational Teacher, High School: $61,470
School Psychologist: $72,640
Scholarships for Future Educators in the State of Pennsylvania
Works with early childhood educators and their employers to pay for 10-25% of the cost of tuition, as well as funding for fees, books, and travel.
Rising STARS Tuition Assistance Program
Designed for educators looking for post-baccalaureate or master's degrees. Pays 95% of tuition costs for eligible college coursework taken by early learning professionals up to $6,000.
Provides scholarships to outstanding Pennsylvania college and university students who are enrolled in accredited teacher preparation programs. Applicants must be members of the Pennsylvania State Education Association.
The 5 Best Early Childhood Education Degree Programs in Pennsylvania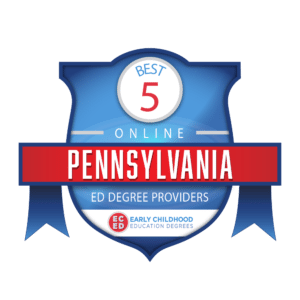 Pennsylvania has a total of 32 education degree-granting institutions that provide online education degrees. These schools range from small private liberal arts schools to large public research universities offering bachelor's degrees in education to master's degrees in various subspecialities or with additional teaching certificate endorsements, especially in regard to special education. Because Pennsylvania has so many specialized teaching certificates, and very strict qualifying rules to earn those certificates, it is important that students choose the degree that offers the right certification or endorsement. A great resources is the complete list of teacher certification programs, broken down according to certification category, approved by the Pennsylvania Department of Education. To select the following top five universities, we've looked at several factors: the cost of tuition, the number of online education degrees, and the institution's academic prestige according to national ranking numbers.
1.Drexel University
Drexel University is a private research university in Philadelphia. With more than 26,000 students and over a 100 graduate programs, Drexel has a wide variety of educational options. This variety and quality carries over to their online programs. Drexel University founded National Distance Learning Week to bring greater attention to exceptional leaders in distance education, and since founding its online arm—Drexel University Online—Drexel has gone on to win the Sloan-C award for institution-wide excellence in online education, as well as, the United States Distance Learning Association's Best Practices Awards for Distance Learning Programming.
Some of Drexel's online degree programs include undergraduate and graduate programs in Education. At the undergraduate level, students can complete the fully online Bachelor's in Education to prepare for PK-4 elementary teacher certification or PreK-4 & Special Education certification. At the graduate level over a dozen education degrees to choose from and even more graduate certificates. For instance, Drexel online students can earn a Master's in Teaching, Learning, and Curriculum with tracks for either PreK-4 or Secondary Education. Graduate students could also earn a Master's in Special Education and choose between 7 concentrations like multisensory reading instruction and collaborative special education law. Drexel also has a range of graduate degrees and certificates that focus on educational technology, as well as a doctorate degree in Educational Leadership and Management.
Online Ed Degrees: 17
In-state Tuition: $39,021
2. Pennsylvania State University – World Campus
Pennsylvania State University World Campus or Penn State Online, is the online campus of Pennsylvania State University. Launched in 1998 from the University's long established distance education program, Penn State Online offers more than 120 online undergraduate and graduate degree or certificate programs. With nearly 13,500 students, Penn State Online has become a major resources for flexible, online education for today's busy students. In the 20 years that Penn State Online has been around, it has constantly been recognized as providing one of the nation's best online educations.
A number of Penn State Online's degrees cover the field of education, all of which are at the graduate level. For instance, online students can earn a Master's in Learning, Design, and Technology. While the program focuses on teaching in a K-12 setting, students also move into careers as curriculum designers for higher ed, corporations, and the military. Another online degree option through Penn State Online is a Masters in Curriculum and Instruction. In this program, students choose between 5 emphasis areas: children's literature, STEM education, elementary education, curriculum and supervision, and theory and practice in English, social studies, and world languages. If students aren't ready to enter a master's program, Penn State also offers several online post baccalaureate certificate programs that can count towards a later master's degree. These certificates include: educational technology integration, e-Learning design, and teaching and learning online in K-12 settings.
Online Ed Degrees: 7
In-state Tuition: $23,129
3. Slippery Rock University of Pennsylvania
Slippery Rock University of Pennsylvania is a public, master's-level university in Slippery Rock, Pennsylvania. Founded in 1889, Slippery Rock started as a teacher training school. While it eventually adopted a wider range of degree options in the 1960s, it remains known for its quality teacher education programs. Today, Slippery Rock offers a range of liberal arts and professional degree programs to its more than 8,500 students. Included in those degree options are several online undergraduate degree completion programs, and several master's and doctoral degree programs.
Slippery Rock University offers 15 online education degrees at the master's and doctoral levels. Online students can earn Master's degrees in Elementary Education with different tracks including: K-8 Math/Science, K-12 Reading Specialist, and K-12 Reading with a Coaching Literacy Endorsement. Similarly, for Master's in Secondary Education, online students can choose between a range of content areas, including math and science, english, and history. Many of Slippery Rock's online education degrees are designed to help working teaching gain additional certifications, professionalization hours, or advance their careers. With that in mind most programs require students to successfully pass the Praxis II exam in their degree's content area in order to graduate.
Online Ed Degrees: 15
In-state Tuition: $17,443
4. Saint Joseph's University
Saint Joseph's University, or St. Joe's, is a private, Catholic university in the Philadelphia suburbs. Founded in 1851 by the Jesuits, St. Joe's is the 7th oldest Jesuit university in the nation. Today, St. Joe's works to maintain it's Jesuit Christian mission by promoting service and social justice. St. Joe's meets the needs of its 9,200 students by offering a wide range of degrees including: over 60 undergraduate majors, 53 graduate programs, and over a dozen study-abroad, special study, and joint degree programs. The variety of degree options at St. Joe's carries over to their online offerings. With 29 online degrees and certificates, students have the flexibility to explore their interests.
Several of those online degrees and certificates are in the field of education. St. Joe's offers 3 Master's in Education degrees: Deaf and Hard of Hearing PK-12, Secondary Education, and Special Education. Within the Master's in Special Education degree, online students can also add one of 5 certification tracks (which are also offered as certificate options outside of the master's degree). These certificates include: Applied Behavior Analysis, Autism Spectrum Disorders, Wilson Reading System, and Special Education. Students in this program must also have a related bachelor's in education, as well as a Level 1 teacher certification in one of several areas. Upon completing any of St. Joe's online Master's in education degrees, students are eligible for related Pennsylvania state teaching certificates.
Online Ed Degrees: 19
In-state Tuition: $36,058
5. Robert Morris University
Robert Morris University is a private doctoral university in Moon, Pennsylvania, a suburb of Pittsburgh. Founded in 1921 as the Pittsburgh School of Accountancy, Robert Morris University quickly changed its name to honor the Declaration of Independence signer. Slowly the school expanded its course offerings, until it became a comprehensive university in 2002. Today, RMU has a little over 5,000 students. With a small student body, RMU can ensure that each of its students have individualized educational experiences. Despite its size, RMU offers a wide range of degree programs including 60 bachelor's as well as over 20 masters and doctoral programs. At RMU students not only get the benefits of a small school, but the variety of options at a large university and the numerous resources of a major metropolitan area.
RMU also offers a number of online degree programs to meet the needs of busy students. Several of those programs are in the field of education. For instance, online students can earn a Master's in Instructional Leadership. This program is designed for teachers looking to advance their careers. As such, students can combine the master's program with 5 online certification and endorsement options, including: autism spectrum disorders, instructional technology specialist, online instruction, principal certification, and post-baccalaureate teacher certification. In order to graduate from RMU's online Master's in Instructional Leadership, students must complete additional certification programs to earn an Instructional I Teaching Certificate.
Online Ed Degrees: 5
In-state Tuition: $24,536
Drexel University
Philadelphia, Pennsylvania
Online Ed Degrees: 17

TUITION

39021

UNDERGRADUATE DEGREES

GRADUATE DEGREES

Graduate Education Non-Matriculated MS in Creativity and Innovation MS in Applied Behavior Analysis MS in Education Improvement and Transformation MS in Educational Administration MS in Global and International Education MS in Higher Education MS in Learning Technologies MS in Mathematics Learning and Teaching MS in Special Education MS in Sport Coaching Leadership MS in Teaching, Learning and Curriculum: Advanced Studies MS in Teaching, Learning and Curriculum: Teacher Certification Track – Grades PreK-4 Education MS in Teaching, Learning and Curriculum: Teacher Certification Track – Secondary Education EdD in Educational Leadership and Management
Pennsylvania State University-World Campus
University Park, Pennsylvania
Online Ed Degrees: 7

TUITION

23129
Slippery Rock University of Pennsylvania
Slippery Rock, Pennsylvania
Online Ed Degrees: 15

TUITION

17443

UNDERGRADUATE DEGREES

GRADUATE DEGREES

ELEMENTARY EDUCATION: K-8 MATH/SCIENCE M.ED. ELEMENTARY EDUCATION: K-12 READING SPECIALIST M.ED. ELEMENTARY EDUCATION: K-12 READING SPECIALIST WITH COACHING LITERACY ENDORSEMENT M.ED. SECONDARY EDUCATION: TEACHING MATH & SCIENCE (ADV. TRACK ONLY) M.ED. SECONDARY EDUCATION: TEACHING ENGLISH (ADVANCED TRACK) M.ED. SECONDARY EDUCATION: TEACHING HISTORY (ADVANCED TRACK) M.ED. SPECIAL EDUCATION: AUTISM M.ED. SPECIAL EDUCATION: GRADES 7 -12 M.ED. SPECIAL EDUCATION: BIRTH TO GRADE 8 M.ED. SPECIAL EDUCATION: SUPERVISION M.ED. SPECIAL EDUCATION: AUTISM (ENDORSEMENT) TEACHING ONLINE (CERTIFICATE) TEACHING MUSIC ONLINE (CERTIFICATE)SPECIAL EDUCATION ED. D
Saint Joseph's University
Philadelphia, Pennsylvania
Online Ed Degrees: 19

TUITION

36058

UNDERGRADUATE DEGREES

GRADUATE DEGREES

BLS in General Studies MS in Education – Teacher of the Deaf and Hard of Hearing PK-12 Certification MS in Education – Secondary Education MS in Education – Special Education MS in Instructional Technology Autism Spectrum Disorder Endorsement Autism Studies Certificate (Post-baccalaureate) Certificate of Proficiency in Autism Studies Instructional Technology Specialist Certification Online Accelerated Teaching Certification Pennsylvania PK-12 Teacher of the Deaf and Hard of Hearing Certification Special Education Certification
Robert Morris University
Moon Township, Pennsylvania
Online Ed Degrees: 5

TUITION

24536
University of Pittsburgh-Pittsburgh Campus
Pittsburgh, Pennsylvania
Online Ed Degrees: 4

TUITION

23572
Wilkes University
Wilkes-Barre, Pennsylvania
Online Ed Degrees: 8

TUITION

25025
Duquesne University
Pittsburgh, Pennsylvania
Online Ed Degrees: 4

TUITION

28930
Clarion University of Pennsylvania
Clarion, Pennsylvania
Online Ed Degrees: 17

TUITION

17972

UNDERGRADUATE DEGREES

Associate of Science in Early Childhood Education (Part Time)

GRADUATE DEGREES

Early Childhood Director's ProgramOnline Instruction EndorsementEarly Childhood Directors Credential Renewal ProgramGifted and Talented Education Skills for Teacher Leaders CertificateMaster of Science of Library Science Master of Education in Education Online Instruction Endorsement Master of Education in Education Curriculum & Instruction Master of Education in Education Early Childhood Master of Education in Education Technology Master of Education in Education Reading Master of Education in Education Mathematics Education Master of Education in Education Reading Specialist Certification (One Summer Residency) Master of Education in Education Science EducationMaster of Science in Special EducationGraduate Certification in Early Childhood
West Chester University of Pennsylvania
West Chester, Pennsylvania
Online Ed Degrees: 6

TUITION

18651

UNDERGRADUATE DEGREES

GRADUATE DEGREES

The M.Ed. in Special Education Online Program The M.Ed. in Early Childhood Education Online Program The Graduate Certificate in Adapted Physical Education The Educational Technology Certificate The Post-Baccalaureate Teacher Certification in Special Education Online Program The Certificate in Universal Design for Learning and Assistive Technologies
Millersville University of Pennsylvania
Millersville, Pennsylvania
Online Ed Degrees: 9

TUITION

18624

UNDERGRADUATE DEGREES

GRADUATE DEGREES

Master of Education in Assessment, Curriculum, & Teaching (ACTE) STEM Education Option Master of Education in Assessment, Curriculum, & Teaching (ACTE) Online Teaching Option Master of Education in Special Education Graduate Certificate – Gifted Education Teacher Certification – STEM Teaching Endorsement Teacher Certification – Online Instruction Endorsement Master of Education in Assessment, Curriculum, & Teaching (ACTE) Online Teaching Option Master of Education in Assessment, Curriculum, & Teaching (ACTE) STEM Education Option
Gannon University
Erie, Pennsylvania
Online Ed Degrees: 5

TUITION

22003
Eastern University
Saint Davids, Pennsylvania
Online Ed Degrees: 6

TUITION

22877
California University of Pennsylvania
California, Pennsylvania
Online Ed Degrees: 12

TUITION

17819

UNDERGRADUATE DEGREES

GRADUATE DEGREES

Administrative Program for Principals (SP, SM2)Advanced Studies in Secondary Education (FL, SP)Applied Behavior Analysis (SM, SP)Early Childhood Education (FL, SP)Early Childhood Education (MEd plus Certification) (FL, SP)Educational Leadership: Educational Studies (FL, SP)English as a Second Language (FL,SP,SM)English as a Second Language (MEd plus Certification)(FL,SP,SM)Science, Technology, Engineering, & Math (STEM) (FL, SM)Special Education (FL,SP,SM)Technology Education (FL, SP, SM)Technology Education (MEd plus STEM Certificate) (FL, SP, SM)
Point Park University
Pittsburgh, Pennsylvania
Online Ed Degrees: 6

TUITION

22262
Edinboro University of Pennsylvania
Edinboro, Pennsylvania
Online Ed Degrees: 11

TUITION

14323

UNDERGRADUATE DEGREES

GRADUATE DEGREES

Art Education (M.A.) Autism Spectrum Disorders Endorsement (Certificate) Early Childhood Education (M.Ed.) Educational Leadership (M.Ed.) Middle/Secondary Instruction, Already Certified (M.Ed.) PA Principal K-12 (Post Master's certificate) Reading (M.Ed.) Reading Specialist (Certificate) Special Education (M.Ed.) Superintendent Letter of Eligibility (Post Master's certificate) Supervisor of Special Education (Post Master's certificate)
Cairn University-Langhorne
Langhorne, Pennsylvania
Online Ed Degrees: 8

TUITION

19596

UNDERGRADUATE DEGREES

GRADUATE DEGREES

MS in Education MS in Special Education (Instruction) MS in Special Education (ABA) MS in Educational Leadership & Administration Graduate Certificate in Applied Behavior Analysis (ABA) Autism Spectrum Disorders Endorsement (ABA) Special Education Certification Principal Certification
La Salle University
Philadelphia, Pennsylvania
Online Ed Degrees: 2

TUITION

26772
Carlow University
Pittsburgh, Pennsylvania
Online Ed Degrees: 5

TUITION

18252

UNDERGRADUATE DEGREES

GRADUATE DEGREES

Autism Spectrum Disorders Endorsement Certificate Graduate Certificate in Online Instructional Design and Technology Master of Science in Education with Certification in Special Education, PreK-8 (MEd) Master of Science in Education with Certification in Special Education, 7-12 (MEd) Master of Science in Nursing with a concentration in Education and Leadership (MSN)
Cedar Crest College
Allentown, Pennsylvania
Online Ed Degrees: 1

TUITION

19231
DeSales University
Center Valley, Pennsylvania
Online Ed Degrees: 1

TUITION

25549
Gwynedd Mercy University
Gwynedd Valley, Pennsylvania
Online Ed Degrees: 3

TUITION

24254
Clarks Summit University
South Abington Township, Pennsylvania
Online Ed Degrees: 4

TUITION

17482
East Stroudsburg University of Pennsylvania
East Stroudsburg, Pennsylvania
Online Ed Degrees: 2

TUITION

16377
Wilson College
Chambersburg, Pennsylvania
Online Ed Degrees: 1

TUITION

20598
Lehigh Carbon Community College
Schnecksville, Pennsylvania
Online Ed Degrees: 3

TUITION

5142
Delaware County Community College
Media, Pennsylvania
Online Ed Degrees: 2

TUITION

5825
Gratz College
Melrose Park, Pennsylvania
Online Ed Degrees: 2

TUITION

NA
Community College of Allegheny County
Pittsburgh, Pennsylvania
Online Ed Degrees: 1

TUITION

8385
Northampton County Area Community College
Bethlehem, Pennsylvania
Online Ed Degrees: 1

TUITION

7488
Pennsylvania Highlands Community College
Johnstown, Pennsylvania
Online Ed Degrees: 1

TUITION

4564