Early childhood educators enjoy an extremely rewarding career, as they play a fundamental role in shaping the lives of the youngest members of our society – our children. While education is important at every stage of life, studies have shown that the education received by children when they are in the fledgling years of life, between the ages of 0-8, have probably the biggest impact on how that child's life turns out. Early childhood educators are fortunate enough to be able to make a significant contribution to children at this stage of life.
Some of the tasks and duties involved in working as an early childhood educator include:
developing a curriculum for young students
teaching them language, arts, math, science, and social skills
engaging and managing a classroom
evaluating the development of the children in the classroom
working with a diverse range of students, including both English and non-English speakers
Aside from being an emotionally rewarding profession, the early childhood education career is also growing rapidly in terms of opportunity. It is a great choice for individuals looking for a career with lots of future potential. More specifically, estimated employment for early childhood educators is expected to increase by 15% by 2031. Clearly, for those who are looking to invest in their future and choose a career that is trending upward, now is the time to pursue a career in early childhood education.
Plenty of options exist for individuals to receive a bachelor's degree in early childhood education online. Here are the top 15 online programs for getting your bachelors in early childhood education.
Methodology:
Time Until Degree (50%): the estimated time until degree accounting for accelerating program characteristics.
Program Cost (50%): the cost of the program based on estimated out-of-state tuition per credit hour rates.
#1 – Fort Hays State University – Hays, Kansas
Bachelor of Science in Education (Early Childhood Unified)
Net Price: $13,788/year
Fort Hays State University (FHSU) offers a BS in Education that effectively prepares students to work in early childhood education. Upon completion of the program, students will be qualified and licensed to teach regular and special education classes from birth to third-grade level within Kansas (and potentially other states, depending on specific licensure transfer requirements).
While the program is offered as an entirely online program, there is also the option to take some of the classes on campus. The program also offers internship and student teaching experiences in diverse environments.
Some of the courses featured in FHSU's curriculum include:
Human Growth and Development
Emergent Literacy
Behavior Strategies and Support
Educational Psychology
#2 – Purdue University Global – West Lafayette, Indiana
Online Bachelor of Science in Early Childhood Administration
Net Price: $3,802/year
Purdue University Global offers an Early Childhood Administration Bachelor program that opens up a wide range of opportunities for its graduates, including:
working in a pre-kindergarten setting
managing a childhood agency or organization
operating and owning an early childhood program
Purdue University Global is one of the world's leading providers of lifelong education with operations around the globe.
Some of the areas where students will develop a solid base of knowledge and skillset throughout the program include:
early child growth and development
business management
early childhood leadership and advocacy
Students will acquire these skills under the guidance and counsel of instructors who have years of experience in early childhood leadership positions.
#3 – Grand Canyon University – Phoenix, Arizona
Bachelor of Science (BS) in Early Childhood Education Degree
Net Price: $21,644/year
The focus of the curriculum of Grand Canyon University's Early Childhood Education Bachelor program is teaching students how to educate and shape young minds. By the end of the program, students will have the knowledge and skills they need to meet the requirements for licensure in Arizona.
To empower its students to act as highly qualified teachers for young children, the program's curriculum includes topics such as:
Different methods to use when working with exceptional learners and non-English speakers
How to recognize and evaluate developmental milestones
How to engage and manage a class of early childhood students
#4 – University of Cincinnati – Cincinnati, Ohio
Bachelor of Science in Early Childhood Education (Birth through Age 5)
Net Price: $20,827/year
Accredited by the Higher Learning Commission, the University of Cincinnati has an Early Childhood Education program that creates professional educators who can provide high-quality educational experiences for their community's youngest members. Those who graduate from this program go on to work in a variety of roles including:
Head Start teachers
infant/toddler specialists
preschool teachers
Throughout this four-year program, students learn about topics such as:
health
safety
nutrition
language development in young children
responsive environments for infants and toddlers
Completing this program means that students will be eligible for recommendation for Ohio's Pre-K teaching license.
#5 – University of Massachusetts Amherst – Amherst, Massachusetts
Online Bachelor's in Interdisciplinary Studies – Early Childhood Education
Net Price: $17,291/year
The University of Massachusetts Amherst's University Without Walls (UWW) program allows adults to complete their undergraduate degree in early childhood education at a world-class public university in an entirely online setting. A big benefit of the UWW program is its flexible degree completion program. Students can bring in up to 100 credits from:
previous coursework
learning
work and life experience
The school also lets its students design their own program of study.
The program is specifically designed by early childhood educators for early childhood educators.  It offers relevant course topics such as:
multicultural education
early childhood curriculum
inclusion
children's behavior management
#6 – Notre Dame College – Cleveland, Ohio
Online Bachelor of Arts in Education – Early Childhood Education (Pre-K through Grade 5)
Net Price: $19,380/year
Notre Dame is nationally recognized as a school that offers education to a diverse population of students. The Early Childhood Education bachelor licensure program is accredited by the National Council for Accreditation of Teacher Education.  It prepares students for pre-K3 education, teaching a specific set of skills that allows teachers to meet the educational needs of young children.
The classes in this program are delivered entirely online by a full-time roster of expert faculty. Graduates are trained to work in a variety of early childhood settings as:
childcare workers
secondary educators
special education instructors
school administrators
#7 – Kansas State University – Manhattan, Kansas
Early Childhood Education Bachelor's Degree Online
Net Price: $19,874/year
The Bachelor of Science in Early Childhood Education at Kansas State University is a degree completion program.  This means that it is designed for students who have completed a portion of their coursework at a local community college. Kansas State University offers 72 hours of general and professional teacher education courses.
Students who graduate from the Kansas State University program will be able to apply for job opportunities where they might be:
coordinating parent programs
working with young children aged birth through kindergarten
working in administrative or teaching positions
#8 – Eastern Oregon University – La Grande, Oregon
BS/BA in Early Childhood Education
Net Price: $15,387/year
The Bachelor Degree in Early Childhood Education at Eastern Oregon University is a non-licensure program that can be completed in just 2 years. For individuals who want to expedite the process of receiving their education so that they can work in an educational setting with children from birth to age 8, but who don't need to receive any state licensing to obtain work, this program is a great choice.
According to the school's website: "students will receive in-depth knowledge of early childhood foundations, development, learning and apply this knowledge in learning to create high-quality care and educational programs that focus on developing appropriate learning experiences for young children."
#9 – Baker College – Owosso, Michigan
Online Bachelor of Science Early Childhood Education
Net Price: $14,366/year
Baker College offers an online Bachelor of Science in Early Childhood Education that combines virtual classroom studies with internships in childcare settings. This blending of learning environments prepares students for employment in the modern world of early childhood education.
In the course curriculum at Baker College, students will gain experience in developing a curriculum that teaches children basic skills in:
language
math
science
social skills
Students will also learn how to create age-appropriate learning and play environments. Upon completion of the program, graduates will be qualified to work as:
teachers in pre-K settings
supervisors and administrators
curriculum developers
#10. Ball State University – Muncie, Indiana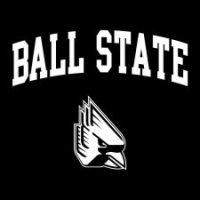 Online Bachelor's Degree in Early Childhood Education
Net Price: $12,968/year
Ball State University offers a Bachelor's in Family and Child, a non-licensure program in early childhood education.  Students can earn either a BS or BA degree depending on their career goals.  A variety of minors are available to complement this degree including:
Applied behavior analysis
Autism spectrum disorder
Early intervention
Courses are delivered 100% online, making this a great choice for full-time childcare professionals.  The asynchronous format includes weekly deadlines to help students stay on track.  Courses are taught by the same professors who teach the on-campus program.
#11.  University of Wisconsin Whitewater – Whitewater, Wisconsin
Online Bachelor's in Early Child Care and Education
Net Price: $12,754/year
The online bachelor's in ECE from the University of Wisconsin Whitewater is a non-license program for working professionals who have already earned a credential.  Students can learn at their own pace, completing their coursework when it is most convenient.  Both full and part-time program options are available.
Unlike other programs, there isn't a set course list that students need to complete to earn their degree.  Students can choose courses based on their goals and areas of interest in the field.
#12.  Eastern University – Saint Davids, Pennsylvania
BS in Early Childhood Education Online
Net Price: $24,199/year
The BS in ECE from Eastern University is for preschool and elementary school teachers who work with young children from PreK thru 4th grade.  Courses are offered 100% online in a flexible, fast-paced format.  Students can typically complete their bachelor's degree in two to four years depending on previous coursework.
The program is designed for working adults and courses are taught by experienced professionals.  Relevant courses cover areas like:
child development
special education
assessment and evaluation
education psychology
Planning on earning a master's degree?  Students can seamlessly transition to an MEd program at Eastern or earn additional certifications.
#13. University of Arizona Global Campus – Tuscon, Arizona
Online Early Childhood Education Degree
Net Price: $17,242/year
The College of Arts and Sciences at the University of Arizona Global Campus features a BA in ECE.  Courses are offered in an accelerated five to six-week format.  Students move through the program one course at a time.  There is no application fee and students can transfer up to 90 approved credits toward their degree.
ECE courses cover relevant topics like:
language acquisition
the impact of communities and parents on ECE
cognitive development
Students can customize their degree with an emphasis.  Emphasis areas consist of nine to twelve credit hours and include popular choices like:
Health and Wellness
Entrepreneurship
Business Economics
Graduates are prepared for a variety of occupations including childcare worker and educational assistant.
#14. Illinois State University – Normal, Illinois
Early Childhood Education Bachelor's Degree Program
Net Price: $21,033/year
The College of Education at Illinois State University offers a unique ECE online workforce program.  The program is designed for working professionals in settings that serve children from birth to age five.  The program is 100% online and new cohorts begin every semester.
To be considered for the program, students must have an associate's or bachelor's degree along with their Gateways to Opportunity Credential Level 4.  Students may be considered for full funding through the State of Illinois' Early Childhood Access Consortium for Equity.
#15. University of Toledo – Toledo, Ohio
Bachelor's in Early Childhood Education Online
Net Price: $17,764/year
The University of Toledo features an online early childhood education non-licensure fast-track program.  The curriculum covers the latest theory and research to help young learners thrive in the classroom.  Courses are taught by nationally recognized scholars. Course themes include:
Creating Effective Learning Environments
Early Literacy, Language and Social Studies
Meeting the Needs of Young Children with Disabilities
Supporting ECE Science and Math
Applicants should be working in an ECE setting more than 20 hours a week to be considered for admission.