Georgia's public education system encompasses 181 school districts, over 2,200 schools, 114,800 teachers and approximately 1.6 million students. It has 85 public colleges, universities, and technical colleges and more than 45 private institutes of higher learning. Georgia's educational representation has changed drastically since 2013, with the vast majority of its districts school boards being elected by single-member districts.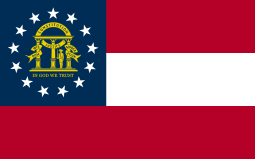 This followed a lawsuit against the board of commissioners and school board by residents and activist groups in Fayette County, Georgia over election system based on at-large voting, which had racially marginalized minorities being elected to local school boards. Georgia deals with a widening wealth disparity that has brought serious challenges to its schools, and is constantly in need of great teachers. Georgia online colleges are usually on the cheaper side in tuition. There are many schools offering online degrees and certificate programs, especially in early childhood education. Here we'll look into what it takes to be a teacher in Georgia, salaries of different educational positions, and some of the top online colleges for teaching early education degrees offered in the state.
Requirements for Teaching Licensure in Georgia
Georgia changed its teaching licensure requirements in 2015. If you're looking to become licensed to teach in Georgia, you should first complete a teacher preparation program that was approved by the Georgia Professional Standards Commission (GaPSC). Many online colleges in GA are approved, but it is important to confirm the status when you find a school to apply to. If you already have a bachelor's or master's degree but haven't completed teacher preparation program, there are also alternate routes to become licensed, especially if you want to teach in areas Georgia considers "high need." Georgia's new, four-tier certification process for beginning teachers has a Pre-Service certification, in order to qualify for a mandatory student teaching assignment. Candidates who successfully complete a bachelor's degree, a teacher preparation program, and the Pre-Service requirements can earn an Induction certificate for beginning teachers.
After three years of quality teaching, candidates can earn a Professional teaching certificate. And eventually, after five years of teaching success, you can earn a National Board for Professional Teaching Standards (NBPTS) certification or an advanced degree. That, along with high performance ratings in the classroom, may qualify you for the highest level of teacher certification in Georgia: Advanced/Lead Professional.
Education Program Admission Requirements for Online Schools in Georgia
Obviously, admission requirements for online teaching degrees depend on the school, program, and degree level you're looking to earn. If you want to earn an undergraduate online teaching degree in early childhood education, you'll at least need a high school diploma, GED, or 60 transferable credit hours from an accredited community college. It helps to have emphasized education in your studies, but it's not required.
If you're looking to earn an online master's degree in early childhood education, you'll need a bachelor's degree from an accredited college or university. This degree should ideally be focused on education or a related field in order to qualify. Online colleges in Georgia usually have the same requirements for both doctoral programs and master's degrees; albeit with the added requirement of a master's degree to qualify for doctoral study. Most graduate programs in early childhood education expect applicants to take the GRE.
Average Salaries for Common Educator Roles in Georgia
Preschool Teacher: $32,656
Elementary School Teacher: $52,840
Public School Teacher: $54,155 (median)
Professor of Education: $64,953
School Principal: $100,687 (median)
Special Education Teacher: $55,750 (median)
Math or Science High School Teacher: $59,754
ESL Teacher: $46,735
School Psychologist: $59,235
Scholarships for Future Educators in Georgia
The HOPE Scholarship
The HOPE Scholarship is funded by the state lottery. It has been cut by 90% in recent years. Georgia residents who have graduated from high school with a 3.7 or higher grade point average and a 1200 or above on the SAT can attend a public college or university in the state with a scholarship covering tuition and a stipend for books for up to 120 credit hours.
GAE Foundation Scholarships
The Georgia Association of Educators Foundation exists to help educators get their education. They offer a range of scholarships. These include scholarships for Certified Educators as they earn an Advanced Degree, Education Support Professionals, Junior/Senior scholarships for Future Teachers, and more.
TEACH Scholarship
The TEACH Scholarship provides $4,000 annually for students who plan to teach full-time in high-need subject areas after graduation.
The 5 Best Online Education Degree Providers in Georgia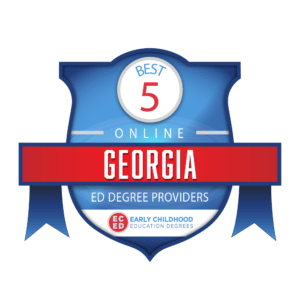 Georgia has a wealth of education degree options. From that, we combed through the best online education degrees at the undergraduate and graduate level. The following five schools were chosen based on the number of fully online education degrees they offered, and an "academic prestige" score. The academic prestige score encompasses:
the average amount of financial need received
average class sizes
admissions standards
the percentage of faculty holding terminal degrees in their field
Please note that the tuition numbers are here to get a sense of what tuition costs are. The tuition numbers below, specifically, are the average net price (where applicable) undergraduate yearlong tuition rates provided by the National Center for Education Statistics. Many universities, however, have similar tuition rates at the undergraduate and graduate levels.
1. Valdosta State University – Valdosta, Georgia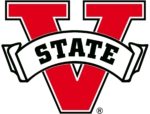 Average Net Price: $12,836/year
Online Ed Degrees: 25
Homepage
This public university is one of four comprehensive members of the University System of Georgia. It was founded in 1906, and operates out of Valdosta, Georgia. It offers Certificates, Associate's, Bachelor's, Master's, Education Specialist, and Doctoral degrees through colleges of Arts and Sciences, Business Administration, Education, Arts, and Nursing. The Graduate School also has Divisions of Social Work and Library Science. Over 10,200 students attend Valdosta, which offers a 17:1 student-to-faculty ratio. Its education programs are accredited by the National Council for Accreditation of Teacher Education.
Valdosta is one of the top online education schools in Georgia, offering two undergraduate programs and several graduate degrees. These include:
Education Leadership
Elementary Education
English Studies for Language Arts Teachers
At the Bachelor level, students can choose from a BSEd in Elementary Education or a BSEd in Workforce Education and Development. Valdosta also offers a doctoral online degree in leadership. Doctoral students can choose from five cognate areas including:
Organizational Leadership
Curriculum Leadership
Technology Leadership
Higher Education Leadership
Special Education Leadership
2. Augusta University – Augusta, Georgia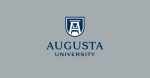 Average Net Price: $13,180
Online Ed Degrees: 1 degree, 21 concentration areas
Homepage
Augusta is a public academic health center and research university headquartered in Augusta, Georgia. It is one of the four universities in the University System of Georgia. Augusta offers certificates to doctoral degrees, and everything in between. It was founded in 1828. Over 9,100 students attend Augusta, which has a 17:1 student-to-faculty ratio.
Augusta has one online education program in education. Their Master of Education in Instruction is for teachers who want to take the next step in their teaching career. Students can choose 21 unique concentration areas including:
Elementary Education
General Education
Middle Grades Education
P-12 Education
Secondary Education
Special Education
This 30-credit hour online program is offered in a flexible, learner-first environment. This allows teachers to continue working while earning their degree. Core online courses include:
Applied Research in Curriculum and Instruction
Advanced Instructional Technology
Diversity in Education
Introduction to Educational Research
Faculty provide personalized attention to help online learning students make a road map to achieve their goals. Graduates have the critical skills and understanding needed to create student-focused learning environments.
3. Georgia Southern University – Statesboro, Georgia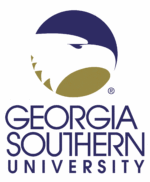 Average Net Price: $15,352
Online Ed Degrees: 21
Homepage
Georgia Southern University is a public research university based in Statesboro, Georgia. It was founded in 1906 and is part of the University System of Georgia. It's also the largest center of higher education within the southern half of Georgia. GSU offers over 140 different academic majors and conveys Bachelor, Master's and Doctoral degrees. Georgia Southern is classified as a Doctoral and Research Institution by the Carnegie Foundation for the Advancement of Teaching. Over 25,400 students attend Georgia Southern, which offers a 22:1 student-to-faculty ratio. The school has a robust online wing that has expanded rapidly since its founding in 2008.
Georgia Southern offers six online Master of Art in Teaching degrees including:
Elementary Education, P-5
Health and Physical Education, P-5
Middle Grades Education, Grades 4-8
Secondary Education, Grades 6-12
Spanish Education, P-12
Special Education, P-12
Required online courses for the MAT degree programs include:
Literacy Instruction and Diagnosis
Instruction-Based Assessment
Problem Solving and Mathematical Representations in the Elementary Classroom
GSU also offers 11 Master of Education programs including their popular Higher Education Administration program and the MEd in Educational Leadership. Three Educational Specialist programs are available including the EdS in Reading Education and the EdS in Teaching and Learning.
Students looking for an online doctoral degree can pursue the Doctorate of Education in Educational Leadership with a concentration in either Higher Education Leadership or P-12 Education Leadership.
Online students can complete their degree from anywhere in the world. Depending on the degree program, an online student may be required to complete their field experience in the state of Georgia.
4. Georgia State University – Atlanta, Georgia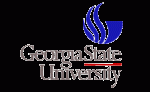 Average Net Price: $17,589
Online Ed Degrees: 10
Homepage
Georgia State University was founded in 1913, and is based out of Atlanta, Georgia. It's a public research university, and also a member of the University System of Georgia. It's the largest university in the system. Over 36,500 students attend Georgia State University, which boasts a 26:1 student-to-faculty ratio. It conveys certificates through doctorate degrees.
GSU offers 10 master's in education online degrees. Highlights include:
Educational Research
Elementary Education
Instructional Design and Technology
Distance education courses include credit hours in professional studies, core courses and concentration courses. Students will also complete a capstone experience that may include an internship or fieldwork.
Georgia State's MEd's in Elementary Education and Reading, Language & Literacy Education, will prepare you to teach in two extremely demanded subject areas in Georgia. All of GSU's online programs are mirrors of their on-campus counterparts, and the diplomas conferred don't indicate the degree was earned online. There are also reduced student fees for these online degrees. Some online degree programs require some on-campus attendance while others can be earned entirely online. Out of state students should check with their respective licensing entities to ensure appropriate transfer.
5. Kennesaw State University – Kennesaw, Georgia

Average Net Price: $18,079
Online Ed Degrees: 2
Homepage
KSU, located in Kennesaw, Georgia is a public research university. It was founded in 1963. Over 43,000 students are currently attending the school, and a 22:1 student-to-faculty ratio. It's also a member of the University System of Georgia. Kennesaw offers programs in areas like business and education. KSU is the third largest university in Georgia, and top 50 in the country.
Kennesaw offers two online programs in education. The MEd in Secondary and Middle Grades Education have four concentrations. Online college courses include:
Reflective Inquiry for Transformative Teaching and Learning
Differentiation, Academic Language, and Assessment in Middle and Secondary Classrooms
Transformative Teaching and Learning with Families and Communities
Applied Quantitative and Qualitative Research
Any of these programs will give graduates a clear jump in their careers in terms of potential earnings and jobs they'll qualify for after graduating. One thing to keep in mind is that KSU Online's programs don't currently result in initial teaching certification. KSU programs that do are offered on campus. All of the online graduate programs require a renewable teaching certificate for admission.
Directory of Online Education Degree
Providers in Georgia
Valdosta State University
Valdosta, GA
Online Ed Degrees: 25

TUITION

$12,836

UNDERGRADUATE DEGREES

American Sign Language/English Interpreting (hybrid program); Elementary Education; Workforce Education and Development

GRADUATE DEGREES

Adult and Career Education MEd; Curriculum and Instruction/Accomplished Teaching MEd; Education Leadership MEd; English Studies for Language Arts Teachers MA; English to Speakers of Other Languages (ESOL) MAT; Foreign Language Education (French or Spanish) MAT; Health and Physical Education MAT or MEd; Higher Education Leadership MEd; Instructional Technology MEd; Library and Information Science MLIS; Middle Grades Math and Science; Special Education: General Curriculum or Deaf/Hard of Hearing MAT; Coaching Pedagogy in Physical Education EdS; Educational Leadership EdS; Instructional Technology: P-12 Technology Applications; Instructional Technology: P-12 Technology Applications with School Library Media Add-On EdS; Instructional Technology: Technology Applications (non P-12 school personnel); School Counseling EdS; Special Education EdS; Teacher Leadership EdS; Leadership EdD
Augusta University
Augusta, GA
Online Ed Degrees: 1

TUITION

$13,180

UNDERGRADUATE DEGREES

GRADUATE DEGREE

Master of Education in Instruction Online with concentrations available in: Elementary Education; General Education; Middle Grades Education; P-12 Education in art, health and physical education, music, or drama; Secondary Education in biology, chemistry, earth science, economics, English, French, German, history, mathematics, physics, political science, science education and Spanish; Special Education
Georgia Southern University
Room 2015, GA
Online Ed Degrees: 21

TUITION

$15,352

UNDERGRADUATE DEGREES

GRADUATE DEGREES

MAT Special Education; MAT Elementary Education; MAT Health and Physical Education; MAT Middle Grades Education; MAT Secondary Education; MAT Spanish Education; MEd in Curriculum & Instruction; MEd in Educational Leadership; MEd Elementary Education; MEd in Evaluation, Assessment, Research, and Learning; MEd in Higher Education Administration; MEd in Instructional Technology; MEd in Middle Grades Education; MEd in Reading Education; MEd in Secondary Education; MEd in Special Education; MEd in Teaching Culturally and Linguistically Diverse Students; EdS in Instructional Technology; EdS in Reading Education; EdS in Teaching and Learning; EdD in Educational Leadership
Georgia State University
Atlanta, GA
Online Ed Degrees: 10

TUITION

$17,589

UNDERGRADUATE DEGREES

GRADUATE DEGREES

Educational Research MS; Elementary Education MEd; English to Speakers of Other Languages (ESOL); Health and Physical Education MEd; Health Education Administration MIS; Instructional Design and Technology MS; Reading, Language and Literacy Education MEd; Science, Technology, Engineering, and Mathematics (STEM) Education MEd; Tier 1 Educational Leadership MEd; World Languages Education, Master of Interdisciplinary Studies
Kennesaw State University
Kennesaw, GA
Online Ed Degrees: 2

TUITION

$18,079
University of Georgia
Athens, GA
Online Ed Degrees: 9

TUITION

14956

UNDERGRADUATE DEGREES

Bachelor of Science in Special Education

GRADUATE DEGREES

Master of Education in Educational Psychology, Applied Cognition and Development Master of Education in Educational Psychology, Gifted and Creative Education Master of Education in Learning, Design and Technology, Instructional Design and Development Master of Education in Middle Grades Education Master of Education in Reading Education Master of Education in Workforce Education Master of Learning, Leadership & Organization Development Specialist of Education in Educational Psychology, Gifted and Creative Education
University of West Georgia
Carrollton, GA
Online Ed Degrees: 8

TUITION

14285
Mercer University
Macon, GA
Online Ed Degrees: 9

TUITION

20692

UNDERGRADUATE DEGREES

GRADUATE DEGREES

Elementary Education-The Accomplished Teacher, EdS; Elementary Education-The Advanced Teacher, MEd; Higher Education Leadership MEd; Middle Grades Education-The Accomplished Teacher, EdS; Middle Grades Education-The Advanced Teacher MEd; P-12 Education-The Accomplished Teacher, EdS; P-12 Education-The Advanced Teacher, MEd; Secondary Education-The Accomplished Teacher, EdS; Secondary Education-The Advanced Teacher, MEd
Georgia College & State University
Milledgeville, GA
Online Ed Degrees: 9

TUITION

19717

UNDERGRADUATE DEGREES

GRADUATE DEGREES

Master of Arts in Teaching in Middle Grades; Master of Education with Secondary Education Concentration; Master of Education in Educational Leadership; Master of Education in Educational Technology; Master of Education in Library Media; Specialist in Education with Secondary Education Concentration; Specialist in Education in Educational Leadership; Non-Degree Certification in Instructional Technology; Non-Degree Endorsement: English for Speakers of Other Languages;
Columbus State University
Columbus, GA
Online Ed Degrees: 11

TUITION

11596

UNDERGRADUATE DEGREES

GRADUATE DEGREES

MAT Secondary Mathematics and Science; MEd Curriculum and Instruction in Accomplished Teaching; MEd Early Childhood Education; MEd Educational Leadership; MEd Educational Leadership, Leadership in Higher Education; MEd Special Education-General; MEd Teacher Leadership; EdS Early Childhood Education; EdS Educational Leadership; EdD Curriculum and Leadership-Higher Education Track
University of North Georgia
Dahlonega, GA
Online Ed Degrees: 6

TUITION

9608
Brenau University
Gainesville, GA
Online Ed Degrees: 6

TUITION

19650
Albany State University
Albany, GA
Online Ed Degrees: 3

TUITION

12183