The state of Ohio has over 3,500 public schools with over 1.6 million students. With public education making up 75% of schools in the state, Ohio has a great need for qualified teachers who also complete a Ohio Department of Education approved degree program.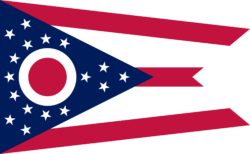 With a lot of licensures to choose from, including a several in intervention and special education, prospective Ohio teachers have a lot of information to sift through. Additionally, many Ohio teachers also choose to go back to school to earn Masters in Education degrees and to gain additional endorsements for their licenses. With other 20 universities offering online education degrees, especially at the graduate level, Ohio is a great location for early childhood education degrees.
Requirements for Teaching Licensure in Ohio
The Ohio Department of Higher Education offers 8 types of teaching licensure. All Ohio Educator Licenses applicants must complete a educator preparation program approved by the Chancellor of the Ohio Department of Higher Education and pass the requisite Ohio Assessments for Educators exam required for your specific license. Six of Ohio's teaching licenses require a bachelor's degree or higher. The Early Childhood Licensure allows you to teach pre-Kindergarten through 3rd grade. The Early Childhood Intervention Specialist Licensure allows you to teach students with special needs in grades pre-Kindergarten through 3rd. The Middle Childhood Licensure allows you to teach grades 4-9 in at least two of the following fields: language arts and reading, math, science, and social studies. The Adolescence to Young Adult (AYA) Licensure allows you to teach grades 7-12 in one of 14 specific areas. The Intervention Specialist Licensure allows you to teach students with special needs in the following fields: gifted (K-12), mild/moderate educational needs (K-12), moderate/intensive educational needs (K-12), visually impaired (PK-12), and hearing impaired (PK-12). The Multi-Age Licensure allows you to teach Pre-K through 12th grade in one of 11 unique content areas, like foreign languages, health, or music. Ohio's other 2 teaching licensures do not necessarily require bachelor's degrees, but are overseen by Ohio's Department of Education. The first is the Career Technical Licensure which allows you to teach grades 4-12 in areas like agriculture, health careers, business, family and consumer sciences, marketing, and trade. The other is the Associates Licensure which requires only an associate degree or higher and allows you to teach Pre-Kindergarten, or be a educational paraprofessional or interpreter for the hearing impaired.
Admission Requirements
Admissions requirements vary according to the degree sought. At the undergraduate level, many Ohio universities accept the Common Application used for all degree programs and many colleges across the nation. Often students are only admitted to the specific education degree program after they have completed an associates degree or the university's general education requirements. Sometimes, undergraduate education programs will require certain GPAs or additional letters of recommendation for admittance. At the graduate level, applicants need to have a bachelor's degree. Sometimes that degree will need to be in education or a closely related field. Students without an education degree may be asked to complete additional coursework in order to be accepted into or graduate from a M.Ed program. Most M.Ed programs also require transcripts and test scores. Most commonly, these will be GRE test scores from within the last 5 years, but sometimes applicants are also asked for their OAE or Ohio Assessment for Educators or Praxis scores, especially if the program is designed for students who already hold Bachelor's in Education degrees.
Average Salaries for Common ECED-holding Roles in Ohio
Preschool Teacher: $27,110
Elementary School Teacher: $59,000
Middle School Teacher: $58,580
High School School Teacher: $59,610
Professor of Education: $72,560
School Principal: $83,780
Special Education Teacher: $57,440
Math or Science Teacher, High School: $55,000
School Psychologist: $73,700
Scholarships for Future Educators in the State of Ohio
The JFK Scholarship is for an Ohio Education Association member who is a teacher enrolled in a graduate-level program in the amount of $4,000.
TEACH Grants are part of a federal program that provides up to $4,000 a year to students who are completing or plan to complete coursework to start a career as a teacher.
The Jean Kershaw Scholarship is a $2,000 scholarship for a student enrolled in an undergraduate teacher education program in Ohio.
The 5 Best Early Childhood Education Degree Programs in Ohio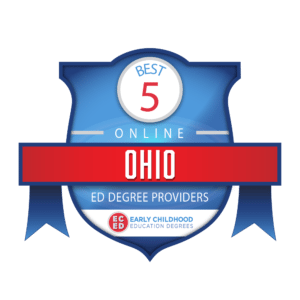 Ohio has a total of 20 education degree-granting institutions that provide online education degrees. These schools range from small private liberal arts schools to large public research universities offering associates degrees in early childhood education to master's degrees in various subspecialties in education. Because Ohio has so many specialized teaching licensures, it is important for students to choose the degree that offers the right licensure and endorsement. A great resource is the < a href="https://www.ohiohighered.org/education-programs/program-finder">complete list of Educator Preparation Programs approved by the Ohio Department of Higher Education. To select the following top five universities, we've looked at several factors: the cost of tuition, the number of online education degrees, and the institution's academic prestige according to national ranking numbers.
1.University of Dayton
The University of Dayton is a private Roman Catholic research university in Dayton, Ohio. Founded in 1850 by the Society of Mary, the University of Dayton is one of only three Marianist universities in the nation and the second largest private university in Ohio. Today, UD has a little over 10,000 students and offers more than 80 programs covering arts, sciences, business, education, health sciences, engineering, and law. That means UD students have a wide variety of educational options to explore their career interests. UD also works hard to ensure students have a successful college experience through the universities approach to tuition. Students' scholarships and grants grow with tuition to ensure students pay the same tuition during the course of their degree.
The University of Dayton offers a wide range of online education degrees and certificates. Dayton's online education degree programs are divided into teacher education degrees and educational administration degrees. For educational administration, online students can choose between 3 master's degrees, and can select between 3 preparation programs that lead to Ohio-issued licenses. For teacher education, Dayton's online students can choose between 7 online degrees, 3 preparation programs that lead to Ohio-issued endorsements, and 2 certificates. At the bachelor's level, Dayton students can enroll in a BSE in Early Childhood Leadership and Advocacy online degree program. At the master's level, online education students can choose between Early Childhood Leadership and Advocacy, Interdisciplinary Educational Studies, Literacy, Teacher Leader, Technology-Enhanced Learning, and Transdisciplinary Early Childhood Education.
Online Ed Degrees: 18
In-state Tuition: $40,940
2. University of Cincinnati
The University of Cincinnati is a comprehensive public research university in Cincinnati, Ohio. Founded in 1819 as Cincinnati College, UC is the oldest institution of higher education in Cincinnati. Today, UC has an enrollment of over 44,000 students, making it the second largest university in Ohio and one of the top 50 largest schools in the country. UC offers over 100 bachelor's degrees, over 300 degree-granting programs, and over 600 total programs of study from the bachelors to doctoral levels. That means UC students have a lot of options to choose from as they explore their career interests. A great many of those degree options are also available in fully online formats.
Several of UC's online degree programs include programs in Early Childhood Education. At the undergraduate level, online students at UC can choose between an Associates in Early Childhood Care and Education, with 2 specialty tracks, or a Bachelor's in Early Childhood Education. At the master's level students can choose between the following degree plans: curriculum and instruction, educational leadership, instructional design and technology, literacy and second language studies, medical education for health care professionals, and special education. Of particular note is UC's M.Ed in Curriculum and Instruction. This degree offers 4 concentration areas, two of which prepare graduates for licensure in middle childhood education or secondary education. Online students in curriculum and instruction can also choose to gain additional endorsements in gifted education or STEM teaching and learning.
Online Ed Degrees: 9
In-state Tuition: $11,000
3.Miami University
Miami University is a public research university in Oxford, Ohio. Founded in 1809, Miami University is the 10th oldest public university in the nation. Today, Miami's nearly 20,000 students can choose between 120 undergraduate degrees and 60 graduate degrees from across 8 schools and colleges. That means students have a lot of options to explore as they find their career paths. Miami also maintains a Tuition Promise that ensures that Tuition, Room and Board, and Fees will be frozen for undergraduates over the course of 4 years. That means that students can be reassured that the value of their scholarships or grants will not change either.
Miami University offers a range of online education degree programs. At the master's level, online students can choose between degrees in instructional design and technology, educational technology, and special education licensure. Graduate students also have several fully online educational certificates, including: an educational psychology certificate in autism spectrum disorders, or an instructional design and educational technology certificate. Miami's M.Ed of Educational Technology includes a K-12 Computer/Technology Licensure Endorsement. This program focuses on preparing teachers to be leaders in technology integration and to engage students in meaningful learning through technology. In addition to taking the required courses, online students seeking this licensure endorsement must also pass the Ohio Assessment Exam. Similarly, students in the special education M.Ed program can choose between options for initial teaching certification, with a special education licensure, without a license, or to add an intervention specialist licensure.
Online Ed Degrees: 6
In-state Tuition: $14,736
4. University of Toledo
The University of Toledo is a public research university located in Toledo, Ohio. Founded in 1872, as the Toledo University of Arts and Trades as a vocational school. Eventually, it transitioned to a university in the late 1800s and slowly added academic programs to become a comprehensive research university. Today, Toledo's over 20,000 students get the benefits of the resources at a large university with comprehensive degree programs. That includes over 250 academic programs across 19 colleges and schools, including University of Toledo Online. For online students, UT Online still offers a range of options as well, with 25 undergraduate and 24 graduate programs.
A significant amount of UT Online's degree programs include education degrees. At the undergraduate level, online students can complete a Bachelor's in Early Childhood Education. At the graduate level, online students have 15 degree, certificate, or endorsement options. For degrees, online students can choose between diversity, early childhood education, or education and English. Certain certificates stand out among UT's offerings, including a virtual educator certificate and the educational assessment specialist certificate. Online master's students also have a number of unique endorsement options including: preschool special needs endorsement, Ohio reading endorsement, and transition to work endorsement. While many of UT Online's education offerings are approved by the Ohio Department of Education, most do not include a licensure track incorporated into the curriculum.
Online Ed Degrees: 11
In-state Tuition: $9,547
5. Bowling Green State University-Main Campus
Bowling Green State University is a public research university located in Bowling Green, Ohio. Founded in 1910 as a teacher training and education school, the school slowly developed into a comprehensive public university. Today, BGSU has nearly 17,000 students that take advantage of the resources available at a large, research university. Some of those resources include more than 200 undergraduate programs of study, as well as graduate programs, that come from across BGSU's 8 colleges. That includes Higher Learning Commission accredited fully online degree programs.
BGSU is well known for being a leader in teacher preparation. BGSU offers 8 fully online M.Ed degrees and several certificates or endorsements. Several of BGSU's master's degrees focus on special education, including assistive technology, autism spectrum disorders, and secondary transition. While these programs do not leader to an initial teacher license, they are designed for teachers who already hold licenses and are seeking renewal or additional endorsements and career advancement. Other fully online M.Ed. programs include ones on classroom technology, curriculum and teaching, learning design, music education, and reading. BGSU online students can also gain additional certificates or endorsements in K-12 online teaching, reading endorsements, and and autism spectrum disorders among others.
Online Ed Degrees: 8
In-state Tuition: $11,057
University of Dayton
Dayton, Ohio
Online Ed Degrees: 18

TUITION

40940

UNDERGRADUATE DEGREES

B.S.E., Early Childhood Leadership and Advocacy

GRADUATE DEGREES

M.S.E., Early Childhood Leadership and Advocacy M.S.E., Interdisciplinary Educational Studies M.S.E., Literacy M.S.E., Teacher Leader M.S.E., Technology-Enhanced Learning M.S.E., Transdisciplinary Early Childhood Education Certificate, Early Childhood Leadership and Advocacy Certificate, Technology-Enhanced Learning M.S.E., Educational Leadership (optional designated Catholic schools course sections)M.S.E., Educational Leadership (optional designated Catholic schools course sections) M.S.E., Leadership for Educational Systems Preperation Program Curriculum, Instruction and Professional Development (CIPD)Preperation Program PrincipalPreperation Program SuperintendentPreperation Program Computer TechnologyPreperation Program ReadingPreperation Program Teacher Leader
University of Cincinnati-Main Campus
Cincinnati, Ohio
Online Ed Degrees: 9

TUITION

11000

UNDERGRADUATE DEGREES

Early Childhood Care and EducationEarly Childhood Education

GRADUATE DEGREES

Speech-Language Pathology ACinD Speech-Language Pathology TTI Curriculum and Instruction Educational Leadership Instructional Design and Technology: Teaching Specialization Literacy & Second Language Studies Medical Education for Health Care Professionals Special Education
"
Miami University-Oxford
Oxford, Ohio
Online Ed Degrees: 6

TUITION

14736

UNDERGRADUATE DEGREES

GRADUATE DEGREES

Instructional Design & Technology Master of Educational Technology Global Field Program (GFP) – MA in Biology or MAT in Biological Sciences Advanced Inquiry Program (AIP) – MA in Biology or MAT in Biological Sciences Instructional Design and Educational Technology Autism Spectrum Disorders (ASD)
"
University of Toledo
Toledo, Ohio
Online Ed Degrees: 11

TUITION

9547

UNDERGRADUATE DEGREES

Early Childhood Education – Fast-Track Degree Completion

GRADUATE DEGREES

Early Childhood Education* (non-licensure) Education and Science in Biology, CCP Credentialing Pathway† Education and Science in Chemistry, CCP Credentialing Pathway† Educational Technology Special Education, Emphasis in Early Childhood* Early Childhood Education Ed.S Education Education Specialist — Curriculum & InstructionSpecialist — Curriculum & InstructionCurriculum & Instruction: Special Education
Bowling Green State University-Main Campus
Bowling Green, Ohio
Online Ed Degrees: 8

TUITION

11057

UNDERGRADUATE DEGREES

GRADUATE DEGREES

Assistive Technology – M.Ed in Special Education Autism Spectrum Disorders – M.Ed in Special EducationClassroom Technology, M.Ed Curriculum & Teaching, M.Ed Learning Design, M.Ed Music Education – Online Teaching Artistry Specialization Reading, M.Ed Secondary Transition – M.Ed in Special Education
Ohio State University-Main Campus
Columbus, Ohio
Online Ed Degrees: 4

TUITION

10037
Wright State University-Main Campus
Dayton, Ohio
Online Ed Degrees: 6

TUITION

8730

UNDERGRADUATE DEGREES

GRADUATE DEGREES

Advanced Curriculum & Instruction (Ed.S.) Educational Technology – Health Professions Applications (M.Ed.) Educational Technology – Instructional Design for Digital Learning (M.Ed.) Principalship (M.Ed.) Superintendency (Ed.S.) Teacher Leader: Curriculum & Instruction (M.Ed.)
Cleveland State University
Cleveland, Ohio
Online Ed Degrees: 4

TUITION

9768
University of Akron Main Campus
Akron, Ohio
Online Ed Degrees: 3

TUITION

10270
Baldwin Wallace University
Berea, Ohio
Online Ed Degrees: 4

TUITION

30776
Xavier University
Cincinnati, Ohio
Online Ed Degrees: 3

TUITION

36150
Walsh University
North Canton, Ohio
Online Ed Degrees: 4

TUITION

28720
Tiffin University
Tiffin, Ohio
Online Ed Degrees: 5

TUITION

23125
Mount Saint Joseph University
Cincinnati, Ohio
Online Ed Degrees: 4

TUITION

28300
Cedarville University
Cedarville, Ohio
Online Ed Degrees: 1

TUITION

28110
Mount Vernon Nazarene University
Mount Vernon, Ohio
Online Ed Degrees: 3

TUITION

26950
Notre Dame College
Cleveland, Ohio
Online Ed Degrees: 3

TUITION

28300
Franciscan University of Steubenville
Steubenville, Ohio
Online Ed Degrees: 1

TUITION

25680
The University of Findlay
Findlay, Ohio
Online Ed Degrees: 2

TUITION

32402