North Carolina's higher education history began in 1795, with the founding the University of North Carolina. Now the University of North Carolina system has 17 public universities that are complimented by 58 public community colleges. The average public in-state tuition in North Carolina is approximately $6,500 annually, which is lower than average tuition prices nationwide.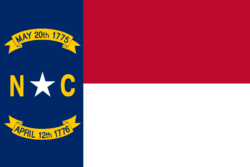 The state is also home to renowned private universities like Duke University, Wake Forest University, Davidson and many others. The average private college tuition is approximately $27,000, which is higher than the national average. In total the state has approximately 1.5 million public school students in over 2,500 schools. There are also nearly 100,000 teachers in the state. In higher education, there are 149 colleges and universities: 75 are public institutions, 50 are nonprofit private schools, and 24 are for-profit private institutions. The U.S. Department of Labor has predicted a 20-23 percent growth in the North Carolina job market for preschool teachers and preschool special education teachers, making a Early Education degree an extremely attractive option. Overall, an 8.6% growth in teaching jobs is expected by 2024 in North Carolina.
Requirements for Teaching Licensure in North Carolina
Anyone pursuing a North Carolina teacher certificate needs a bachelor's degree and to complete a state-approved teacher preparation program in North Carolina. Additionally, there are examinations and a background check to qualify for licensure. Teachers in North Carolina must also hold certification for the subject or grade level they want to teach. Teaching certificate areas include birth through kindergarten, elementary (grades K-6), middle grades (grades 6-9), secondary grades (grades 9-12), special subjects (K-12), exceptional children (K-12), and vocational education. There are also alternative routes to certification in North Carolina for those looking to change careers.
Online Education Program Admission Requirements
Admission requirements depend largely on the school, program, and degree level you're looking to earn. If you want to earn an undergraduate degree in early childhood education you'll need some combination of a high school diploma, GED, or 60 transferable credit hours from an an accredited community college. It helps to have emphasized education in your studies, but it's not required, especially if you're taking an alternative route to teacher certification. If you're looking to earn an online master's degree in early childhood education you'll need a bachelor's degree from an accredited college or university, preferably focused in education or a related field. The state's doctoral programs often require an applicable master's degree to qualify. Most graduate programs in early childhood education expect applicants to take the GRE.
Average Salaries For Common Educator Roles in North Carolina
Preschool Teacher: $25,530
Elementary School Teacher: $35,233
Public School Teacher: $52,781 (median)
Professor of Education: $79,161
School Principal: $63,450 (median)
Special Education Teacher: $51,837 (median)
Math or Science High School Teacher: $65,330
ESL Teacher: $43,014
School Psychologist: $69,973
Scholarships for Future Educators in North Carolina
Millennium Teacher Scholarship Loan Program
The Millennium Teacher Scholarship Loan Program is worth $6,500 a year for four years. It's a need-based loan forgiveness program that allows for each year of its scholarship aid to be repaid by teaching for a year in a North Carolina public school.
NC Principal Fellows Program"
This program is for students who want to hold administrative positions in North Carolina public schools. train candidates to hold administrative jobs in North Carolina's public schools. PFP gives students one paid year of master's level education plus a year's internship in a public school.
T.E.A.C.H. Early Childhood Scholarship
Through this program students can access multiple scholarships intended for students who are enrolled or are interested in enrolling in an associate or bachelor degree program in early childhood education.
The 5 Best Online Education Degree Providers in North Carolina
North Carolina's strong public university system comes with many Education degree options. In order to maximize your time, money and make earning your degree fit into your life, we've selected the best online education degrees in North Carolina at the undergraduate and graduate level, choosing schools committed to preparing future educators. To see the full compliment of degrees available in North Carolina make sure to check out our directory of all online education degrees in the state. The following five schools were chosen based on the number of fully online education degrees they offered, and an "academic prestige" score. The academic prestige score accounts for the average amount of financial need received, average class sizes, admissions standards, and the percentage of faculty holding terminal degrees in their field. Please note that the tuition numbers are here to get a sense of what tuition costs are. The tuition numbers below, specifically, are the in-state (where applicable) undergraduate yearlong tuition rates for education degrees. Many universities, however, have similar tuition rates at the undergraduate and graduate levels.
1
North Carolina State University at Raleigh
In-state Tuition: $13,066
Online Ed Degrees: 24
Homepage
NCSU is a public research university in Raleigh, North Carolina. It was founded in 1887. It's one leg of the Research Triangle with Duke University and The University of North Carolina. Over 33,750 students attend NCSU, which offers a 13:1 student-to-faculty ratio. NCSU is known for its education, engineering, statistics, agriculture, life sciences, textiles and design programs. It offers over 100 bachelor's degrees, 104 master's degrees, and 61 doctoral degrees. In 2017, U.S. News & World Report ranked NC State 92nd among all national universities, tied for 38th of the public universities in the U.S., and 62nd as a "best value" school. The Academic Ranking of World Universities put NC State in the 201-300 tier among 500 world universities in 2016 and 32nd best Engineering university worldwide in 2015. Kiplinger's Personal Finance placed NC State 11th in its 2016 ranking of best value public colleges in America.
NCSU offers 24 online education degrees, 23 Master's and 1 Doctoral degree. The Doctorates are in Educational Leadership and Adult and Community College Education. Some programs, including the Adult and Community College Education require some on-campus attendance. Standout Master's include Mental Health Counseling, College Counseling and Student Development, Elementary Education (delivered in a hybrid format) and Learning Design and Technology. NCSU's Secondary Education Mathematics Master's is presented as a hybrid program, and prepares graduates to enter an especially demanded subject area. Many of these programs require students take the GRE and/or the MAT.
2
East Carolina University
In-state Tuition: $12,817
Online Ed Degrees: 19
Homepage
East Carolina University is a public, doctoral/research university based in Greenville, North Carolina. It's the third largest in the state. ECU serves over 28,000 students, and offers many different health related science majors. ECU's graduate programs include 85 master's degrees, 21 doctoral programs and 62 certificates. It has been commended by a number of publications. In 2012, East Carolina was classified by U.S. News & World Report as a National University in its second-tier rankings. In 2010, Forbes ranked the school 36th in its America's Best College Buys story.
ECU offers two Bachelor's and 17 Master's in education online. The Bachelor's are in Birth-Kindergarten Education and Family and Consumer Sciences Education. Master's include Adult Education, Mathematics Education, Reading Education, Science Education, Special Education, Art Education and more. For all of these programs (except the Adult Education Master's), students are required to hold a current North Carolina teaching license. For those that don't, the Adult Education program also offers concentrations in Human Resource Development, Community College Instruction, and Adult Literacy.
3
University of North Carolina at Charlotte
In-state Tuition: $12,084
Online Ed Degrees: 10
Homepage
The University of North Carolina at Charlotte, also known as UNC Charlotte, is a public research university based in Charlotte, North Carolina. It was founded in 1946. UNC Charlotte offers 23 doctoral, 64 master's, and 140 bachelor's degree programs through nine schools: the College of Arts + Architecture, the College of Liberal Arts & Sciences, the Belk College of Business, the College of Computing and Informatics, the Cato College of Education, the William States Lee College of Engineering, the College of Health and Human Services, the Honors College, and the University College. Currently over 28,700 students attend Charlotte, which has a 19:1 student-to-faculty ratio. UNC Charlotte was ranked the 38th top college in the United States by the Social Mobility Index college rankings in 2015. The school offers approximately fifteen degree and certificate programs from 25% to 100% online.
UNC Charlotte offers 1 Bachelor's in Education, and 9 Master's programs. The Master's programs include programs in Elementary Education (Phase II), Foreign Language Education, Special Education, Reading Education, Instructional Systems Technology, School Administration and more. UNC Charlotte's programs include Graduate Certificates that can build towards Master's degrees. They also offer M.A.T. programs for professionals looking to leave their current careers and begin teaching. Most of these programs can be completed in two years or less, depending on the program and other factors.
4
North Carolina A & T State University
In-state Tuition: $9,548
Online Ed Degrees: 7
Homepage
North Carolina A&T State University is a public, historically black research university in Greensboro, North Carolina. It was founded in 1891. At the time, it was the second college established under the provisions of the Morill Land-Grant Acts and first of its kind for black people in the state. There were over 11,800 students enrolled at the school in the Fall of 2017. The school leads the nation in graduating African American engineers, and African-American women engineers at the bachelor's level. It offers 177 undergraduate, 30 master and 9 doctoral degrees through 9 professional colleges.
A & T offers 2 Bachelor's and 5 Master's in education online. The Bachelor's programs are both in Business Education, with majors in Business Teacher Education and Information Technology. Both allow a lot of career flexibility, with career outcomes in training, teaching and limitless IT positions. Master's offerings include Business Education, Elementary Education, Family and Consumer Sciences, Technology Education, and Agricultural Education. These programs are all geared at giving graduates teaching licenses, but not limiting them to traditional teaching positions.
5
Appalachian State University
In-state Tuition: $10,167
Online Ed Degrees: 13
Homepage
Appalachian State is a public university headquartered in Boone, North Carolina. It was founded in 1899 as a teacher's college, and continues that tradition today, offering 37 graduate majors and a doctoral degree in educational leadership. For 68 years, it only conferred degrees in education, until it expanded its programming in 1967, then joined the University of North Carolina system in 1971. It has been cited repeatedly as a "Best Value" public school by Consumers Digest magazine, Kiplinger Personal Finance and The Princeton Review. It now offers 174 undergraduate and 37 graduate majors. Its Distance Education unit is run by three off-campus centers, and its online programming (undergraduate and graduate) can be taken part time. Nearly 18,300 students attend the school, which has a 16:1 student-to-faculty ratio.
Appalachian State offers 2 Bachelor's and 11 Master's in Education through its distance education wing. The Bachelor's are Career and Technical Education and Child Development – Birth through Kindergarten. They are both entirely online. The Child Development program is focused on fostering the first stages of learning, and utilizes academic research and practical skills to prepare birth through kindergarten professionals, and includes a Student Teaching internship during the final semester. Master's include Elementary Education, Educational Administration, Educational Media, Higher Education: Education Specialist, Middle Grades Education, Special Education, Reading Education, among others. Students can also take courses at Appalachian State with the goal of earning a teacher licensure but not a degree.
North Carolina State University at Raleigh
Raleigh, NC
Online Ed Degrees: 24

TUITION

13066

UNDERGRADUATE DEGREES

GRADUATE DEGREES

Master of Education :Clinical Mental Health Counseling Master of Education :College Counseling and Student Development Graduate Certificate :Counselor Education Master of Education or Master of Science :Curriculum and Instruction: New Literacies and Global Learning Doctorate :Educational Leadership Master of Arts in Teaching :Elementary Education Master of Education or Master of Science :Elementary Education Master of Arts in Teaching :English – Secondary Education Master of Arts in Teaching :English as a Second Language (ESL) Master of Arts in Teaching :Language Arts – Middle Grades Master of Education or Master of Science :Learning Design and Technology Master of Arts in Teaching :Mathematics – Secondary Education Master :School Administration Master of Education :School Counseling Master of Arts in Teaching :Science – Secondary Education Master of Education :Science Education Master of Arts in Teaching :Social Studies – Middle Grades Master of Arts in Teaching :Social Studies – Secondary Education Master of Arts in Teaching :Special Education Graduate Certificate :Special Education for Multi-Tiered Systems of Support (MTSS) Graduate Certificate :Teaching, Training, and Educational Technology Master of Education :Technology Education Master of Education :Training and Development Doctorate :Adult and Community College Education
East Carolina University
Greenville, NC
Online Ed Degrees: 19

TUITION

12817

UNDERGRADUATE DEGREES

BS Birth – Kindergarten Education BS Family and Consumer Sciences Education

GRADUATE DEGREES

Adult Education MAeD Art Education* MAeD Birth – Kindergarten Education* MAeD Elementary Education* MAeD Health Education* MAeD Instructional Technology* MAeD Mathematics Education* MAeD Middle Grades Education* MAeD Physical Education* MAeD Reading Education* MAeD Science Education* MAeD Special Education* MAeD Educational Specialist / Educational Leadership – EdS Health Education – MA Library Science – MLS Music Education – MM School Administration – MSA
University of North Carolina at Charlotte
Charlotte, NC
Online Ed Degrees: 10

TUITION

12084

UNDERGRADUATE DEGREES

GRADUATE DEGREES

M.A.T. in Elementary Education (Phase II) M.A.T. in Middle and Secondary Education M.A.T. in Special Education (K-12) M.Ed. in Elementary Education M.Ed. in Instructional Systems Technology M.Ed. in Middle and Secondary Education M.Ed. in Reading Education M.Ed. in Special Education: Academically or Intellectually Gifted Master of School Administration
North Carolina A & T State University
Greensboro, NC
Online Ed Degrees: 7

TUITION

9548

UNDERGRADUATE DEGREES

Bachelor of Science in Agricultural Education Bachelor of Science in Business Education – Business Teacher Education

GRADUATE DEGREES

Master of Science in Agricultural Education Master of Arts in Teaching – Business Education Master of Arts in Teaching – Elementary Education Master of Arts in Teaching – Family and Consumer Sciences Master of Arts in Teaching – Technology Education
Appalachian State University
Boone, NC
Online Ed Degrees: 13

TUITION

10167

UNDERGRADUATE DEGREES

Child Development – Birth through Kindergarten (BS) Career and Technical Education (CTE) (BS)

GRADUATE DEGREES

MA Curriculum Specialist Educational Administration Specialist MA Educational Media MA Elementary Education MA Higher Education Higher Education Specialist Master of Library Science EdS Higher Education MA Middle Grades Education MA Reading Instruction MSA School Administration
Gardner-Webb University
Boiling Springs, NC
Online Ed Degrees: 4

TUITION

23624
University of North Carolina Wilmington
Wilmington, NC
Online Ed Degrees: 4

TUITION

16218
Wake Forest University
Winston-Salem, NC
Online Ed Degrees: 1

TUITION

23826
Lenoir-Rhyne University
Hickory, NC
Online Ed Degrees: 5

TUITION

18291
Western Carolina University
Cullowhee, NC
Online Ed Degrees: 2

TUITION

13646
Lees-McRae College
Banner Elk, NC
Online Ed Degrees: 1

TUITION

24251
Queens University of Charlotte
Charlotte, NC
Online Ed Degrees: 1

TUITION

26386
Campbell University
Buies Creek, NC
Online Ed Degrees: 1

TUITION

25483
Fayetteville Technical Community College
Fayetteville, NC
Online Ed Degrees: 3

TUITION

3157
St Andrews University
Laurinburg, NC
Online Ed Degrees: 3

TUITION

25682
Brunswick Community College
Bolivia, NC
Online Ed Degrees: 2

TUITION

7249
Haywood Community College
Clyde, NC
Online Ed Degrees: 2

TUITION

8402
Lenoir Community College
Kinston, NC
Online Ed Degrees: 2

TUITION

7646
University of North Carolina at Pembroke
Pembroke, NC
Online Ed Degrees: 1

TUITION

10566
Winston-Salem State University
Winston-Salem, NC
Online Ed Degrees: 1

TUITION

10340
Fayetteville State University
Fayetteville, NC
Online Ed Degrees: 1

TUITION

5787
Craven Community College
New Bern, NC
Online Ed Degrees: 1

TUITION

8028
Nash Community College
Rocky Mount, NC
Online Ed Degrees: 1

TUITION

6988
Pitt Community College
Winterville, NC
Online Ed Degrees: 1

TUITION

5660
Robeson Community College
Lumberton, NC
Online Ed Degrees: 1

TUITION

8932
Stanly Community College
Albemarle, NC
Online Ed Degrees: 1

TUITION

7584
Surry Community College
Dobson, NC
Online Ed Degrees: 1

TUITION

9335
Wake Technical Community College
Raleigh, NC
Online Ed Degrees: 1

TUITION

8771
University of North Carolina at Greensboro
Greensboro, NC
Online Ed Degrees: 0

TUITION

10403
Bladen Community College
Dublin, NC
Online Ed Degrees: 0

TUITION

11467
Piedmont International University
Winston-Salem, NC
Online Ed Degrees: 0

TUITION

15332