Share this infographic on your site!
The Play's the Thing: How Fun Can Make Your Child a Better Student
Fun — it's not just for, well, fun. Playing games can help boost a person's development throughout their childhood.
How Play Helps Children Develop
Playing is about more than just having fun — play of all types are critical for intellectual, emotional, social and physical development.
What children learn through play (1)
Taking turns
Negotiating conflict
Problem-solving
Shared goals
Delayed gratification
Empathy
Gracious winning/losing
Research has shown that play stimulates growth of the cerebral cortex. Animal studies have connected play with increased levels of brain-derived neurotrophic factor (BDNF), which is vital to learning and memory. (2, 3)
Great Games
What skills do some of the most popular children's games help build?
Board/card games
Learning to follow instructions
Taking turns
Blind Man's Bluff/Marco Polo
Spatial reasoning
Strategy-building
Catch
Hand-eye coordination
Physics
Hide-and-Seek
Sense of exploration
Coping with separation
House
Imagination
Sharing responsibility
Simon Says
Following instructions
Self-control
I Spy
Attention span
Language development
Mind and Matter
In addition to helping develop needed skills, physical play has clear and substantial benefits on the brain and body.
Increased oxygen flow to brain
Elevated neurotransmitters
Improved memory
Greater motor coordination
Better concentration and attention
Reduction of stress and anxiety
Improved cardiovascular health
Lower risk of obesity, asthma and other health issues
2 in 3
Students who are not usually physically active every day (4)
Only 6 states (Illinois, Hawaii, Massachusetts, Mississippi, New York and Vermont) require physical education in every grade of school. (4)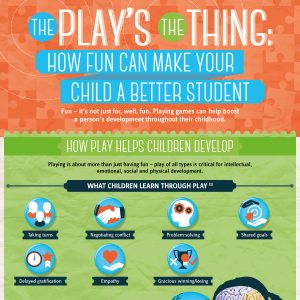 Sources:
1. http://braininsights.blogspot.com
2. http://www.parentingscience.com
3. http://ghr.nlm.nih.gov
4. http://www.fitness.gov