Share this infographic on your site!
An Approved Absence: A Look at Paid Parental Leave
The U.S. doesn't guarantee its workers paid parental leave, unlike most other countries that offer generous time off for new parents. Let's take a look at the state of maternal and paternal leave in the U.S. as compared to the rest of the world.
Parental Leave in the U.S.
Only three countries in the world do not guarantee paid parental leave: (1)
Papua New Guinea
Oman
United States
12%
Percentage of adults in the U.S. with access to parental leave (1)
5%
Percentage of low-wage earners that receive paid parental leave (1)
Only four states offer publicly funded maternity leave: (1)
California
New Jersey
Massachusetts
Rhode Island
FMLA
The Family and Medical Leave Act (FMLA) was enacted in 1993 in an attempt to protect workers who needed job-protected leave for family or medical reasons, which include having a baby or caring for an adopted child. (1) Unfortunately, it isn't as effective as it was meant to be.
59%
Percentage of workers who are legally covered by FMLA (1)
12 weeks
The amount of unpaid time offered by FMLA (1)
Eligibility means a worker must work at least 1,250 hours per year for a company with 50 or more employees. (1)
2 in 5
Number of women who do not qualify for leave under FMLA (1)
Paid Leave Abroad
So what does the rest of the world offer?
Maternity leave (2)
U.K.: 40
Vietnam: 26
Ireland: 26
Singapore: 16
Bangladesh: 16
Canada: 15
China: 14
Chad: 14
Democratic Republic of Congo: 14
Mexico: 12
Iran: 12
Paternity leave (2)
Iceland: 12.8
Finland: 7.7
Portugal: 2.8
Spain: 2.1
Kenya: 2
Venezuela: 2
Australia: 2
Denmark: 2
U.K.: 2
Singapore: 1
Bahamas: 1
Companies With Best Parental Leave Benefits
Most companies that offer the most competitive and generous parental leaves are tech giants, including: (1)
Company: Leave offered
Google: 12-18 weeks maternity leave, 12 weeks paternity leave
Facebook: Equal time off for both parents, plus $4,000 bonus for infant care
Apple: 4 weeks before birth and 16 weeks after maternity leave, 6 weeks paternity
Yahoo: 16 weeks maternity leave, 8 weeks paternity leave
Twitter: 20 weeks maternity and paternity leave
Why Parental Leave Matters
Paid parental leave is important mostly because of the expense of having a new baby. Without pay, most new moms and dads can't afford to take time off, keeping them from the time they should be spending caring for their child.
According to the US Department of Agriculture, the average couple will spend a total of almost $12,000 extra the first year on their newborn baby. (3)
First-year expenses (3)
Housing: $3,875
Food: $1,513
Transportation: $1,500
Clothing: $838
Health care: $838
Child care/education: $2,750
Other: $538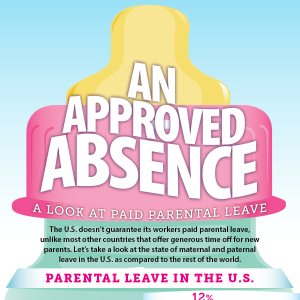 Sources:
1. http://www.techrepublic.com
2. http://thinkprogress.org
3. http://www.cnpp.usda.gov