Autism Spectrum Disorder (ASD) is the fastest growing disorder in the world according to the Center for Disease Control. Not only that but 1 in 68 children have been identified with ASD. All racial, socioeconomic, and ethnic groups are affected by autism, and the chances are you either know of someone personally who has ASD, you yourself have ASD, or are closely related to someone who lives with autism. We can't ignore the prevalence of autism any longer and as parents and practitioners we have an ethical responsibility to provide basic human rights to every person. Though there is much to learn, most parents, siblings, caretakers, and even teachers do not have the time or money to return for an entire degree in autism. This is where Massive Open Online Courses (MOOCs) come in. MOOCs are largely free online courses provided by top universities. They require less time per week than a traditional university class and are a great way to learn about new subjects short of returning to school. In these MOOCs, expect to learn about what characterizes autism, technologies available to help track autism behaviors, and what it is like to be that person who lives with autism as well as some best-practice solutions. If you are an educator, practitioner, sibling, or parent who needs a better understanding of autism now, then we recommend trying one of these MOOCS for Autism Spectrum Disorders. Para una clase en español mira el número 4.
1. University of California- Davis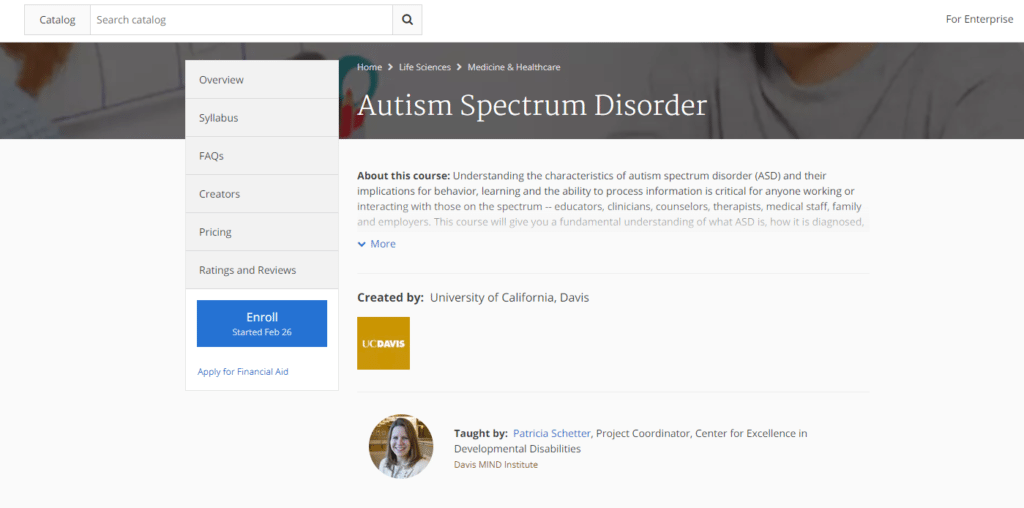 The University of California- Davis (UC Davis) offers a MOOC on Autism Spectrum Disorders. For any individual looking to expand their knowledge of autism whether for work or otherwise, UC Davis offers a great fundamentals course. This fundamentals program is 5 weeks in length and requires a time commitment of about 2 hours per week. In your first week you'll learn about autism and why it's considered a spectrum disorder as well as the core areas that affect people with autism. Week two focuses on autism across the lifespan and discusses the importance of early intervention, transitional issues related to autism, and all common indicators of autism in infants, toddlers, preschoolers, and K-12 students. Week three focuses on learning differences and relational challenges. By week-four you'll tackle sensory processing and regulations, and ways to teach self-advocacy and coping strategies. Week five focuses on evidence based practices for autism.
Who should take this MOOC? Anyone interested in gaining a fundamental understanding of ASD.
Course Platform: Coursera
2. University of Kent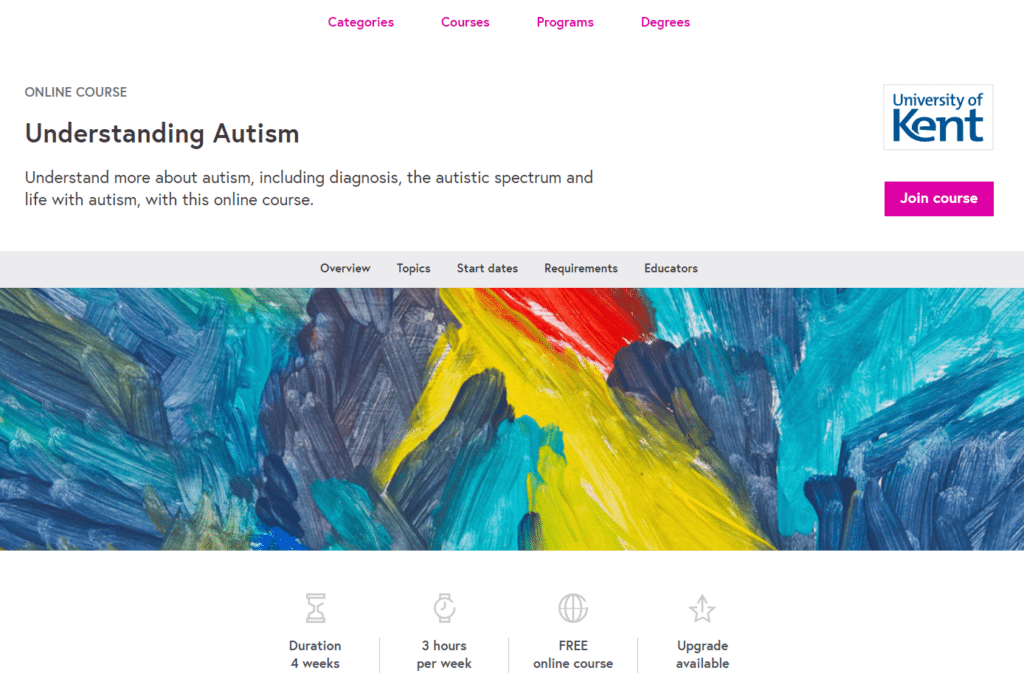 The University of Kent presents Understanding Autism – a fundamentals MOOC that discusses autism, what it is, why autism is considered a spectrum disorder, and perspectives on what it is like to live with autism. This MOOC goes in depth with the key areas affecting autism and is just 4 weeks long. You should plan to devote about 3 hours each week to your studies. Your instructor will cover social communication skills, and how they those skills differ and are limited in people with autism. You will also learn about sensory issues related to autism, as well as what think consider when you encounter a person who engaged in repetitive behaviors. We like that this course also covers strengths of people on the autism spectrum in addition to outlining the difficulties. Assets are too often overlooked, even though may autistic people have "spike skills" or areas where they are exceptionally gifted. Lastly, the MOOC from the University of Kent discusses what it's like to live with autism. We appreciate the perspective-taking aspect of this piece.
Who should take this MOOC?: Parents, siblings, and any and all practitioners who require a better understanding of autism.
Course Platform:Future Learn
3. University of Bath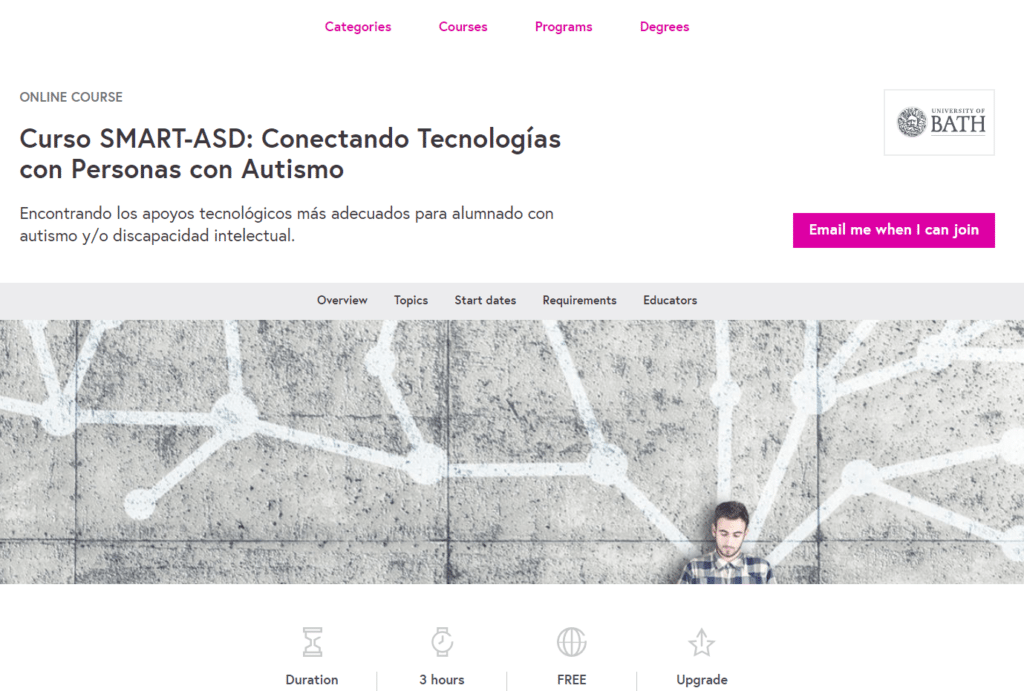 The University of Bath presents SMART-ASD: Matching Autistic People with Technology Resources. This MOOC focuses on the most appropriate technology to support individuals with Autism Spectrum Disorder (ASD) and students with an Intellectual Disability (ID). The course opens with an overview that aims to answer the questions: What is ASD? And What is ID? As a spectrum disorder, each child is different, so there is no one single piece of technology to meet the needs of all individuals. You will learn how to identify the best technological support/s for autistic people and people with an intellectual disability. Through the use of the SMART-ASD app you will learn to assess the needs of the person with the disability. If you're looking for a communicative device, app or otherwise and are unsure which route to take, you will find the answers in this free online course.
Who should take this MOOC? Parents, Caregivers, and Educators
Course Platform: Future Learn
4. University of Bath: Curso SMART-ASD: Conectando Tecnologías con Personas con Autismo (FutureLearn)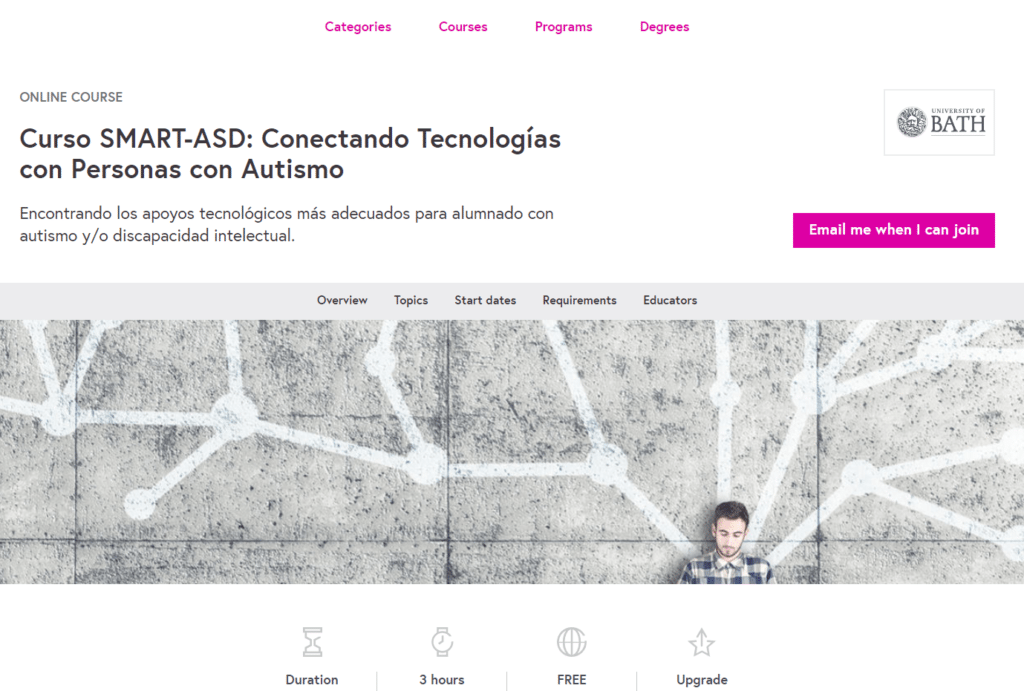 La Universidad de Bath presenta SMART-ASD: personas autistas emparejadas con recursos de tecnología . Este MOOC se enfoca en la tecnología más apropiada para apoyar a las personas con Trastorno del Espectro Autista (TEA) y estudiantes con Discapacidad Intelectual (ID). El curso se abre con una visión general que apunta a responder las preguntas: ¿Qué es ASD? Y ¿Qué es ID? Como un trastorno del espectro, cada niño es diferente, por lo que no hay una sola pieza de tecnología para satisfacer las necesidades de todas las personas. Aprenderá a identificar el mejor soporte tecnológico para personas autistas y personas con discapacidad intelectual. Mediante el uso de la aplicación SMART-ASD, aprenderá a evaluar las necesidades de la persona con discapacidad. Si está buscando un dispositivo comunicativo, una aplicación u otro y no está seguro de qué ruta tomar, encontrará las respuestas en este curso gratuito en línea.
¿Quién debería tomar este MOOC?: Las personas de habla hispana que buscan aprender sobre el autismo y la tecnología.
Plataforma del curso: Future Learn
5. University of Derby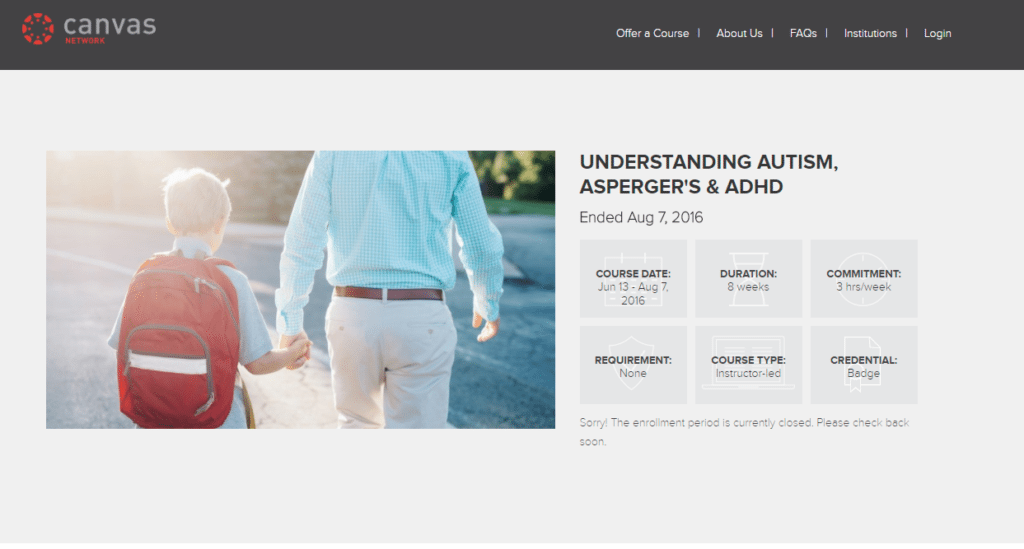 University of Derby presents: Understanding Autism, Asperger's & ADHD. This is a great MOOC for any individual who wants to gain a better understanding about autism, and how it affects individuals and families. The course is 8 weeks in length and requires about 3 hours each week for study. It is instructor-led and covers a ASD as a spectrum disorder as well as how ADHD related to autism and how autism related to ADHD. Upon completion of this course you will learn how to help individuals with these disabilities both through greater awareness and through best practice support systems. You will learn how to assess, as well as compare and contrast the differences between autism and ADHD and related conditions. This is a great course for anyone who wants to not only learn about autism, but also how to support with evidence-based approaches.
Who should take this MOOC? Family Members, Caregivers, and Practitioners
Course Platform: Canvas
6. Yale University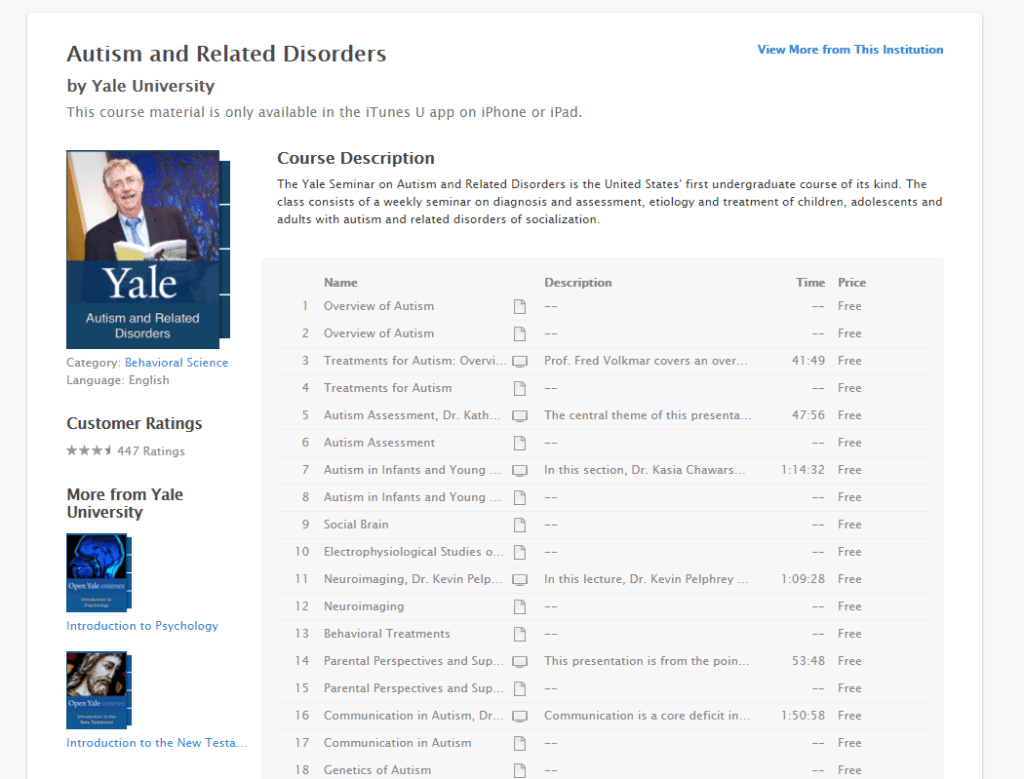 Yale University presents the MOOC: Autism and Related Disorders. This MOOC is a weekly seminar designed for undergraduate who are looking to gain a broad understanding of autism spectrum disorders. There are over 20 topics covered over the course of a year, and students are welcome to take part in as many or as few as desired. Some of the course material includes an overview of autism, an overview of treatments for autism, autism assessment, autism in infants and young children, social brain, neuroimaging, behavior treatments, parental perspectives and support, communication in autism, psychopharmacology, the legal rights of children with autism, and "Changing the Face of Autism. Be sure to download iTunes to take part in this excellent program. For any individual looking to understand autism and how to approach helping individuals with autism, it doesn't get much better than a free course from Yale.
Homepage
Who should take this MOOC? Students seeking an introduction to autism
Course Platform: iTunes
7. Massachusetts Institute of Technology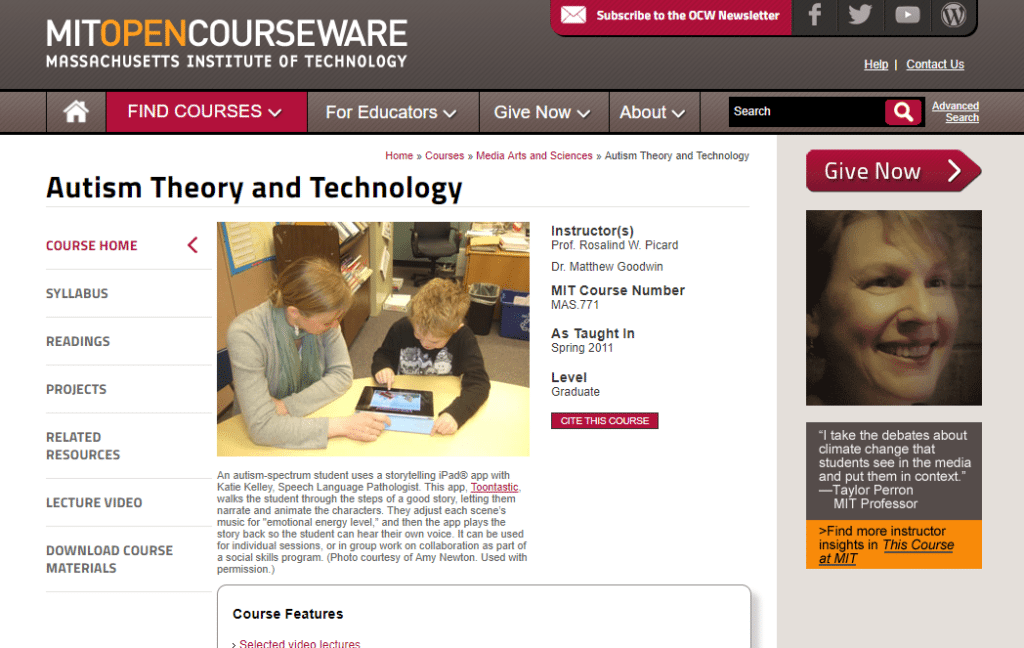 Massachusetts Institute of Technology offers the MOOC Autism Theory and Technology. This 8-week intensive program covers a wide-range of essentials relevant to autism including technology relevant both for data collections, and augmentative communication. As is typical with most university courses, you will have required readings and assignments. In the first week you will study an introduction to autism, and autism technology. Week two focuses entirely on autism technologies for problem behavior. By the third week you will be able understand and treat problem behavior with "humility, respect, and boldness"
Source:"Treatment-Guided Research: Helping People Now With Humility, Respect, and Boldness." Autism Advocate 1 (2008): 8-14.
The remaining weeks examine biomedical and environmental factors, personal perspective and autistic intelligence, sensory issues, and more. For your final project you will be expected to either design an assistive technology or explore an aspect of an assistive technology.
Who should take this MOOC? Parents, Practitioners
Course Platform: MIT Open Courseware
8. Ashland University: Autism Internet Modules (AIM)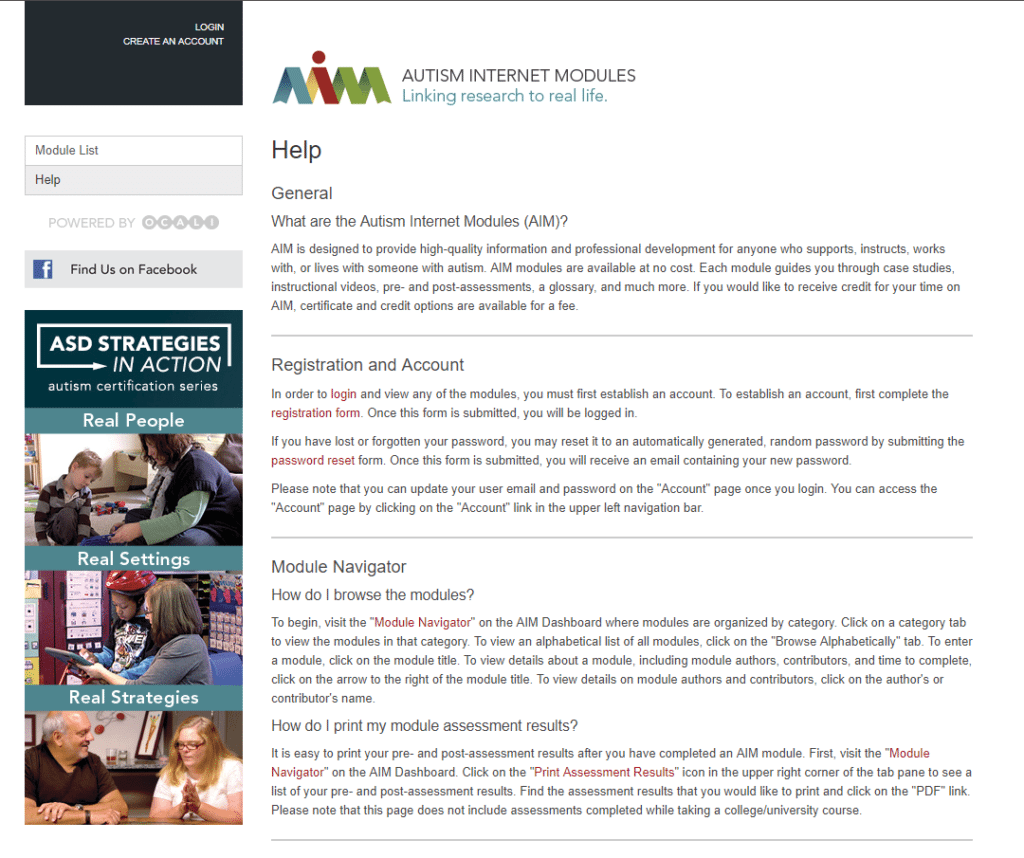 Autism Internet Modules are free modules that "provide high-quality information and professional development" for any individual looking to instruct, aid, and support someone with autism. Each module includes a case study, instructional video, assessments and more. Those looking to receive credit though Ashland University may do so for a fee. Some of the courses include Assessment and Characteristics in Autism, Behavior Basics, Behavior Basics Two, Communication and Social Skills, Creating Classroom Structure, Evidence-Based Practices 1,2,3 and Transitional-Aged Youth and Adults with ASD. This is a comprehensive introductory series of courses presented via AIM and Ohio Center for Autism and Low Incidence.
Who should take this MOOC? All Individuals Interested in Learning More About Autism
Course Platform: Autism Internet Modules