Make learning accessible to all! Keep your students engaged at all times! No child should be left out! All students can and should learn! We all have heard it and all have felt it- the need, the pull, and the drive to reach every child. In today's 21st- Century classroom the challenge to reach all learners is one that is ever-pressing on the back of every great educator's mind. How can I make sure all of my students are learning? How can I keep all learners engaged? How can anyone find the time to do so? The answers have come in the form of differentiated instruction (DI). For many, the thought of fully differentiating instruction to tailor the lessons to all learners may feel like quadrupling the time spent on lesson planning- time that simply does not exist for teachers in our schools. The following ten books are our top picks for the best book on differentiation. These books take the guess work out of how to implement effective DI in your classroom. The authors will engage with you and show you ways to assess your learners both formatively and summatively, create lesson plans using pre-made ready at your finger tips templates, and show you the value of pushing your students into a greater understanding of the learner they wish to be- perhaps the greatest tool an educator can have is a student who is thirsty for more knowledge. If you're ready to implement best-practice DI, are looking for a resource you can use again and again throughout your career as a teacher, don't hesitate to pick up a copy of one of these books!
1.) How to Differentiate Instruction in Mixed-Ability Classrooms, 2nd Edition (Professional Development)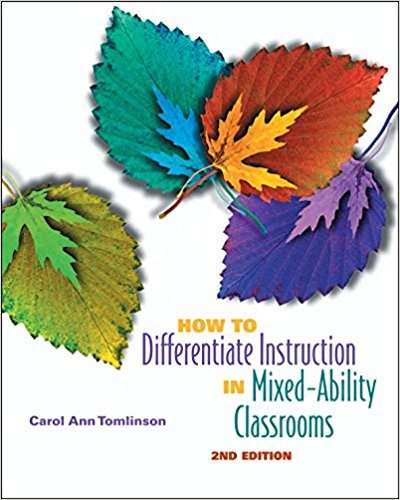 When it comes to Differentiated Instruction (DI) we are hard-pressed to find a better introduction to the subject. In "How to Differentiate in Mixed-Ability Classrooms" Carol Ann Tomlinson provides a "guide on the side" style of direction that is easy to follow and implement. Tomlinson's approach to teaching the readers of this book is like her approach to teaching student in a classroom- its aimed at all types of adult readers. This "how to" book is one to keep on the shelf closest to the height of your hand because you'll be reaching for this book again and again as a point of reference. We love the picture Tomlinson displays during the earlier part of this book of what a differentiated classroom should look like- she clearly defines DI with inclusionary language and exclusionary language- busting the myths about what DI is not. Tomlison explains how DI is rooted in assessment, is essentially about quality of lesson planning, and shows the reader how to create multiple approaches to learning in the classroom. If you're ready to embed DI in your classroom and have a strong passion for teaching so that all can learn, pick up a copy of this book today!
Average Review Score: 4.3
Number of Reviews: 98
2.)The Differentiated Classroom: Responding to the Needs of All Learners, 2nd Edition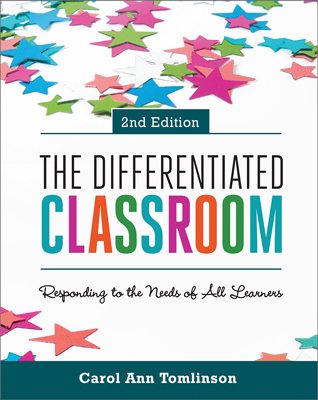 Classrooms today are more diverse than ever and include children of all backgrounds and learning styles. Classrooms are connected to technology more than ever before. How can educators adapt their pedagogy, remain relevant, and reach learners of a variety of backgrounds and learning abilities? The answer comes in this word: differentiation. In The Differentiated Classroom, Carol Ann Tomlison, explains that teachers still face the same challenges teachers faced in the one-room schoolhouse and engages the reader to tackle these challenges through strategy and planning. Tomlison shows educators how to build a curriculum that includes differentiation, and provides helpful portraits or "snap shots" of real-life scenarios in classrooms today. This book is excellent for any teacher who is seeking a user-friendly book to reference for including differentiation in their lessons.
Average Review Score: 4.4
Number of Reviews: 86
3.)Making the Most of Small Groups: Differentiation for All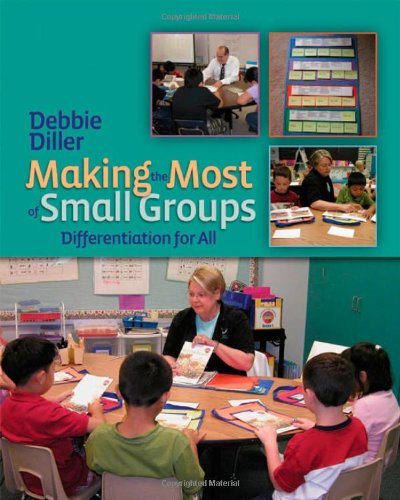 This book written masterfully by Debbie Diller is an instructional guide for instructors who wish to create effective literacy small group settings in their classrooms. Diller answers questions by breaking each answer into component segments including examples and visuals to illustrate. Throughout the book expect to find example lesson plans, tips for implementations, and guiding rules of thumb to help you interact with and maximize the small group learning opportunities with your students. Information regarding differentiated instruction is embedded throughout the chapters of the book, and Diller discusses how to make assessments one on one before forming groups. If you are looking for ways to get more out of your reading groups, or perhaps have felt stuck in a pattern with your groups that you're not feeling satisfied with, grab this book. Making the Most of Small Groups will breath life back into your groups, serves as a good refresher for veteran teachers, and will be a handy reference book to use throughout the school year.
Average Review Score: 4.7
Number of Reviews: 57
4.)25 Quick Formative Assessments for a Differentiated Classroom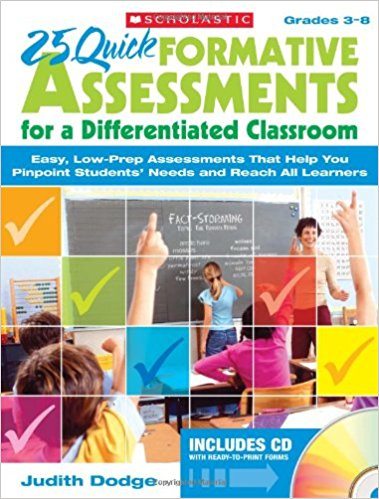 Formative assessment and how to implement them regularly throughout the day is one of those teacher skills that builds over time. You learn to have an eye for acquisition. Still, a great teacher knows that having that eye in many ways is a trained skill that utilizes best-practice assessments to evaluate students aptitude and current success. In "Formative Assessment For a Differentiated Classroom" Judith Dodge has done the work of collecting a number of important formative assessments and providing a great resource for all teachers new and veteran alike. As formative assessment strategies change, this book is invaluable for teachers at every stage in their career. Dodge categorizes assessments as Individual, Partner, Small Group, or Whole Class which aids in implementation. Embedded within the book are Dodge's recommendations for how a formative assessment may be differentiated to meet the needs of the learner. As formative assessment is often a precursor for designing and implementing informed differentiated lesson plans, a copy of this book is a must have on every teacher's shelf.
Average Review Score: 4.2
Number of Reviews: 53
5.)Differentiation and the Brain: How Neuroscience Supports the Learner-Friendly Classroom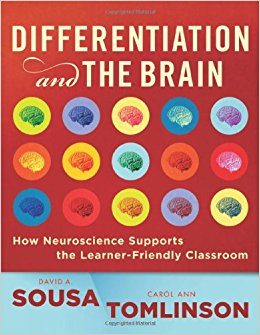 Regardless of ability, an educator and as is argued in Differentiation and the Brain, the student are the stewards who ensure that each individual can learn. Accommodating a classroom of different style learners with varying ability levels can feel like a daunting task. Do you have to double your time spent lesson planning? David A. Sousa and Carol Ann Tomlinson argue to plan "smarter" and thus more effectively and efficiently. Differentiation and the Brain uses language that is accessible to the reader, backing claims with findings in neuroscience and encourages beginning to seasoned educators to approach pedagogy with fresh eyes. This relevant book will serve as a perfect resource for educators who are striving to provide sound education for all types of learners as Sousa and Tomlinson leave no stone unturned in this comprehensive book on how to create and manage your differentiated classroom.
Average Review Score: 4.6
Number of Reviews: 35
6.) Making Differentiation a Habit: How to Ensure Success in Academically Diverse Classrooms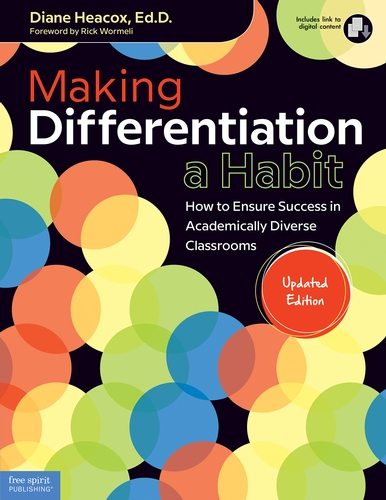 After Differentiating Instruction in the Regular Classroom comes this Diane Heacox great resource Making Differentiation a Habit . Heacox has organized a fantastic resource that will easily sit along side your favorite teacher resources in your classroom. This bookshelf staple holds inside of it endless templates, charts, and more that are developed and sorted to make teaching utilizing DI more straightforward and obtainable. Not only does Heacox include an extra DVD of resources, Heacox walks you through various methodologies for using DI among a variety of learners while giving you tips on how to maintain a flexible approach in your planning and in your teaching. For a reliable, obtainable, and easy to implement guide to DI, this book is a must-have.
Average Review Score: 4.3
Number of Reviews: 21
7.) So All Can Learn: A Practical Guide to Differentiation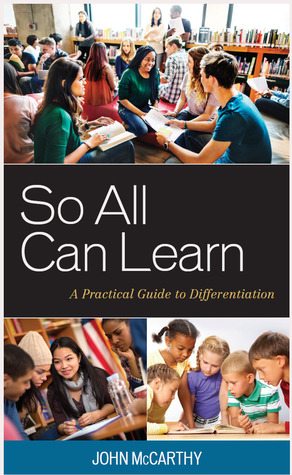 So All Can Learn is a comprehensive guide to implementing successful and clear methodologies for differentiated instruction (DI). This book seeks to define differentiation, guides you through methodology on how to implement DI well, and then fills the pages with an in-depth look at how to proceed. The reader will learn about creating learning targets through assessment, how to utilize formative assessment for the whole learning process, uncover myths about differentiation and walk away with one of the most invaluable lesson we can all stand to learn- the importance of the learner's voice in the process. John McCarthy doesn't stop there, for the remaining chapters McCarthy explains how to use DI when teaching readiness, using learner's interests, and utilizing DI when teaching learning preferences. Every section of this book is a mini-book in it's own way which is why this book is a great tool to have for any 21st century educator.
Average Review Score: 4.9
Number of Reviews: 18
8.) Differentiation in Action: A Complete Resource With Research-Supported Strategies to Help You Plan and Organize Differentiated Instruction and Achieve … All Learners (Scholastic Teaching Strategies)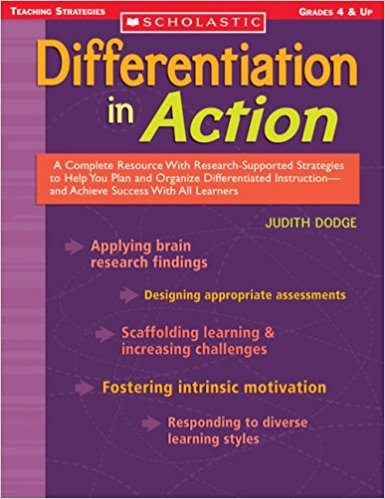 "Differentiation in Action" is a great tool for the educator who is ready to make drastic changes in their learning environment and needs best-practice solutions that can be implemented immediately. Judith Dodge is at it again discovering and sharing fun ways to engage your learners while using differentiated instruction. Dodge fills the pages with examples and teacher-created templates that are easily transferable to any subject. We especially appreciate Dodge's close attention to the principles underlying Bloom's Taxonomy as well as how to "make multiple intelligences work". Each chapter is simultaneously engaging with the scholarly theory while creating clear and concise methods on how to take that theory and apply it- a masterful feat unto itself!
Average Review Score: 4.5
Number of Reviews: 19
9.) Advancing Differentiation: Thinking and Learning for the 21st Century

In this hot-of-the press new edition by educator and pundit Dr. Richard M. Cash, be prepared for a fully in-depth look at differentiated instruction (DI)from A to Z. The second edition includes methodologies for teaching broad ideas as well as abstract concepts. Advancing Differentiation is a text book great for college students, new teachers, and veteran teachers alike. The pages are filled with analysis as well as templates and printable materials ready for instant use. This book may never leave your desk and will be one to turn to again and again. Is this the new DI bible? Pick up a copy to find out.
Average Review Score: 4.4
Number of Reviews: 19
10.) Differentiating Instruction With Menus: Math (Grades 3-5)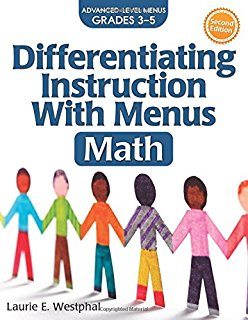 Our final pick is by no mean the end of the line for resources on differentiated instruction, but this is certainly a must-have for those who are looking for ways to engage their learners in mathematics. Laurie Westphal has created a fantastic collection of resources for a number of subject areas and grades using menus. Menus are economies of learning that include learner choice and preference. Menus are based in evidence and encourage learners to engage increasingly more critically with the subject material. In this edition Wesphal examines how to utilize menus to teach whole numbers and operations, fractions, probability and statistics, geometry, measurement, and problem solving. We recommend having the whole host of Westphal books on your shelf, but Differentiating
Instruction With Menus: Math Grades 3-5 is a great place to start.
Average Review Score: 4.1
Number of Reviews: 19