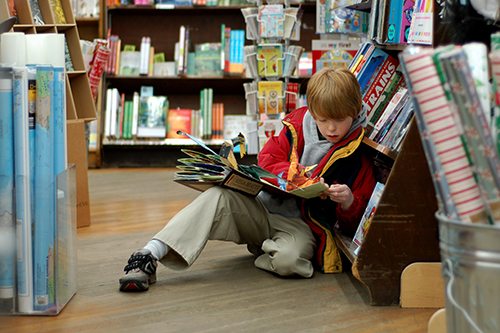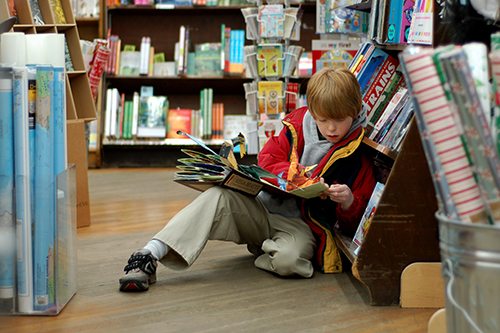 The lists of books for parents about early childhood development are numerous, but have you recently thought about the best book for your own kids to read? Books that will stimulate their intellectual development, engage their curiosity, and teach them subtle lessons while introducing them to the joy and pleasure of words. That is what this early childhood book list is all about.
These top early childhood books are not randomly selected. The list of the best books for early childhood were culled from suggestions by Common Sense Media, the Scholastic group, and Parents magazine. With a mix or new and old books your little kids will enjoy them as much as you will! You may remember some from your own childhood. Get your child ready for elementary school and create childhood memories with these great books!
Best Books for Early Childhood Education
50. What Pet Should I Get? by Dr. Seuss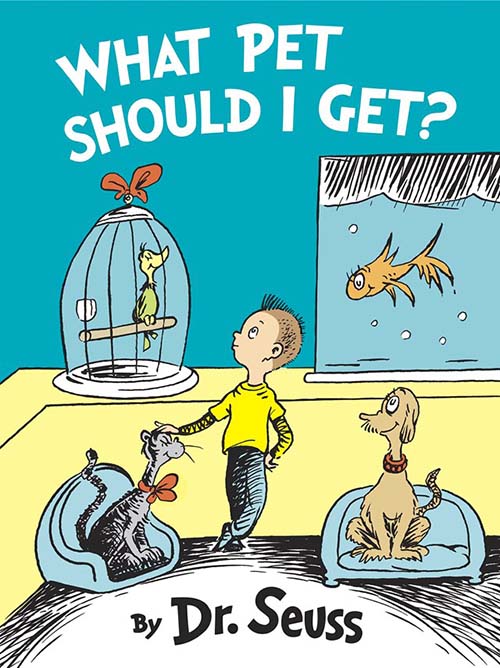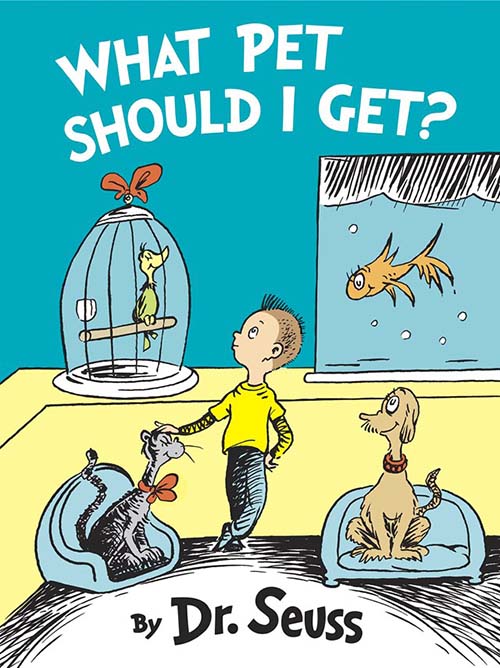 This never-before-seen picture book featuring original text and illustrations by Dr. Seuss uses the childhood experience of choosing a pet to illuminate a life lesson: it can be hard to make up your mind, but sometimes you just have to do it!
A good way to start our list of the top childhood story books: with something by the renowned Dr. Seuss.
Ages: C'mon, it's Dr. Seuss: Children of all ages.
49. Where the Wild Things Are by Maurice Sendak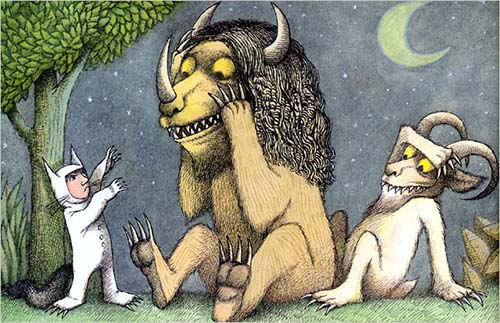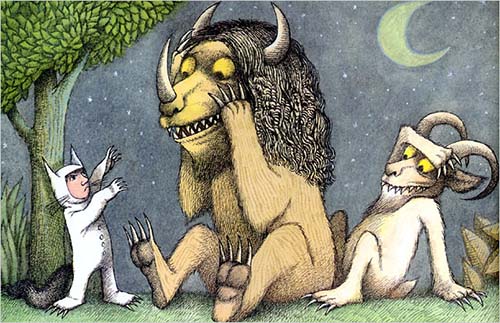 Where the Wild Things Are is 50 years old! Let the wild rumpus with Max and all the wild things continue as this classic comes to life as never before with new reproductions of Maurice Sendak's artwork. Astonishing state-of-the-art technology faithfully captures the color and detail of the original illustrations. Sendak himself enthusiastically endorsed this impressive new interpretation of his art before his death in May 2012.
Winner of the 1964 Caldecott Medal for the Most Distinguished Picture Book of the Year, Where the Wild Things Are became an iconic book that has inspired a movie, an opera, and the imagination of generations. It continues to be one of the best loved childhood books of all time.
Ages 4-8
48. The True Story of the Three Little Pigs by A. Wolf, by Jon Scieszka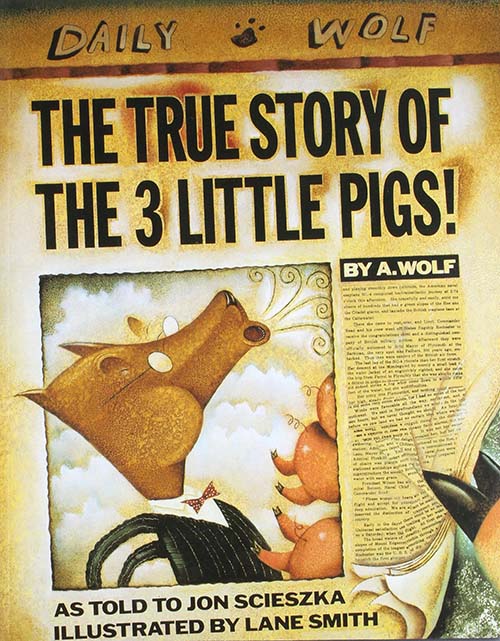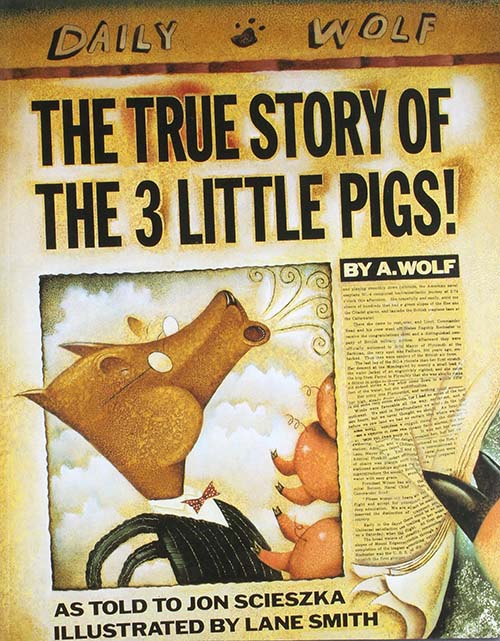 Alexander T. Wolf, now in jail for crimes against the three little pigs, insists he was framed. The truth, he explains, is that he visited the neighboring pigs' homes asking for a cup of sugar to make a cake for his dear old granny. He notes he had a bad head cold that day. So, there was never any violent huffing and puffing, as the traditional story says. He just had a couple of bad sneezing fits.
When he found the first two lifeless pigs in their houses, which he'd accidentally blown down, he felt it would be wrong to leave food around to spoil. So, he ate ham . . . which, he says, would be just like his readers eating a big, juicy cheeseburger. He admits he was pounding violently at the third pig's door when the cops arrived, but only because the pig had made derogatory remarks about granny. That's when he was arrested, and the media spun the whole event to vilify him. This spin on fairy tales is a fun read for younger elementary school kids.
Ages 3-8
47. Corduroy by Don Freeman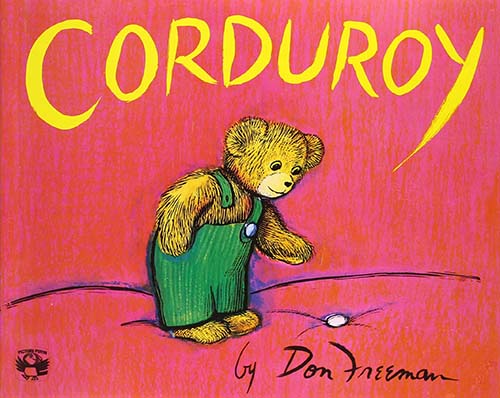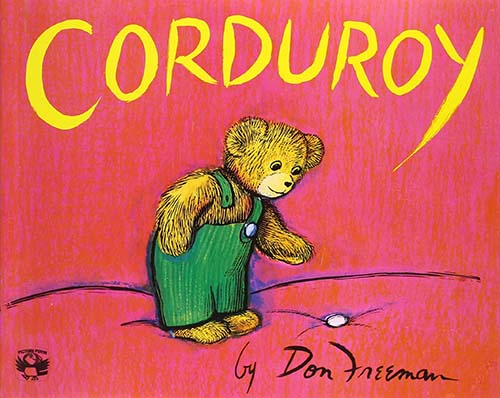 A funny, timeless story of a slightly shabby teddy bear in need of a home (and a button for his overalls). He finds both, and a friend, when a little girl named Lisa uses her savings to buy him at the local department store.
Have you ever dreamed of being locked in a department store at night? The endearing story of Corduroy paints a picture of the adventures that might unfold (for a teddy bear at least) in such a situation. When all the shoppers have gone home for the night, Corduroy climbs down from the shelf to look for his missing button. It's a brave new world! He accidentally gets on an elevator that he thinks must be a mountain and sees the furniture section that he thinks must be a palace. He tries to pull a button off the mattress, but he ends up falling off the bed and knocking over a lamp. The night watchman hears the crash, finds Corduroy, and puts him back on the shelf downstairs. The next morning, he finds that it's his lucky day! A little girl buys him with money she saved in her piggy bank and takes him home to her room. Corduroy decides that this must be home and that Lisa must be his friend. This has been one of the favorite books of many since 1968.
Ages 3-8
46. Sylvester and the Magic Pebble by William Steig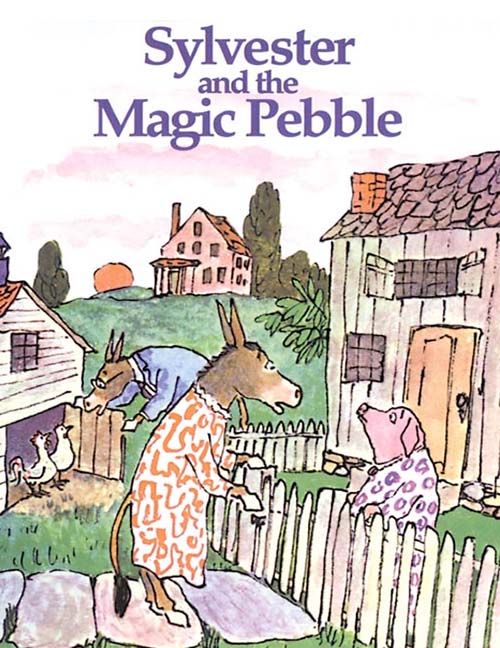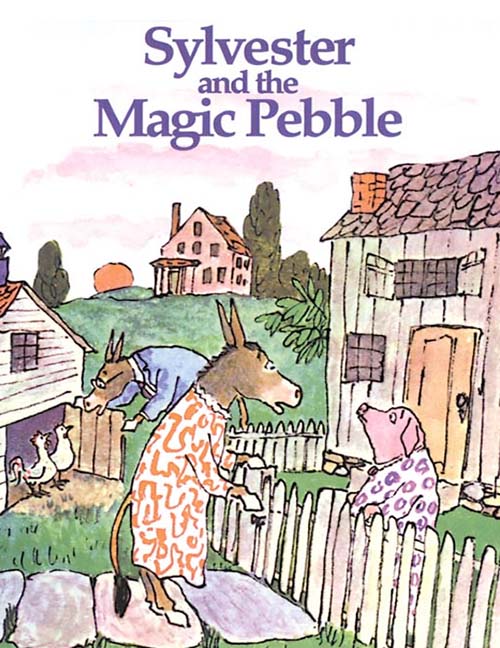 On a rainy day, Sylvester finds a magic pebble that can make wishes come true. But when a lion frightens him on his way home, Sylvester makes a wish that brings unexpected results.
How Sylvester is eventually reunited with his loving family and restored to his true self makes a story that is beautifully tender and filled with magic. Illustrated with William Steig's glowing pictures, this is a modern classic beloved by children everywhere.
Selected as one of the 100 Best Books of the Century by the National Education Association, this is a top choice for younger readers.
Ages 2-5
45. Charlotte's Web by E.B. White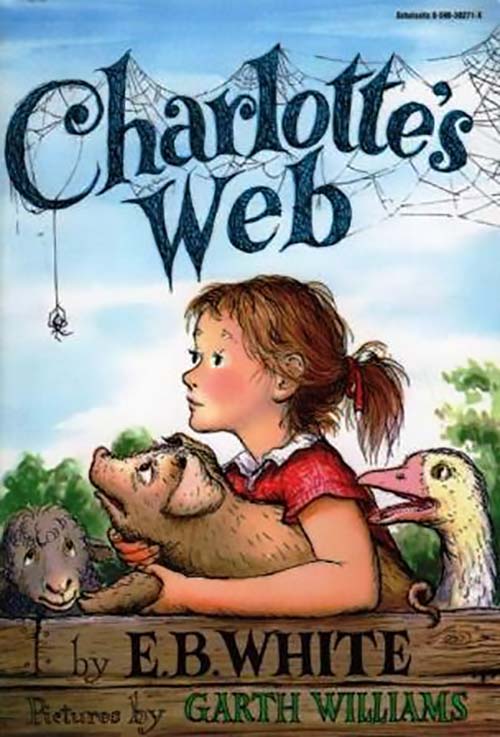 No early childhood classroom would be complete without a copy of Charlotte's Web.  American prose stylist E.B. White presents one of the best-loved stories of all time. And a heartwarming portrait of one of the best-loved pigs.
Wilbur is the runt of a litter born to a pig on the farm of Fern Arable's father. When it is announced that her father is going to kill the pig, Fern rushes forth to save it, asking of her father: "If I had been very small at birth, would you have killed me?" Her father spares the pig, but only if Fern agrees to care for it. Falling in love immediately with the little pig, she feeds him regularly with a bottle, and names him Wilbur.
Wilbur is Fern's constant companion until he grows big enough to be transferred to his new home in the barn of Fern's neighboring uncle. Fern is able to visit Wilbur but is unable to see him as often. Out of boredom, Wilbur begins to befriend other animals in the barn, who often patronizingly instruct the still naïve little pig in the ways of life. His most important friend, however, turns out to be a spider named Charlotte, who occupies a web in the corner of a doorway above him. Her love for Wilbur, coupled with her ingenuity, will save Wilbur's life.
A great choice for elementary school children, Charlotte's Web has warmed the hearts of millions for nearly half a century.
Ages 8-12
44. Stuart Little by E.B. White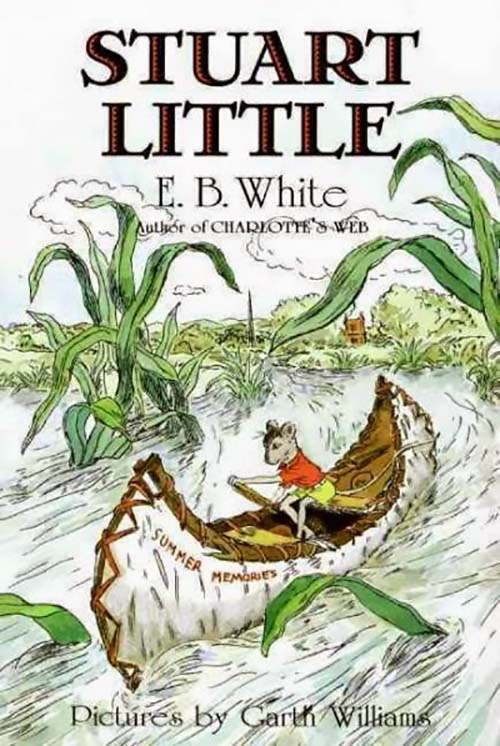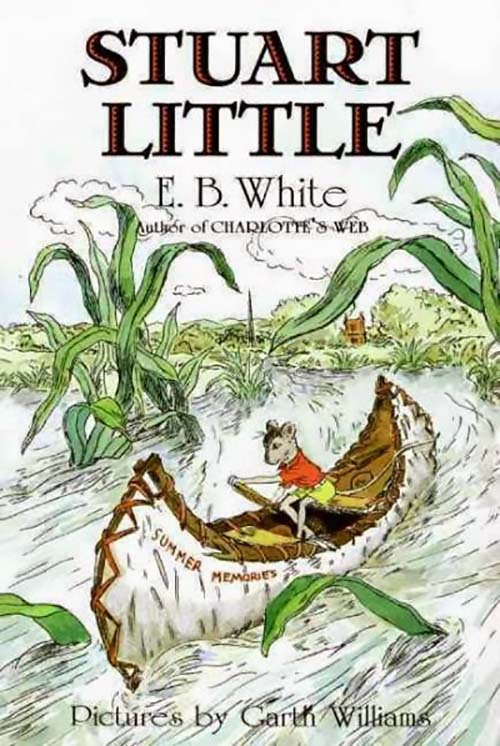 Another of the great E.B. White children's books. Parents need to know that this book is an excellent bridge between chapter books and full-length novels. Stuart is both valiant and very polite.  He finds himself on one of the biggest adventures of his life as he sets off to find a lost friend. He encounters several dangers in the process because of his size, but the mood stays light and imaginative.
Stuart proves to be a protagonist that many early childhood readers can admire and respect.
Age: 6
43. Rapunzel by Paul O. Zelinsky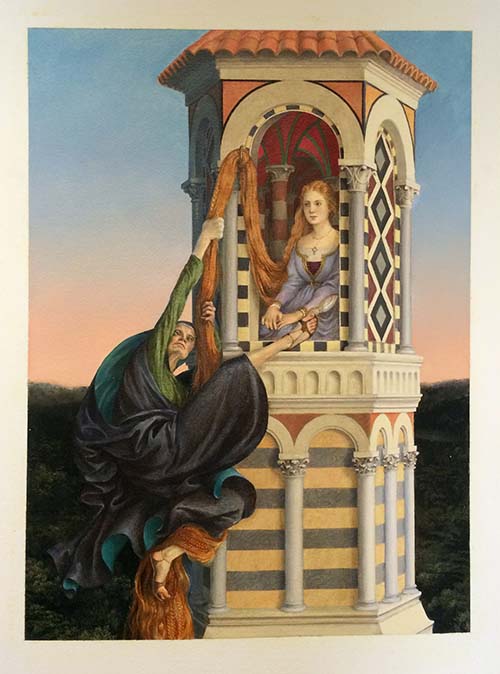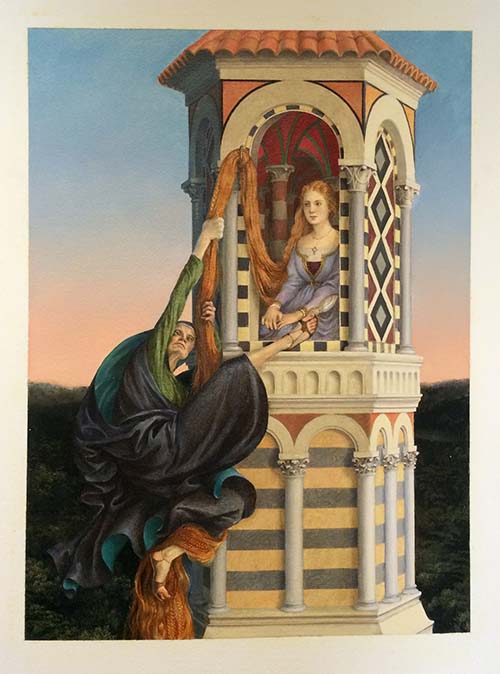 One of the most popular fairy tales is the story of Rapunzel.  Parents: remember your parents reading this to you as a kid? Well, the story still resonates with young readers. Trapped in a tower with no door, Rapunzel is allowed to see no one but the sorceress who has imprisoned her-until the day a young prince hears her singing to the forest birds. . . . The timeless tale of Rapunzel is vividly and magnificently brought to life through Paul O. Zelinsky's powerful sense of narrative and his stunning oil paintings.
"Simply put, this is a gorgeous book; it demonstrates respect for the traditions of painting and the fairy tale while at the same time adhering to a singular, wholly original, artistic vision."
A retelling of a folktale in which a beautiful girl with long golden hair is kept imprisoned in a lonely tower by a sorceress. Includes a note on the origins of the story. Perfect for those who love fairy tales.
Age range: 5-8
42. Puss in Boots by Charles Perrault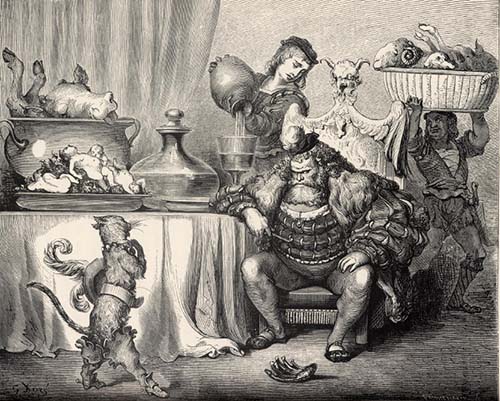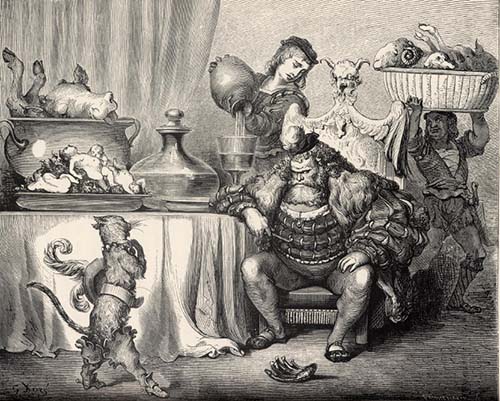 Charles Perrault's "Puss in Boots" has been an irresistible magnet for countless illustrators ever since this classic French tale was originally published in 1697. So, the question arises: Do we really need another edition of "Puss"? Presented with Fred Marcellino's magnificent interpretation of this nimble new translation of the authentic text, book lovers young and old are apt to decide that this "Puss in Boots" belongs on their shelf of special favorites and fairy tales.
Long regarded as the preeminent designer of book jackets in America, Fred Marcellino provides an unstinting visual feast in his first full-color picture book. The adventures of that rascal, Puss, and his master, the miller's sonare portrayed in a lavish series of illustrations that range from sumptuous grandeur to comedy both boisterous and sly.
Age ranges: 3-5, 6-8
41. Is Your Mama a Llama? by Deborah Guarino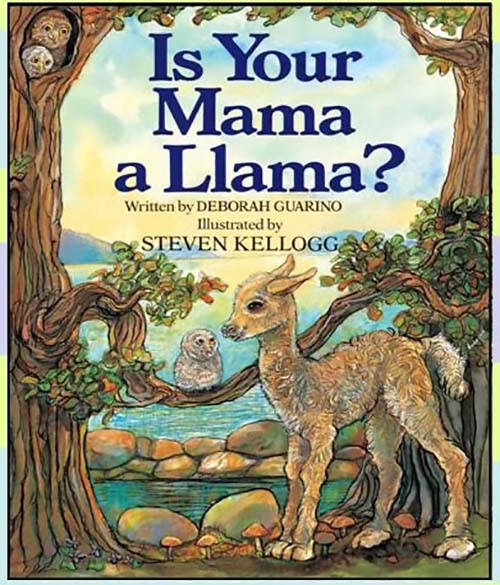 Simple, rhyming stanzas and bright, silly illustrations carry readers through Lloyd the Llama's quizzing of his friends about their mamas. Lloyd the Llama discovers what kind of animal his mama really is in this delightful guessing game picture book, filled with whimsical riddles and endearing illustrations. Rhyming questions and answers will charm and amuse children. "An enchanting animal guessing game."–School Library Journal. Full-color illustrations.
A young llama asks his friends if their mamas are llamas and finds out, in rhyme, that their mothers are other types of animals.
Ages: 4-8
40. Pete's a Pizza by William Steig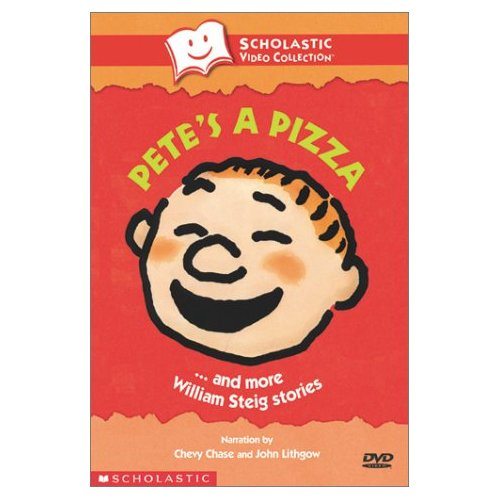 This is a wonderful book by an author who wrote it at age 83. You'd never know it.
Pete's father starts kneading the dough. Next, some oil is generously applied. (It's really water.) And then some tomatoes. (They're really checkers.) When the dough gets tickled, it laughs like crazy. And your child will too (laugh).
Ages: 3-6
39. The Paper Bag Princess by Robert Munsch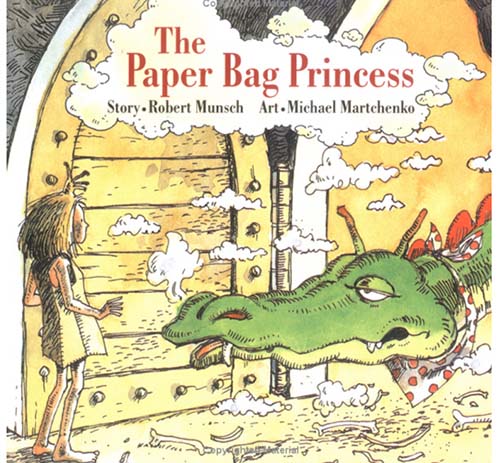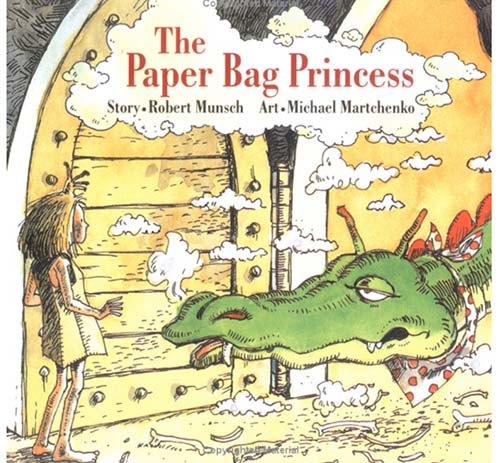 Before Pretty Princess Elizabeth can marry handsome Prince Ronald, a dragon burns down the castle and carries Ronald off. Dressed in a paper bag, the brave princess heroically finds the dragon's cave, tricks the dragon into exhausting itself, saves Ronald while the dragon is sleeping.
Ronald then has only one thing to say to Elizabeth–that she is a mess! Elizabeth quickly realizes that she is better off without this ungrateful bum. Young feminists, here is a great book for you!
Ages 4-8
38. Owen by Kevin Henkes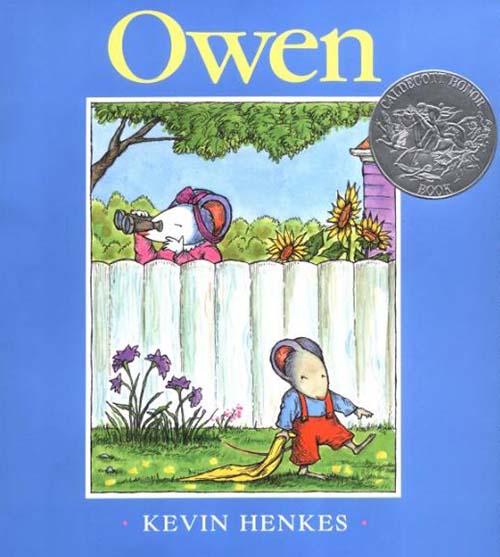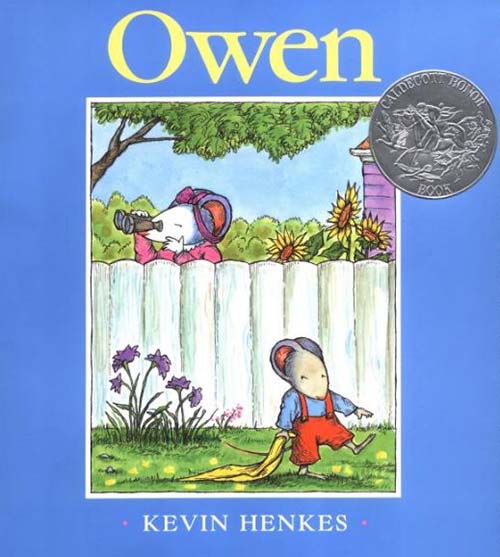 Owen had a fuzzy yellow blanket. "Fuzzy goes where I go," said Owen. But Mrs. Tweezers disagreed. She thought Owen was too old for a blanket. Owen disagreed. No matter what Mrs. Tweezers came up with, Blanket Fairies or vinegar, Owen had the answer. But when school started, Owen's mother knew just what to do, and everyone — Owen, Fuzzy, and even Mrs. Tweezers — was happy.
Ages 8-12
37. Nate the Great by Marjorie Weinman Sharmat

Beginning readers are introduced to the detective mystery genre in these chapter books. Perfect for the Common Core, kids can problem-solve with Nate, using logical thinking to solve mysteries!  

Nate the Great has a new case! His friend Annie has lost a picture. She wants Nate to help her find it. Nate the Great must get all the facts, ask the right questions, and narrow the list of suspects so he can solve the mystery.  One of the top educational books for kids!
Ages: 4-8
36. My Father's Dragon by Ruth Stiles Gannett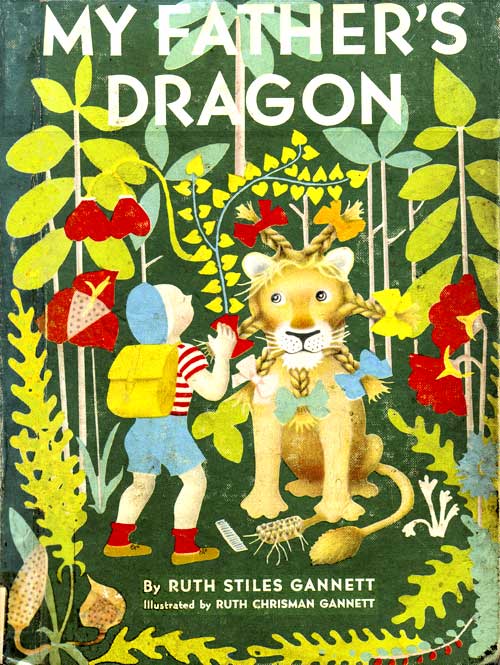 When Elmer Elevator hears about the plight of an overworked and under-appreciated flying baby dragon, he packs his knapsack with supplies and stows away on a ship headed for Wild Island. Nothing will stop Elmer from rescuing the dragon!
The classic fantasy trilogy of Elmer Elevator and the flying baby dragon has delighted children and their parents for generations. A Newbery Honor Book and an ALA Notable Book, My Father's Dragon is followed by Elmer and the Dragon ("rich, humorous, and thoroughly satisfying"*) and The Dragons of Blueland ("ingenious and plausible, the fantasy well-sustained"*).
Each story stands alone, but read in succession, they are an unforgettable experience.
Ages: 4-8
35. Mr. Popper's Penguins by Richard and Florence Atwater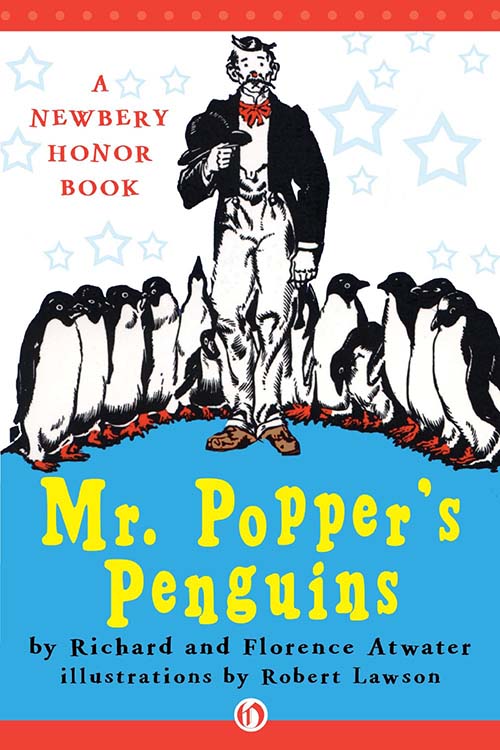 The Poppers unexpectedly come into possession of a penguin, then get a penguin from the zoo who mates with the first penguin to have 10 baby penguins. Before long, something must be done before they eat the Poppers out of house and home!

 A classic of American humor, this story of a gentle housepainter and his high stepping penguins has delighted children for generations.
Ages: 4-8
34. Miss Nelson is Missing! By Harry Allard and James Marshall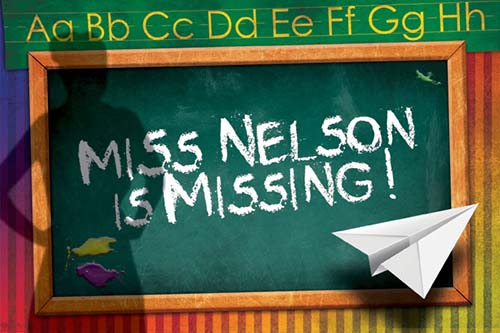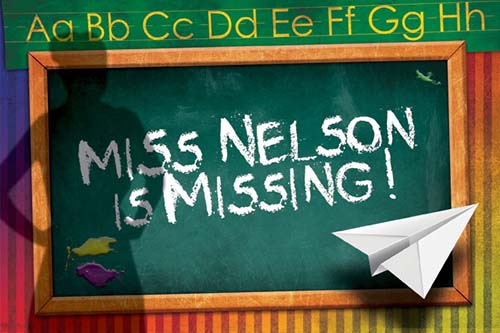 "The kids in Room 207 were misbehaving again. Spitballs stuck to the ceiling. Paper planes whizzing through the air. They were the worst-behaved class in the whole school."
So begins this quirky classic, first published in 1977 and still relevant today as a lighthearted reminder to show our appreciation to those we value. The students don't proffer a shred of respect for their good-natured teacher Miss Nelson, but when the witchy substitute Miss Viola Swamp appears on the scene, they start to regret their own wicked ways.
James Marshall's scritchy, cartoonish full-color ink and wash illustrations are hilarious. A back-to-school perennial for the elementary school crew! It may take you down memory lane.
Ages: 4-8
33. Miss Bindergarten Gets Ready for Kindergarten by Joseph Slate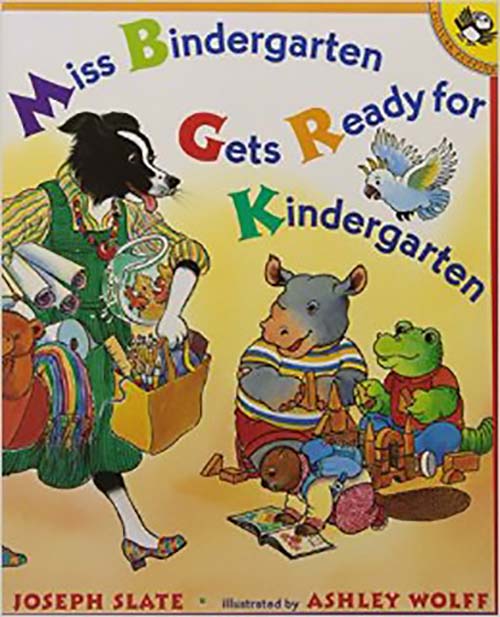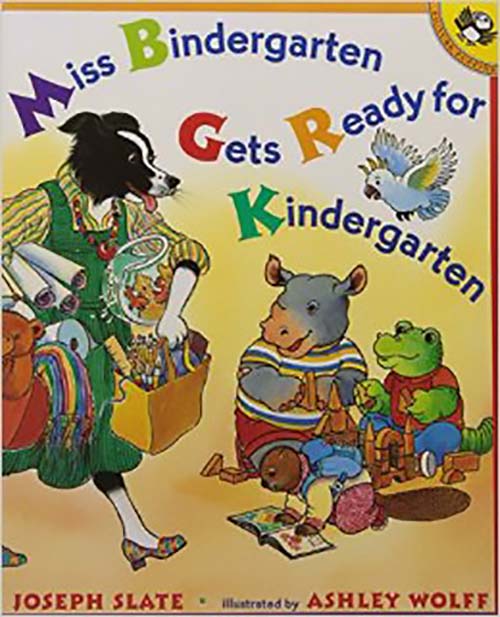 It's the first day of kindergarten and Miss Bindergarten is hard at work getting the classroom ready for her twenty-six new students. Meanwhile, Adam Krupp wakes up, Brenda Heath brushes her teeth, and Christopher Beaker finds his sneaker. Miss Bindergarten puts the finishing touches on the room just in time, and the students arrive. Now the fun can begin!
This rhyming book is brightly illustrated. It is the perfect way to practice the alphabet and to introduce young children to kindergarten.  One of the best educational books for kindergarteners!
Ages: 3-6
32. Mike Mulligan and His Steam Shovel by Virginia Lee Burton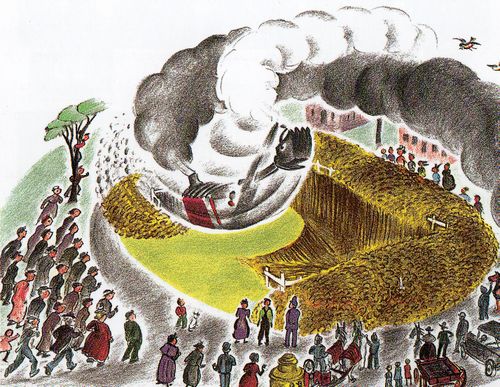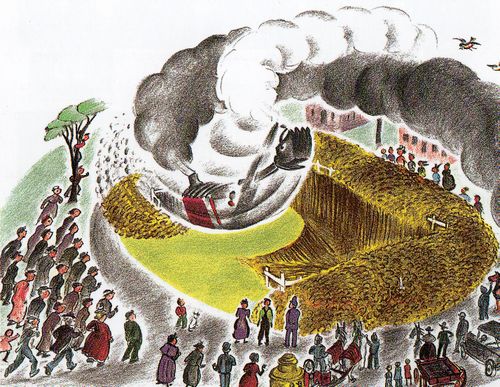 A modern classic that no child should miss.
Since it was first published in 1939, Mike Mulligan and His Steam Shovel has delighted generations of children. Mike and his trusty steam shovel, Mary Anne, dig deep canals for boats to travel through, cut mountain passes for trains, and hollow out cellars for city skyscrapers — the very symbol of industrial America. But with progress come new machines, and soon the inseparable duo are out of work. Mike believes that Mary Anne can dig as much in a day as one hundred men can dig in a week, and the two have one last chance to prove it and save Mary Anne from the scrap heap. What happens next in the small town of Popperville is a testament to their friendship, and to old-fashioned hard work and ingenuity.
Ages: 3-6
31. Harold and the Purple Crayon by Crockett Johnson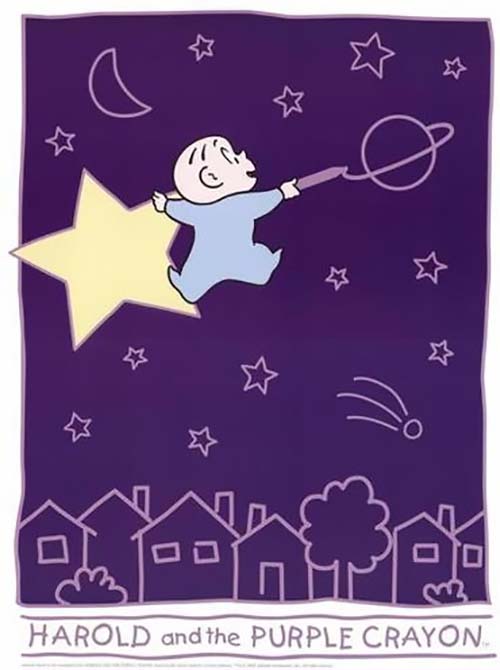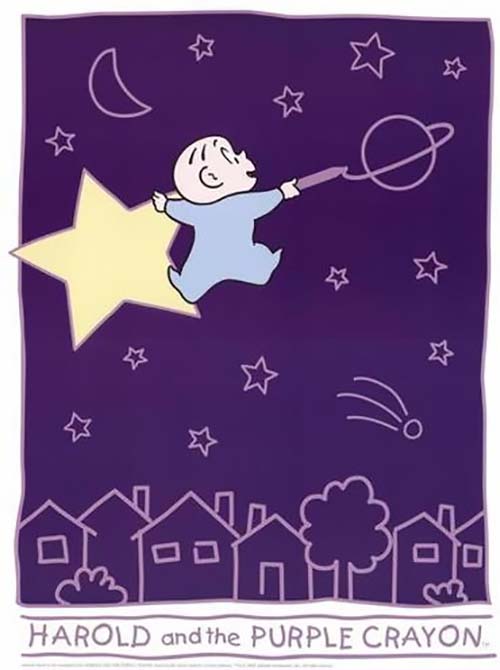 One night, after thinking it over for some time, Harold decided to go for a walk in the moonlight." So begins this gentle story that shows just how far your imagination can take you. Armed only with an oversized purple crayon, young Harold draws himself a landscape full of beauty and excitement. But this is no hare-brained, impulsive flight of fantasy.
Cherubic, round-headed Harold conducts his adventure with the utmost prudence, letting his imagination run free, but keeping his wits about him all the while. He takes the necessary purple-crayon precautions: drawing landmarks to ensure he won't get lost; sketching a boat when he finds himself in deep water; and creating a purple pie picnic when he feels the first pangs of hunger.
Ages: 4-10
30. Madeline by Ludwig Bemelmans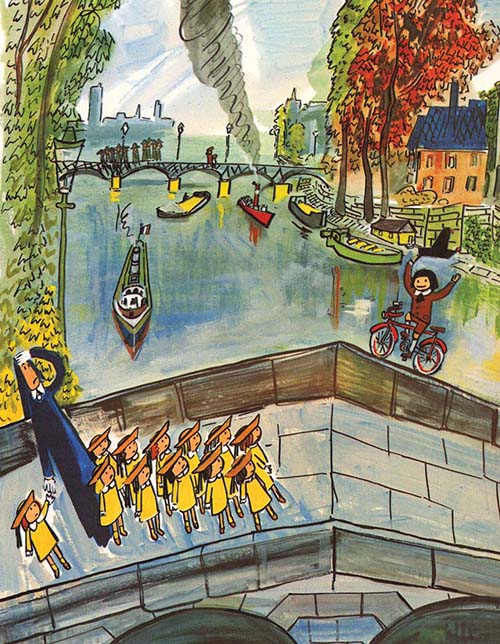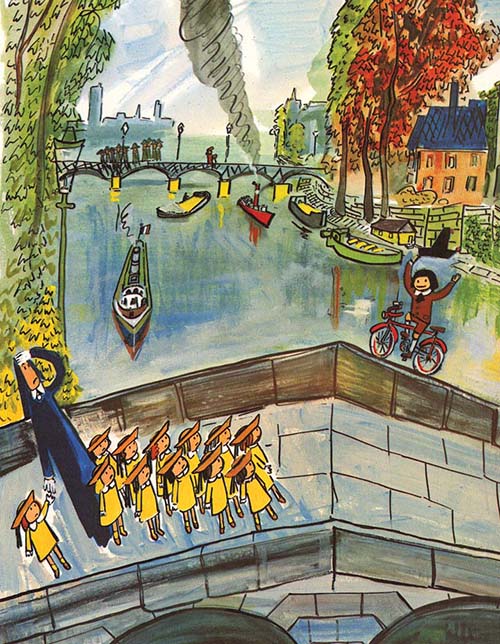 In an old, vine-covered house in Paris live 12 little girls. They wear wide-brimmed hats and matching yellow outfits, and walk in two perfect rows. Madeline is the smallest girl, and the most daring. She's not afraid to touch a mouse or go near a tiger in the zoo.
But one night she wakes up in pain and Madame Clavel, the mistress of the house, can hear Madeline crying all the way from her own bedroom. Madame Clavel calls the doctor, and in no time, Madeline is rushed to the hospital to have her appendix removed. Everyone at the house misses Madeline, and Madame Clavel decides to take the 11 girls to visit their little friend in the hospital. They take her flowers and find Madeline in her hospital bed happily surrounded by the gifts of toys and candies she has received from well-wishers.
Ludwig Bemelmans was awarded the Caldecott Medal for his classic story, the first in his highly acclaimed and beloved Madeline book series. His verse is simple and fun and a pleasure to read. His illustrations, featuring famous Parisian landmarks like the Opera and the Place Vendome, are as charming and lively as the 12 little girls, including the precocious main character Madeline, at the heart of his story.
Ages: 3-8
29. The Tale of Peter Rabbit by Beatrix Potter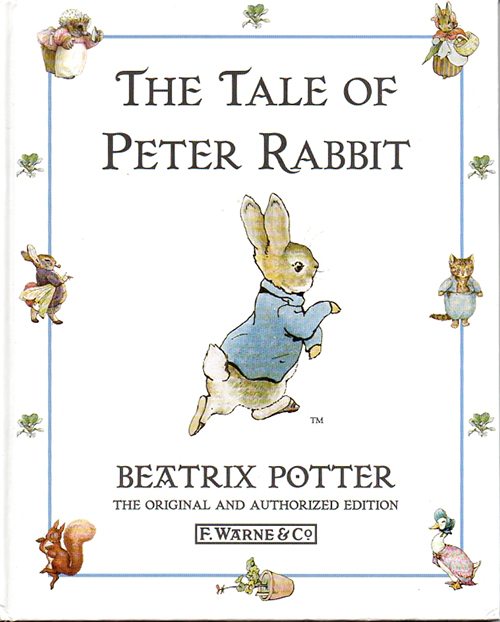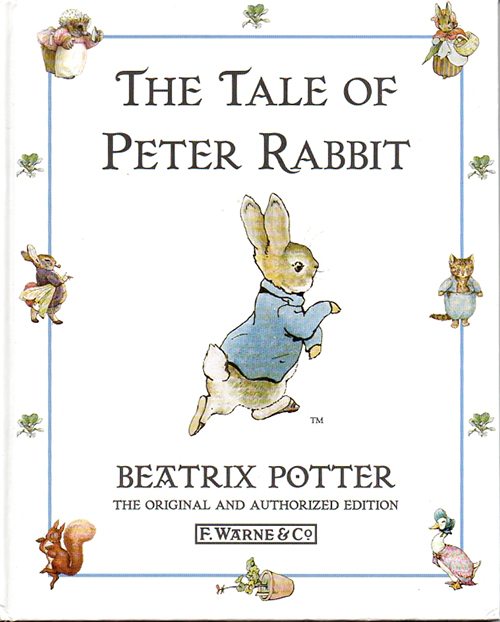 The quintessential cautionary tale, Peter Rabbit warns naughty children about the grave consequences of misbehaving. When Mrs. Rabbit beseeches her four furry children not to go into Mr. McGregor's garden, the impish Peter naturally takes this as an open invitation to create mischief. He quickly gets in over his head, when he is spotted by farmer McGregor himself. Any child with a spark of sass will find Peter's adventures remarkably familiar. And they'll see in Flopsy, Mopsy, and Cotton-tail that bane of their existence: the "good" sibling who always does the right thing. One earns bread and milk and blackberries for supper, while the obstinate folly of the other warrants medicine and an early bedtime. This beloved children's book has been a classic for years!
Ages: 3-7
28. Don't Let the Pigeon Drive the Bus by Mo Willems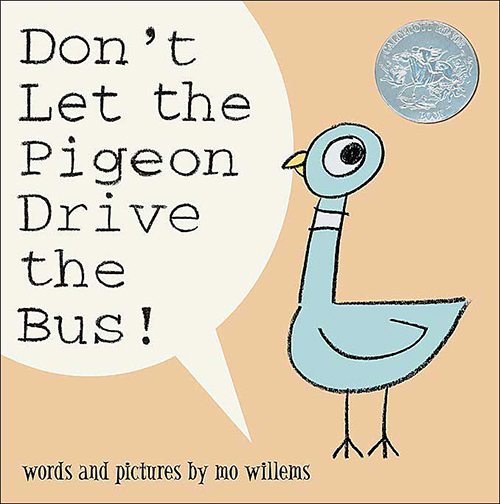 When a bus driver takes a break from his route, a very unlikely volunteer springs up to take his place-a pigeon! But you've never met one like this before. As he pleads, wheedles, and begs his way through the book, children will love being able to answer back and decide his fate.
In his hilarious picture book debut, popular cartoonist Mo Willems perfectly captures a preschooler's temper tantrum.
Ages 2-6
27. Runaway Bunny by Margaret Wise Brown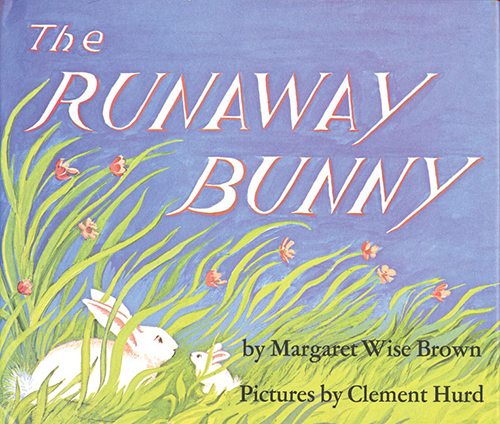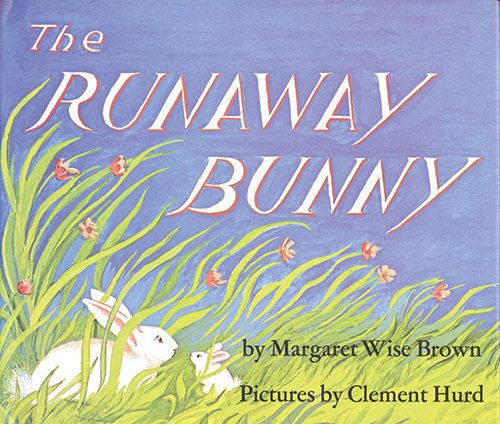 Illustrated by Clement Hurd (Goodnight Moon), and in continuous publication since 1942, the book tells the story of a mother's unconditional love for her child.
As her baby bunny tells her of his plans to run away, the pair engage in a make-believe game of chase, where she morphs into a variety of forms and characters (a crocus and a mountain climber) to find him, no matter how far away he travels
Many children may wonder what it would be like to strike out on their own, but seldom imagine it as beautifully as the little bunny in this classic tale. The little bunny dreams of becoming a fish, a bird and even a "crocus in a hidden garden." With each new incarnation the bunny imagines, his mother promises to become a fisherman, a tree and a gardener so that she may still watch over, guide and protect her little bunny. Realizing that his mother's love is unwavering, the little bunny concedes defeat and decides he would be wise to stay home and just be himself. This picture book edition of the beautiful fable is perfect for even the smallest listener.
Ages: 6 mo.-5 years
26. Whistle for Willie by Ezra Jack Keats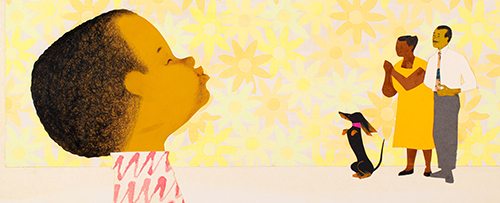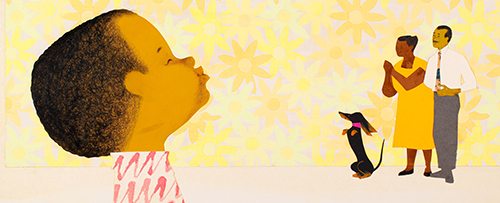 If Peter could only learn to whistle, then his dog, Willie would hear him and come running. But nothing Peter does seems to help. He tries spinning around and around but it only makes him dizzy. He draws a long line with colored chalk; he walks along a crack in the sidewalk. He even wears his father's hat and tries running away from his own shadow! It's not until Peter least expects it that his wish comes true, and he blows a whistle that brings Willie running.
Caldecott award-winner Ezra Jack Keats tells his delightful tale in simple, easy-to-follow writing, and with his bold, colorful illustrations — of yellow-and-pink bricked buildings, barbershop poles, and girls skipping rope — he captures perfectly a summer's day in the city as seen through the eyes of a child.
Ages: 3-7
25. Brown Bear, Brown Bear, What Do You See? by Bill Martin, Jr.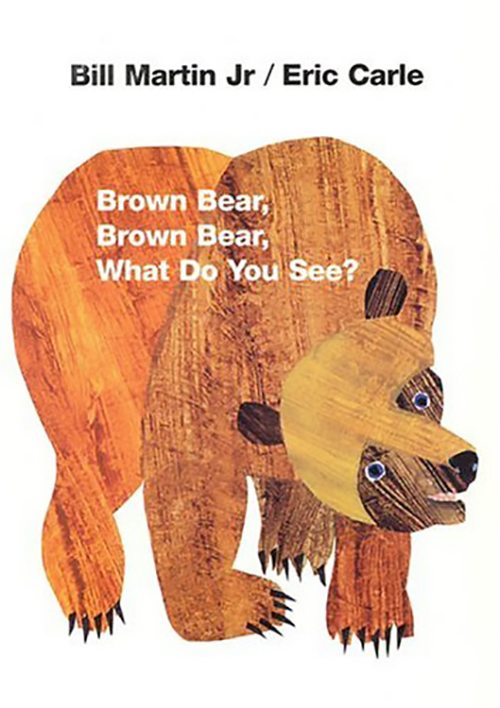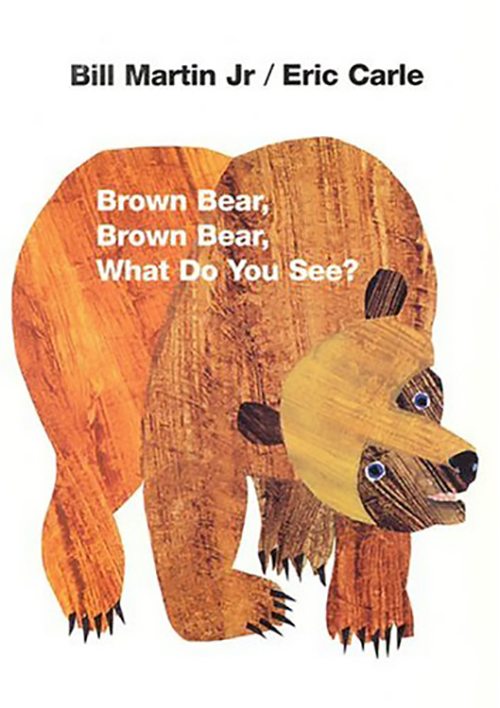 Beautifully and boldly illustrated by Eric Carle (The Very Hungry Caterpillar), this classic picture book is easy on the ears, with its rhymes and repetition. The question-and-answer format invites young listeners to participate in "reading" the book.
Four decades and 7 million copies ago, Brown Bear, Brown Bear, What Do You See? first appeared in bookstores. The first collaboration of Bill Martin Jr. and Eric Carle earned laudable advance notices, but no one anticipated that it would take off like wildfire.
Now the publisher honors this picture book classic with an anniversary edition that includes an audio CD containing the full text, plus commentary by Martin and Carle.
Ages: 2-5
24. Wheels on the Bus by Raffi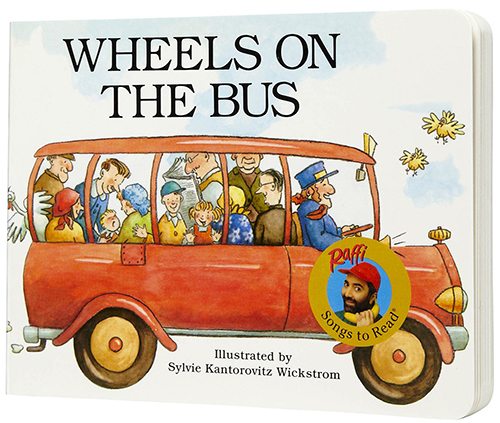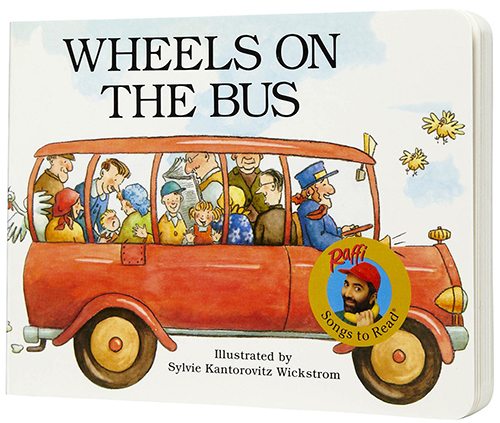 Parents and children alike can participate in the repetitive lyrics and motions (the swishing of the windshield wipers and the beeping of the horn) of this classic children's song in picture book form, from Raffi's "Songs to Read" collection. The illustrations show a rickety, old bus moving an assortment of quirky passengers through a village. Traditional musical notation and lyrics are included. It is a perfect first book for early childhood.
Singing and reading to your child are considered two of the most vital ways parents can stimulate the development of a child's brain during the earliest years. Raffi's Songs to Read unites the rhythm, rhyme, and repetition that helps to lay the foundation for later speech, listening, and reading skills. Here with fresh new cover designs are some of Raffi's best-known songs. With enchanting illustrations, they create educational children's books that are natural bridges between music and reading.
Ages: 2-8
23. Pat the Bunny by Dorothy Kunhardt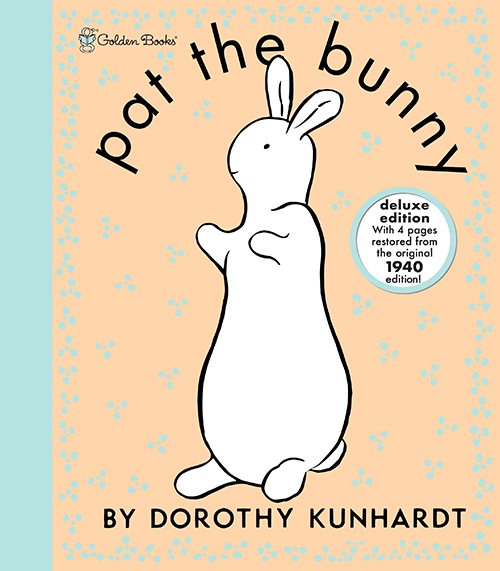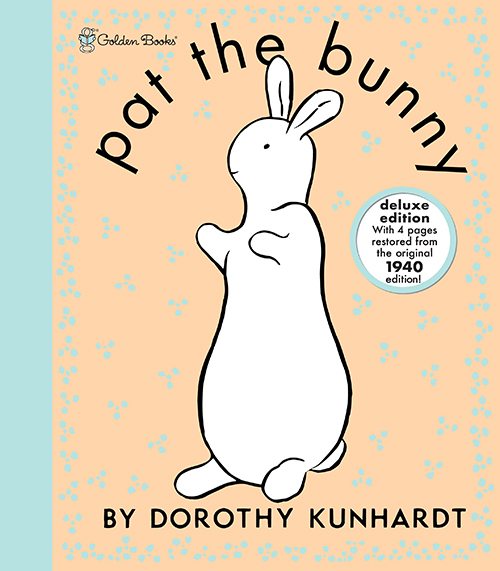 For more than seventy years, Pat the Bunny's Paul and Judy have been entertaining children, playing peekaboo and sniffing flowers with generations of appreciative readers and readers-to-be. Now this classic touch-and-feel invites you to pet the bunny.
A sweet, interactive book that encourages children to smell (the flowers), touch (the soft bunny), feel (Daddy's scratchy face) and play (peek-a-boo with Paul). First published in 1940, the book remains a must-read favorite. This is a great book for little ones.
Ages: newborn to 3
22. Time to Get Dressed! by Elivia Savadier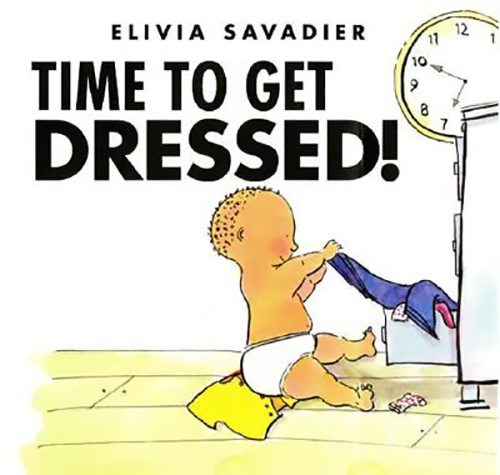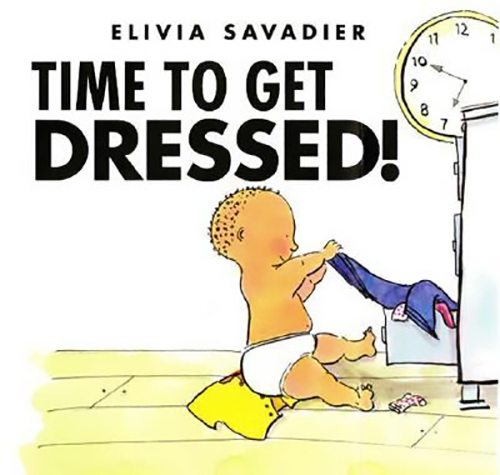 Little Solomon insists on dressing himself but gets everything wrong (shirt on his legs and pants on his head) until Daddy looks at the clock and steps in to help. Parents and little ones will relate to the fierce independence of this toddler, who shouts 'ME!' with every article of clothing.
Savadier's pictures and dialogue once again showcase a gift for economy and humor, while key words (e.g., socks, shoes) appear in bold, crisp type. Her two-man cast is inspired: Daddy, a well-upholstered man with thinning hair and patience, is every bit as funny in his contortions and expressions as his stubborn offspring (with a similarly underdeveloped pate). Savadier's watercolor-and-ink drawings exude the same elegant fluidity as in her previous book, but the work feels tighter here, her observations more firmly tethered to domestic reality. Readers' laughs will be just as abundant as the glee of Solomon's final, cereal-soaked triumph.
Ages 1-4
21. The Snowy Day by Ezra Jack Keats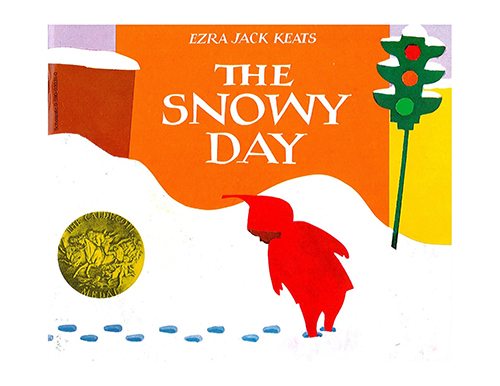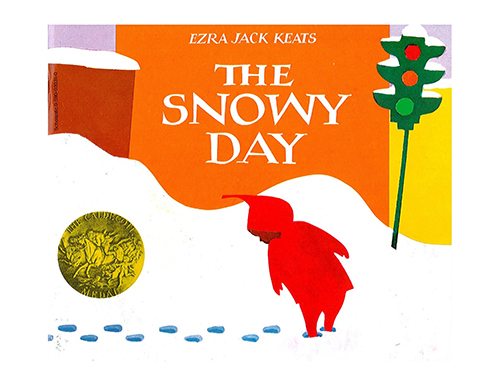 This Caldecott Medal-winning classic picture book depicts the wonder and delight a child can find when snow blankets his world, making snowballs (one of which he brings home in his pocket!), snow angels, a snowman and loads of fun.
No book has captured the magic and sense of possibility of the first snowfall better than The Snowy Day. Universal in its appeal, the story has become a favorite of millions, as it reveals a child's wonder at a new world, and the hope of capturing and keeping that wonder forever.
These are the adventures of a little boy in the city on a very snowy day.
Ages: Newborn to 3
20. Peek-a-boo! by Roberta Grobel Intrater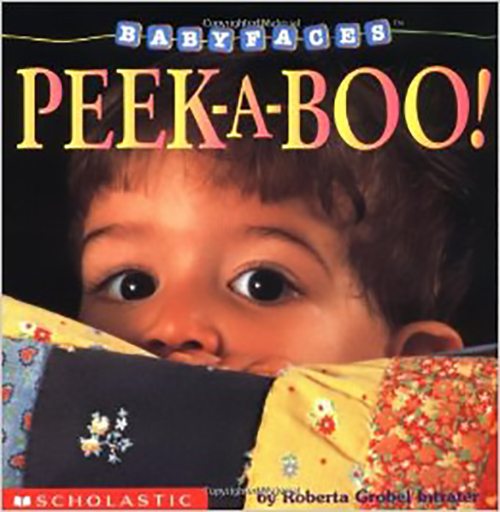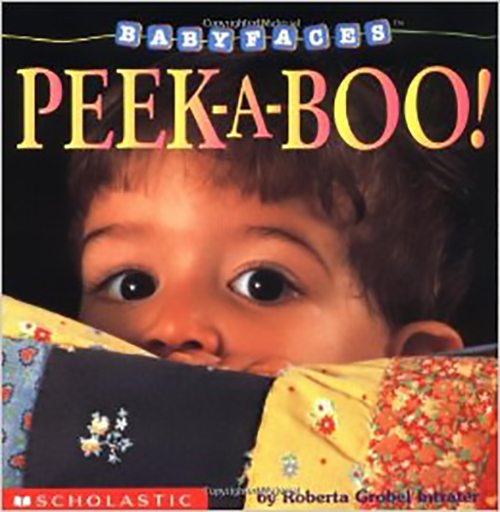 Close-up photographs of babies' faces capture their many moods, from laughing to yawning to pouting to crying, in this board book from the "Baby Faces" series. The captivating photos will enchant babies, and parents will be charmed by the cute expressions the book elicits from their own babe.  It's a must have resource for any early learning teacher.
Babies are fascinated by other babies and will love to hold these small sturdy books in their hands and gaze at the candid and appealing photographs of all kinds of baby faces. Each book in the series focuses on a different activity and explores concepts babies and toddlers can grasp. They contain 10 pages of large, vibrant color portraits with distinctive black backgrounds, and a simple rhyming text appropriate for the youngest children. Their durable glossy finish and rounded corners make them safe for handling by infants and toddlers. These are ideal first read-aloud books, and their small convenient size is just right for taking along.
Ages: 1-3
19. Love You Forever by Robert Munsch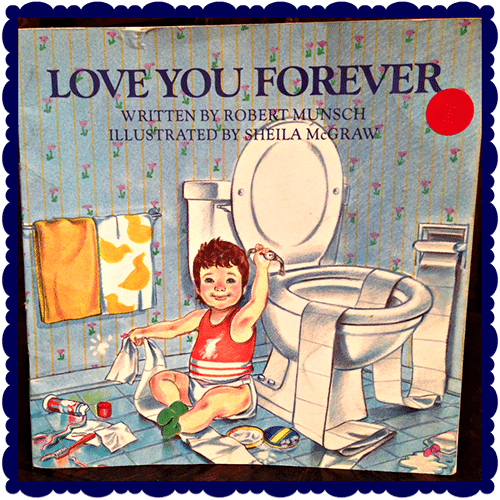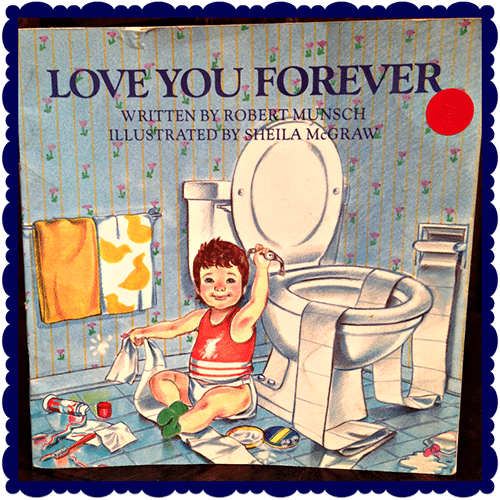 A sweet, tear-provoking story of the evolving relationship between a boy and his mother. It follows the pair from his infancy into his adulthood, as their roles shift and responsibility for the other shifts from mother to son, who has become a father to a little girl of his own by the book's end. Do not attempt to read without tissues close at hand.
A young mother holds her newborn son and looks at him lovingly. Softly she sings to him "I'll love you forever, I'll love you always." This is a gentle affirmation of the love a parent feels for their child — forever.
An extraordinarily different story by Robert Munsch is a gentle affirmation of the love a parent feels for their child — forever. Sheila McGraw's soft and colorful pastels perfectly complement the sentiment of the book — one that will be read repeatedly for years
Ages: 3-7
18. Kitten's First Full Moon by Kevin Henkes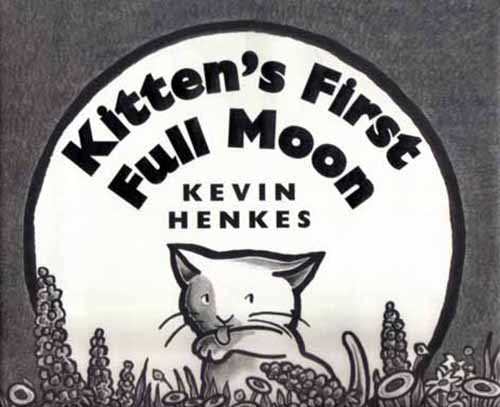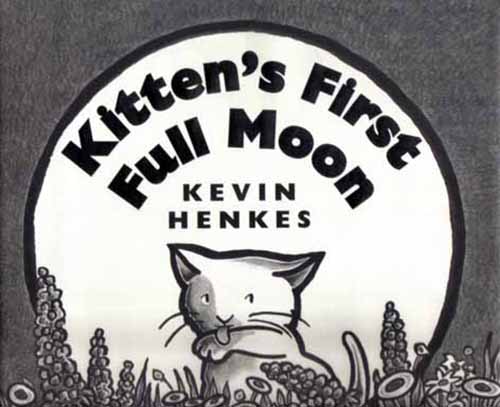 In this Caldecott Medal-winning children's book, black-and-white illustrations capture the struggle of Kitten who, upon viewing her first full moon, mistakes it for a bowl of milk and embarks on a quest to reach it. Although the milk in the sky eludes her, the story ends happily when Kitten returns home from her adventures to find an actual bowl of milk waiting for her. The nationally bestselling early education picture book about a kitten, the moon, and a bowl of milk, is written by the celebrated author and illustrator Kevin Henkes, was awarded a Caldecott Medal.
Ages: 3-8
17. Are You My Mother? By P.D. Eastman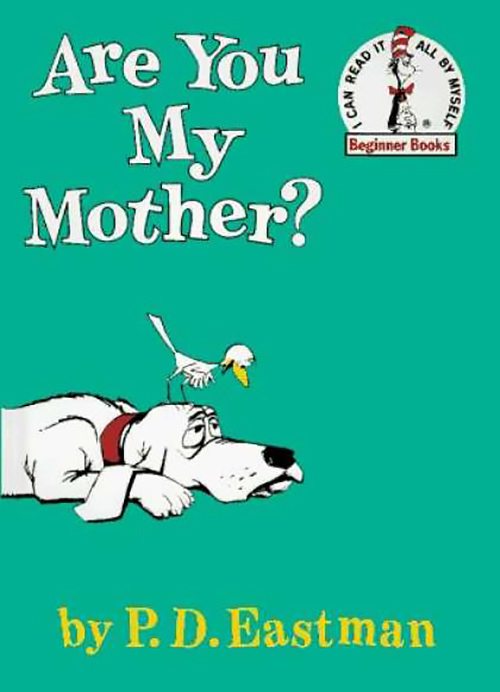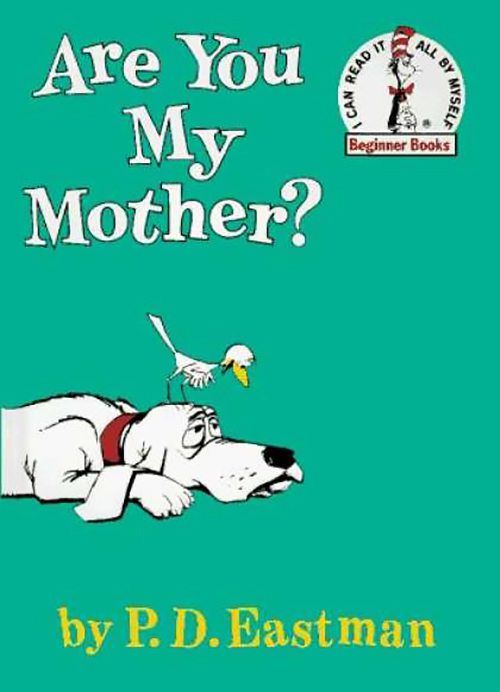 This classic tale follows a baby bird as the main character on a quest to find his mother after falling from his nest. He asks a kitten, a hen, a dog, a cow, an airplane and a snort (actually a steam shovel) if they are his mother, before eventually being reunited with her, back in the nest.
This wonderful book tells a very simple story for children who have just started to read. their younger brothers or sisters will also want to follow the baby bird's quest as he asks everyone and everything he meets, "Are You My Mother?".

Back in 1957, Theodor Geisel responded to an article in Life magazine that lamented the use of boring reading primers in schools. Using the pseudonym of "Dr. Seuss" (Seuss was Geisel's middle name) and only two hundred twenty-three words, Geisel created a replacement for those dull primers: "The Cat in the Hat." The instant success of the book prompted Geisel and his wife to found Beginner Books, and Geisel wrote many popular books in this series, including "Hop on Pop," "Fox in Socks," and "Green Eggs and Ham."
Ages: 1-3
16. Good Night, Gorilla by Peggy Rathmann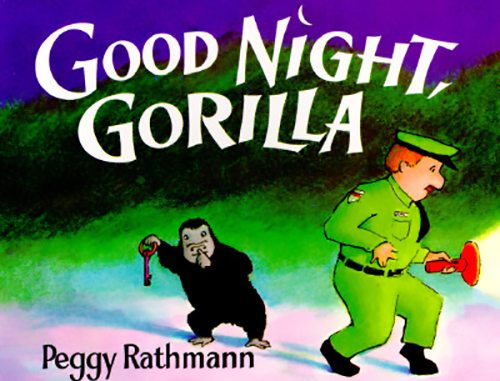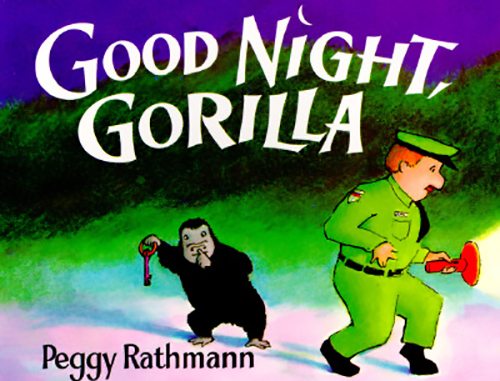 This clever bedtime tale follows a mischievous gorilla who snatches a zookeeper's keys and releases all of his animal friends to secretly spend the night at the zookeeper's house. With minimal text, the narrative is told mostly through pictures, inviting parents and children to describe what's happening and invent the details of the story.
As she did in her Caldecott Medal-winning Officer Buckle and Gloria, Peggy Rathmann uses her expressive, richly colored pictures to give young readers a joyful look at what animals might do when people's backs are turned. Observant children will find extra fun in poring over the illustrations to follow the progress of a released balloon into the sky, laugh at Mouse's valiant efforts to carry one of Gorilla's bananas from cage to cage to house, find the animals in the zookeeper's family photos, and note the appropriate toys each animal has to play with (is that a Babar doll in the elephant cage?). Irrepressible fun for any time of day, Good Night, Gorilla is a gem of a picture book from an award-winning author and illustrator.
Ages: 1-4
15. In the Tall, Tall Grass by Denise Fleming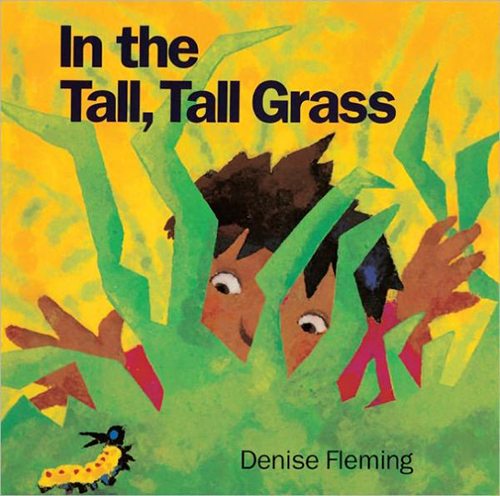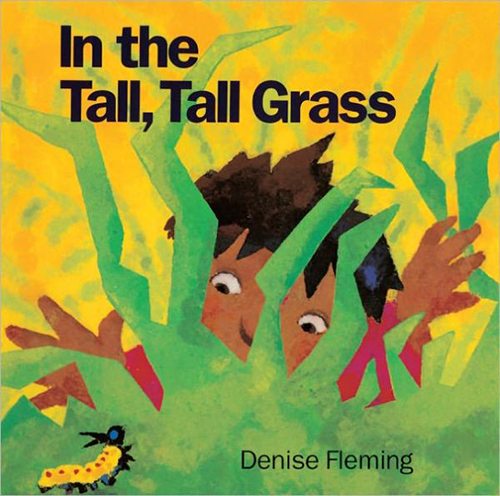 Bright, colorful illustrations show animals and insects found in a child's backyard, as seen through a caterpillar's point-of-view, as they crunch, munch, zip and sip their way through the day.
Little ones (and their preschool teachers) will enjoy looking for the yellow and orange caterpillar on each page and counting the insects as they listen to the simple, rhyming text.
Ages 2-6
14. Dear Zoo by Rod Campbell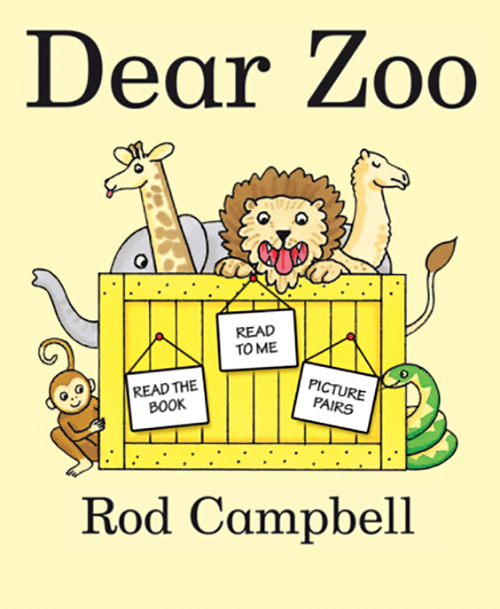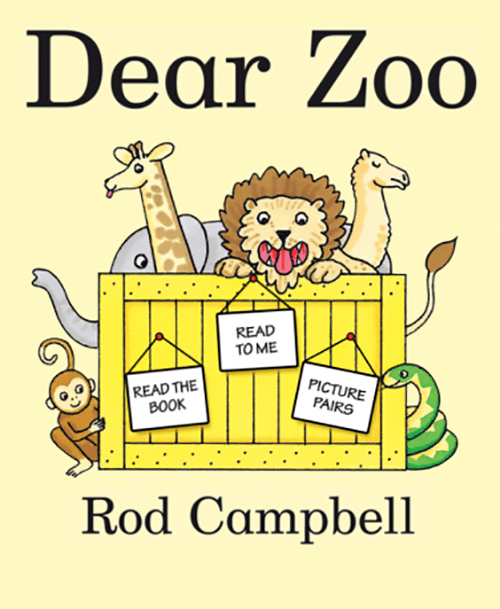 A classic lift-the-flap book, the story begins with a child's letter to the zoo, requesting a pet. A series of animals arrive—under flaps to be uncovered by the reader—and are discovered to be not quite right (too heavy, too scary, too naughty), until at long last, the perfect pet appears.
Celebrate the 25th anniversary of Rod Campbell's delightful lift-the-flap classic with this sturdy board book version for toddlers. The artwork has been updated for a spiffy new look, but the charming story line remains unchanged: A child writes a letter to the zoo, requesting a pet. The zoo sends back a parade of animals, all of them unsuitable for one reason or another. Each colorful spread depicts a container (a basket, a crate, a cage, etc.), revealing just enough of the mysterious contents to encourage fun-filled guessing. But the real enjoyment is watching the delight on children's faces as the last shipment arrives with (ta-da!) the perfect pet. A perennial family favorite.
Ages: Baby to 4
13. Gossie by Olivier Dunrea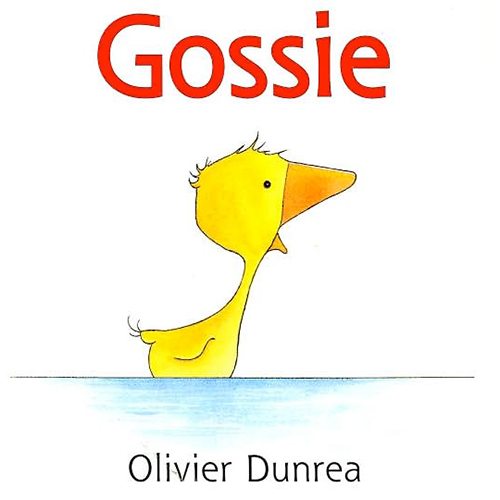 Meet Gossie, a small yellow gosling who loves to wear bright red boots—every day. One morning Gossie can't find her beloved boots. She looks everywhere for them: under the bed, over the wall, even in the barn. Preschoolers will enjoy helping Gossie find her red boots and delight in where Gossie finally finds them.
Gossie is a gosling who likes to wear bright red boots every day, no matter what she is doing, and so she is heartbroken the day the boots are missing and she can't find them anywhere.
Ages 4-6
12. "More More More," Said the Baby: 3 Love Stories by Vera B. Williams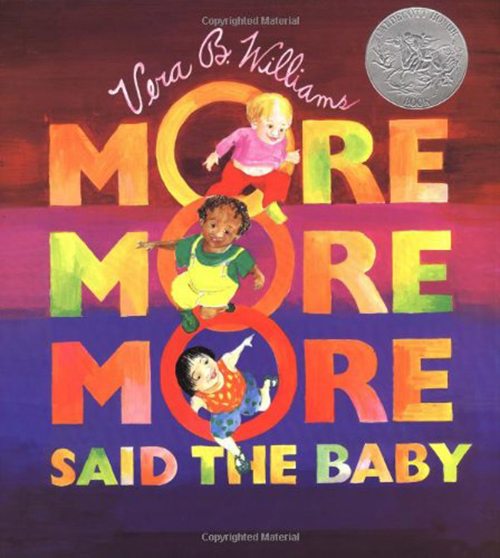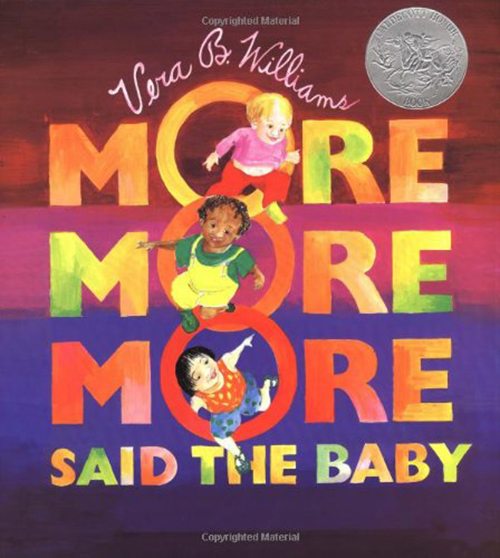 Told in an engaging musical rhythm, the book introduces readers to multiracial and multi-generational stories about three toddlers (Little Bird is Asian-American, Little Pumpkin is African-American and Little Guy is white) and their caregivers. The lilting text and joyous, vibrant illustrations successfully impart the message that love is universal. This Caldecott Honor Book is a good book for toddlers.
From beneath the tickles, kisses, and unfettered affection showered on them by grownups, the children in the book cry out for more more more! The stars of three little love stories – toddlers with nicknames like "Little Pumpkin" – run giggling until they are scooped up by adoring adults to be swung around, kissed, and finally tucked into bed.
Quirky watercolor drawings and colorful text feature multi-ethnic families, and young readers will rejoice in seeing the center of all the attention: the wiggly, chubby, irresistible toddlers.  A must read for any early education classroom.
Ages: Newborn to 3
11. Busy Penguins by John Schindel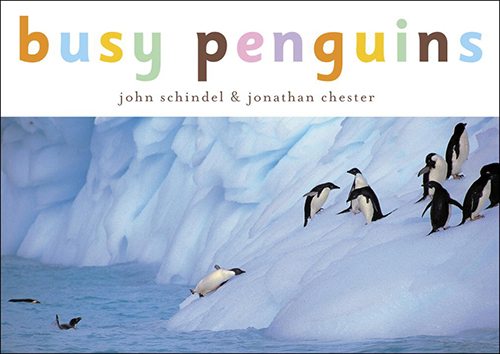 In this photographic board book, simple rhyming word pairs (penguins splashing/penguins dashing and penguins drooping/penguins pooping) introduce the daily life of penguins. Author John Schindel partnered with a variety of photographers for more than a dozen other books in the "Busy Book" series, including Busy Doggies, Busy Monkeys, Busy Pandas and Busy Horsies.
There's so much to do when you're a penguin, isn't there? Join in the fun! The rhyming text and adorable photographs in this colorful board book offer a close-up view of penguins dashing, splashing, jumping, bumping, and going about their busy penguin lives.
Ages: Newborn-3
10. Guess How Much I Love You by Sam McBratney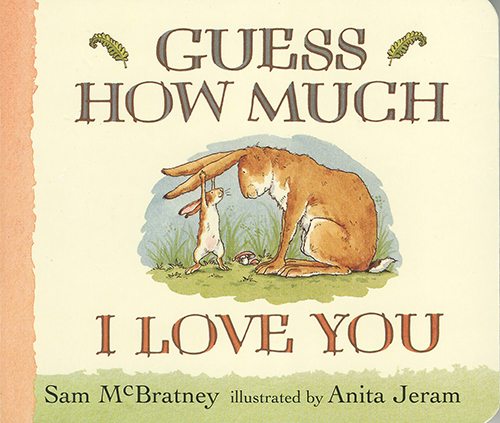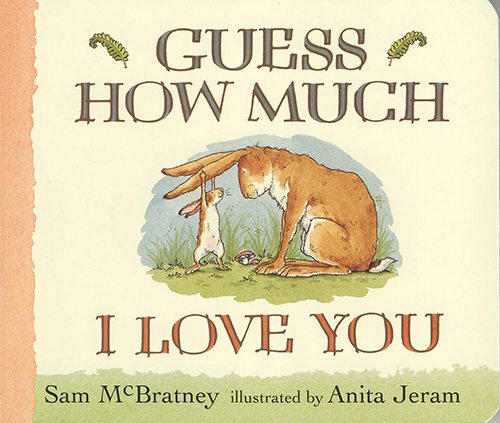 A young bunny and his dad sweetly try to one-up each other with how big their love for the other is in this sweet tale, illustrated with gorgeous watercolors. It's a lovely tale of unconditional love, perfect for the babe you love "all the way to the moon—and back."
Ages: 3-5
9. Five Little Monkeys Jumping on the Bed by Eileen Christelow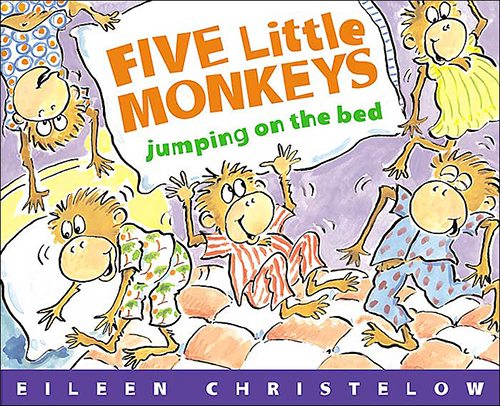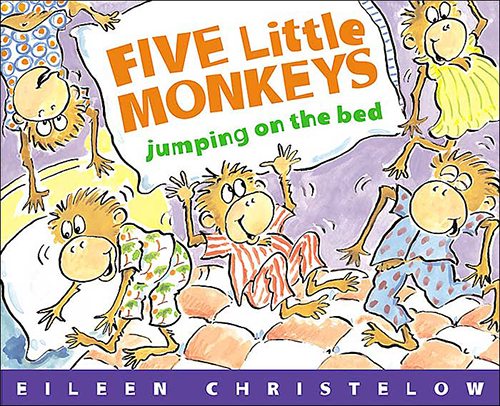 Extending the well-known song, this picture book features five little monkeys preparing for bed, as they bathe, put on their pajamas, brush their teeth and then jump on the bed, falling off one-by-one. Kids will enjoy the repetition and rhyming, and parents will totally relate to the exhausted mama monkey.
"NO MORE MONKEYS JUMPING ON THE BED!" The nursery rhyme "Five Little Monkeys" has long been a favorite song and finger play with the preschool set, but Eileen Christelow gives it new life as a hilarious picture book. Her expressive pencil and watercolor illustrations capture both the glee and the pratfalls of those misbehaving monkeys. A sure-fire hit at story hour, this rhythmic romp is a counting lesson, too, as the five bouncy bed-jumpers bump their heads and get hauled off to the doctor one by one. (IRA/CBC Children's Choice Award, 1990)
Ages: 3-8
8. Charlie and the Chocolate Factory by Roald Dahl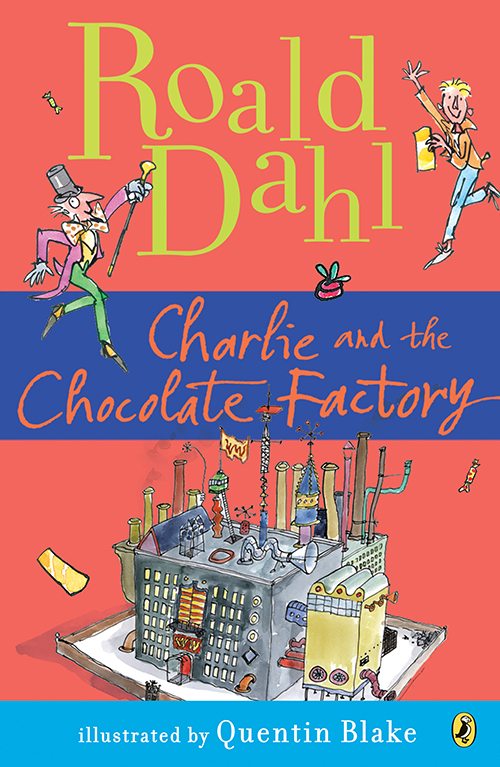 In this timeless classic, Willy Wonka, a crazy chocolatier, opens his chocolate factory doors for the first time to five lucky children who have randomly purchased the coveted chocolate bars containing the golden ticket. Besides a lifetime supply of chocolate, the children get a chance to tour the mysterious factory with their guide, Willy Wonka. Throughout their journey in Wonka's factory the children encounter all sorts of silliness, as well as ethical dilemmas.
Roald Dahl presents readers with four devious, self-serving children, Augustus Gloop, Veruca Salt, Violet Beauregarde, and Mike Teavee, while Charlie Bucket represents the contrast in character. The four other children's selfish ways get them into hilariously odd situations, which have the result of determining their own doom, while Charlie's characteristic integrity, honesty, and general sweetness afford him an opportunity to fulfill his dreams. This fantasy allows readers to explore how character and certainly behavior may affect the course of one's life in a way that is fun and imaginative. This is a perennial classic that continues to be enjoyed by readers, young and old.
Ages: 9-12
7. Close Your Eyes by Kate Banks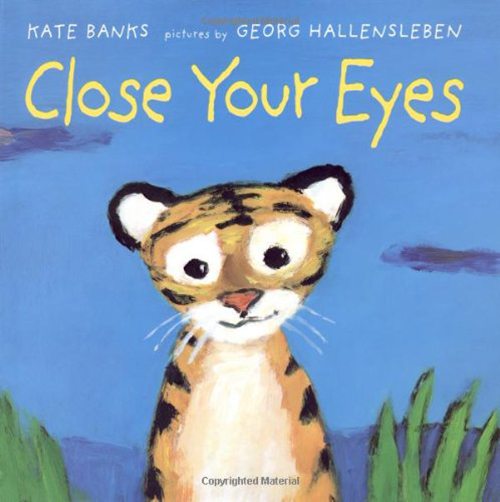 A mother tiger encourages her restless cub to settle down to sleep by describing the dreams he may have, reassuring him that she'll be there when he wakes, and that "Dark is just the other side of light. It's what comes before dreams." Aw.
Lush paintings by Georg Hallensleben (And If the Moon Could Talk) capture the off-kilter world of dreams and the beauty of the natural world, as the scenes shift back and forth between reality and fantasy.
Ages: 3-6
6. My Very First Mother Goose, edited by Iona Opie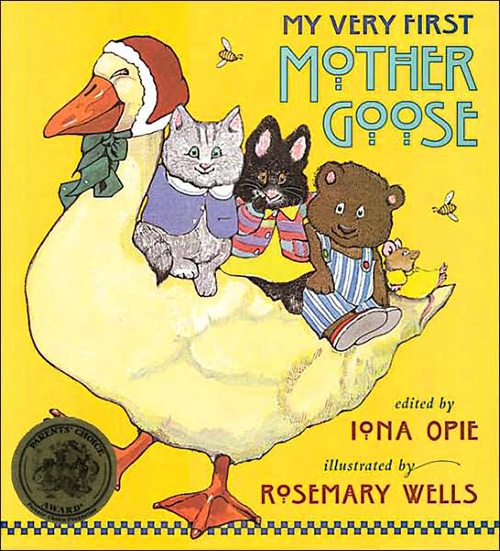 Cheerful illustrations featuring Rosemary Wells' (of "Max and Ruby" fame) stylized animal characters accompany more than 60 nursery rhymes both familiar and lesser-known, and help to introduce young listeners to the pleasures of sing-song language.
To a small child, words are magical. And the most magical of all are the beloved, venerable words of Mother Goose. Now folklorist Iona Opie has gathered more than sixty treasured rhymes in their most perfect, honest form. From "Hey Diddle, Diddle" and "Pat-a-Cake" to "Little Jack Horner" and "Pussycat, Pussycat," these are familiar verses that have been passed from parent to child for generations; these are the rhymes that are every child's birthright.

 With watercolors by Rosemary Wells that may prove equally enduring,
MY VERY FIRST MOTHER GOOSE captures the simple joy and the sly humor that are the essence of Mother Goose. Parents and children will find themselves exploring this volume together, savoring delightful details and funny surprises on every page.
Age Range: 2-8
5. The Very Hungry Caterpillar by Eric Carle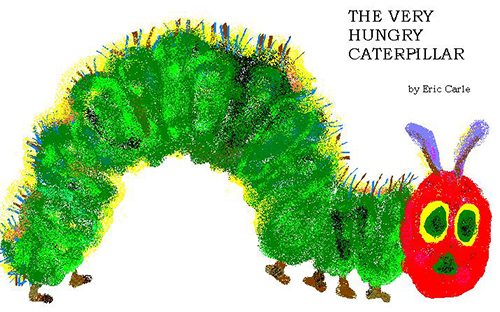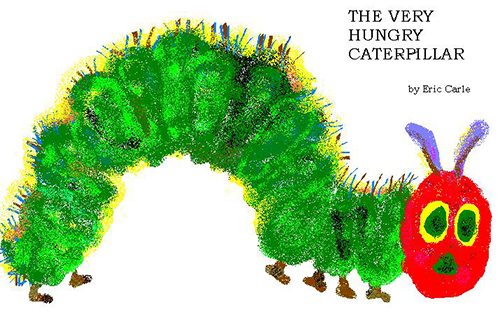 A hungry caterpillar eats his way through a varied and very large quantity of food until, full at last, he forms a cocoon around himself and goes to sleep.
One of the best-selling children's books of all time, The Very Hungry Caterpillar has been delighting young readers for over thirty years. This classic book will continue to introduce new generations of children to the magical world of Eric Carle.
Grades K-2
4. The Complete Tales and Poems of Winnie the Pooh by A.A. Milne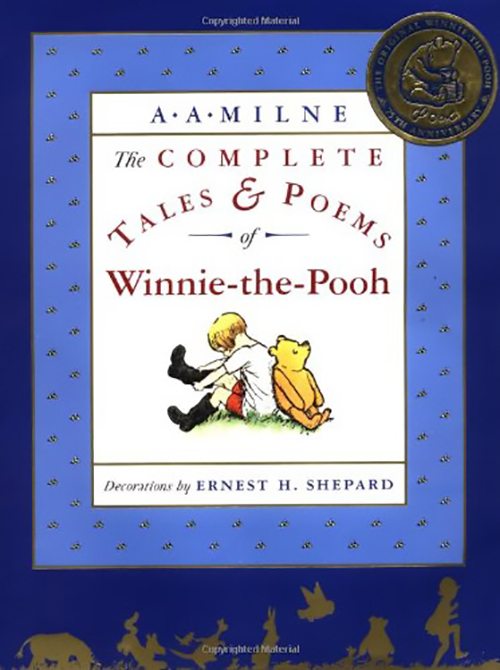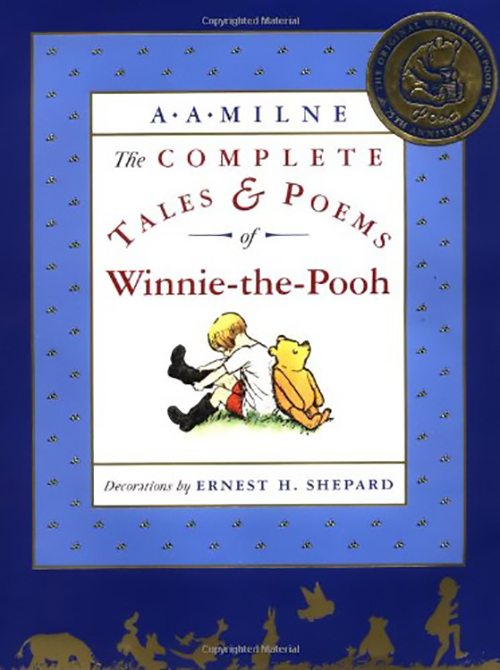 In 1926, Winnie-the-Pooh, a collection of stories about a rather stout, somewhat confused bear, was published in England and America. The enchanting tales of Pooh, Piglet, Eeyore, Christopher Robin, and the others were an immediate success, and firmly established A.A. Milne, already an acclaimed dramatist, as a major author of children's books. Winnie-the-Pooh was followed in 1928 by a second collection, The House At Pooh Corner, which continued the adventures from the Hundred Acre Wood and introduced bouncy, lovable Tigger.
Age: Readers of ALL ages
3. The Cat in the Hat by Dr. Seuss

Join the Cat in the Hat as he makes learning to read a joy! It's a rainy day and Dick and Sally can't find anything to do . . . until the Cat in the Hat unexpectedly appears and turns their dreary afternoon into a fun-filled extravaganza! This beloved Beginner Book by Dr. Seuss, which also features timeless Dr. Seuss characters such as Fish and Thing 1 and Thing 2, is fun to read aloud and easy to read alone. Written using 236 different words that any first or second grader can read, it's a fixture in home and school libraries and a favorite among parents, beginning readers, preschool teachers, and librarians.
Ages: 3-7
2. The Ugly Duckling by Hans Christian Andersen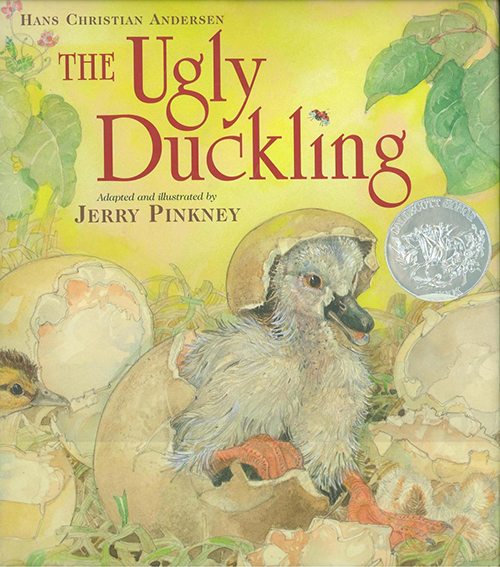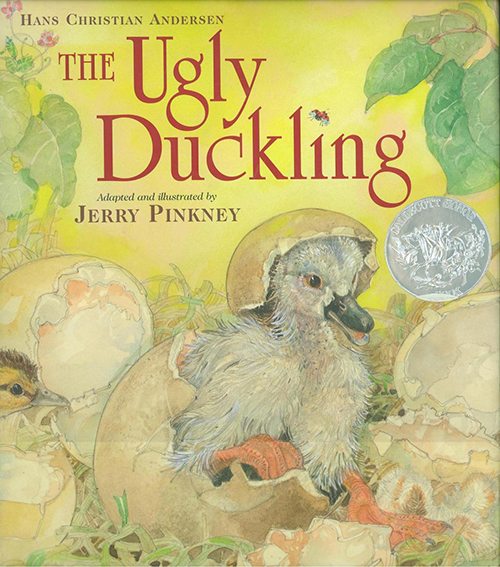 An ugly duckling spends an unhappy year ostracized by the other animals before he grows into a beautiful swan.
Parents need to know that kids will be drawn into the detailed illustrations, and empathize with the forlorn fowl. Positive messages about acceptance abound, and there's nothing here that kids can't handle.
Ages: 4-8
1. Goodnight Moon, By Margaret Wise Brown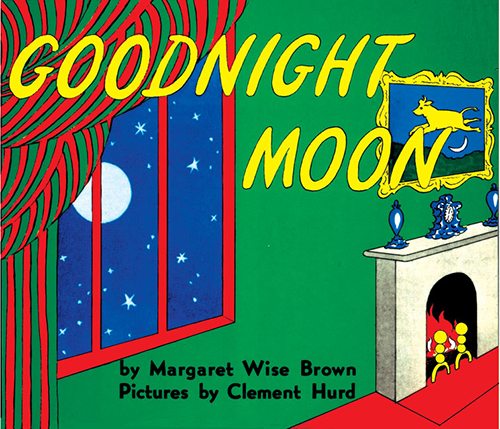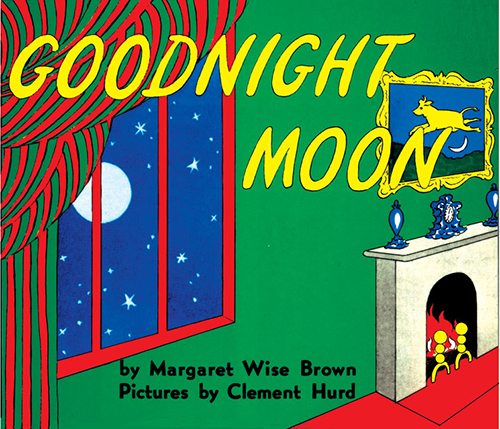 Perhaps a strange choice for number 1 on our list. But…think about it. This is an acknowledged classic first starter for tots. A masterpiece that will endear children to reading forever.
This is the classic board book story of a little rabbit at bedtime, with illustrations by Clement Hurd. Such beautiful language too: In the great green room There was a telephone And a red balloon And a picture of— The cow jumping over the moon. Many books have been written since Goodnight Moon, but it has stood the test of time.
Best for kids up to age 2.